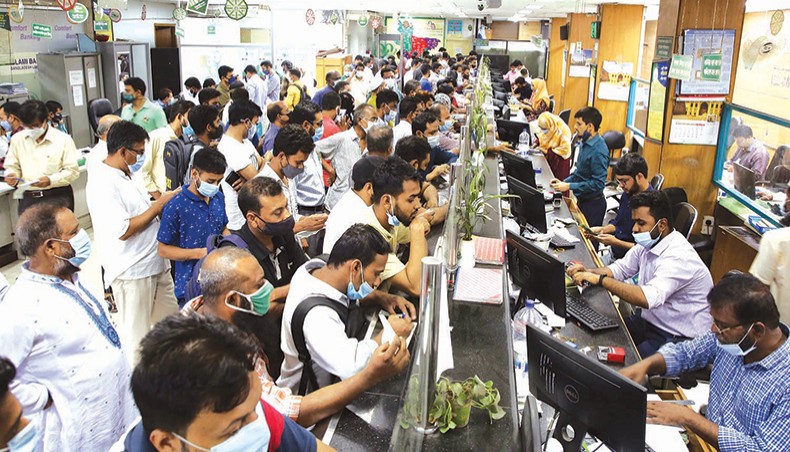 The Bangladesh Bank on Tuesday asked banks to provide service to customers for three hours in working days during the April 14-21 restriction period, backtracking on its previous decision to keep scheduled banks closed for the eight days.
The government is enforcing the eight day restrictions from today to check the fresh wave of COVID-19 outbreak.
Banking transactions will continue from 10:30am to 1:00pm in the period and banks will be allowed to keep their offices open till 2:30pm for the completion of relevant tasks.
A BB circular issued on the day also scrapped its Monday's circular that asked banks to keep their operations closed for the eight days.
Due to Monday's instruction, most of the banks on Tuesday witnessed a heavy rush of customers and customers had to wait in long queues to conduct bank transactions.
Monday's announcement also drew criticisms among businesses as many business entities, including the heavy industries, have been allowed to operate during the eight-day restriction period.
The Bangladesh Securities and Exchange Commission on Tuesday announced that the trading on the Dhaka and Chittagong bourses would be held from 10:00am to 12:30pm in workdays in the April 14-21 period.
As per the BB' Tuesday circular, banks local office, principal branch along with all authorised branches and principal branches in all districts have been asked to keep open during the restriction period.
Within the city corporations, banks will have to keep one branch open within a distance of two kilometres if they do not have any authorised dealer bank within the distance.
All banks will have to keep one branch open in each upazila on Thursday, Sunday and Tuesday during the government-imposed restriction on movement.
Besides, the central bank asked banks to keep branches, sub-branches and booths adjacent to the land, water and airports open in consultation with the port authorities.
The BB asked banks to facilitate all sorts of deposit and withdrawal, issuance and deposit of demand draft or pay orders, treasury challan, government's payments against social safety net programmes, payments of foreign remittance, domestic and interbank fund transfer, encashment or interest payments against NRB bond and different national saving certificates, utility payments and transactions through the BB's payment or clearing systems.
Services for the customers of closed branches must be ensured by the branches which will remain open during the restricted period.
To function on a limited scale during the period, banks have been instructed to maintain roasters of employees and operate with a limited number of employees upon maintaining all heath security measures.
Feeding the ATM booths adequate cash, keeping online services up and running were among other BB instruction for the period.
The central bank came up with the fresh circular following a Cabinet Division request on the day.
The Cabinet Division requested the central bank to issue instructions to facilitate banking services for special purposes.
Want stories like this in your inbox?
Sign up to exclusive daily email
More Stories from Banking