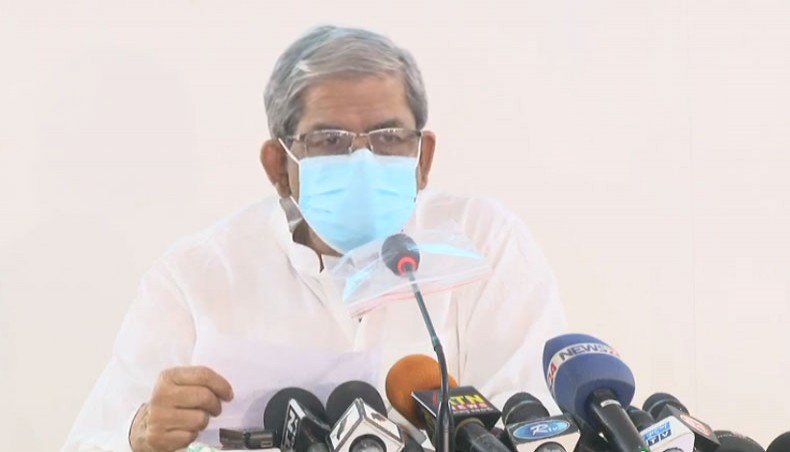 The Bangladesh Nationalist Party on Tuesday said that there was not coordination in the government-initiated measures and plans taken to tackle the deteriorating COVID-19 situation.
It also said that the government had failed to establish a clear roadmap to thwart COVID-19.
'The government continues imposing ineffective shutdown in name of lockdown as it has not involved people from different quarters, including political parties, yet to the efforts to maintain the situation,' BNP secretary general Mirza Fakhrul Islam Alamgir said at a press conference at the party chairperson's Gulshan office in Dhaka.
He said that the government had no specific plan on what it would do during the forthcoming eight-day restrictions.
Fakhrul said that that the government should arrange food for the poor as the hungry people would try to violate restrictions.
He, however, admitted that it was tough for any government to maintain the situation in a country with high population density. But the authorities should have a specific and organised plan, he added.
He urged the government to form a national committee comprising representatives of political parties, NGOs and experts in districts to supervise the programmes to curb COVID-19.
'The government refused to include stakeholders as it wants to steal the fund,' he said, adding that BNP is not against the lockdown but it observed that the government taking self-contradictory steps and imposing ineffective restrictions.
He also raised questions about the poor number of COVID-19 tests and the government's failure to provide enough test facilities.
'The government is giving misinformation to the people about the infections as it skips tests to hide the actual number of infections. 20 districts have no facility of COVID-19 test,' he added.
About the commodity price, Fakhrul said that the price of daily commodities was increasing as the market was controlled by the ruling Awami League syndicates.
He said that BNP considered that the violent incidents taken place during Independence Day were pre-planned and the government now chasing the issue to oppress the opposition parties.
'The government has taken a project to uproot opposition. We came to know that the government has a plan to arrest the people who are protesting and talking against the government,' he said.
'We are not supporting Hefazat, but it has the right to talk against the government. The government is now filing cases against them and arresting them while the ruling party people provoked violence at places,' he said.
About COVID-19‑infected BNP chairperson Khaleda Zia, Fakhrul said that her health condition was stable and she was taking necessary treatment.
He said that BNP demanded the unconditional release of Khaleda.
He thanked Gonoshasthaya Kendra founder Zafrullah Chowdhury for his demand for freeing Khaleda Zia.
Want stories like this in your inbox?
Sign up to exclusive daily email
More Stories from Country