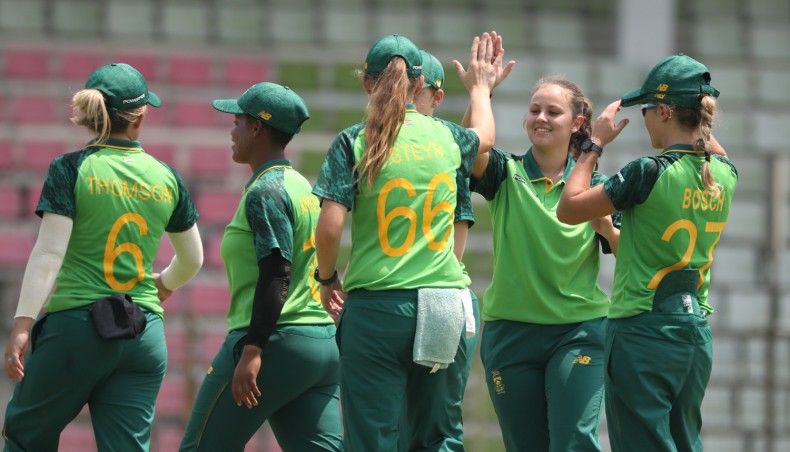 South Africa women's emerging team left Dhaka for their country on Tuesday after some confusion over five members of the group getting a false positive result in their COVID-19 test on the day prior.
The 22-member contingent left in two separate groups, the 17 who tested negative returned home on an early morning flight while the remaining five left Bangladesh at 6:15pm from the Hazrat Shahjalal International Airport after testing negative in the retest.
The visitors were supposed to return to their homes on Monday and but their departure got delayed after the results of their pre-flight COVID-19 test, which was done at the Sylhet MAG Osmani Medical College Hospital, showed that five members of the group were carrying the virus.
The positive members provided samples for a retest, which was done under the supervision of Directorate General of Health Services, and on Tuesday they were all cleared of the virus.
The news of the positive cases made rounds in several local and foreign media but Bangladesh Cricket Board's women's wing manager Towhid Mahmood said that the reports were not entirely truthful as none of the players were outright labelled as COVID-19 positive.
'They were never declared positive for COVID-19. There were some issues regarding the reading so they took a confirmatory test later, the result of which we got today [Tuesday] and it appeared negative,' Towhid told New Age on Tuesday.
'While analysing the samples they were getting some false readings and to be sure they said that we have to take another test... They didn't draw a final conclusion. They said the readings were inconclusive, it has to be retaken. That's why we arranged a retake and it came out negative.' He added.
Cricket South Africa also issued a media release on Tuesday, where they supported Towhid's claim of the initial test result being a false positive.
'Initially, five players returned positive tests but, following a second test, these have turned out to be false positives and they are all now negative for Covid-19,' the media release read.
Earlier, the South African team cut short their five-match series by one match as CSA wanted the team back home before the government imposed strict lockdown began in Bangladesh.
The Bangladesh women's emerging team won the series 4-0.
Want stories like this in your inbox?
Sign up to exclusive daily email
More Stories from Cricket