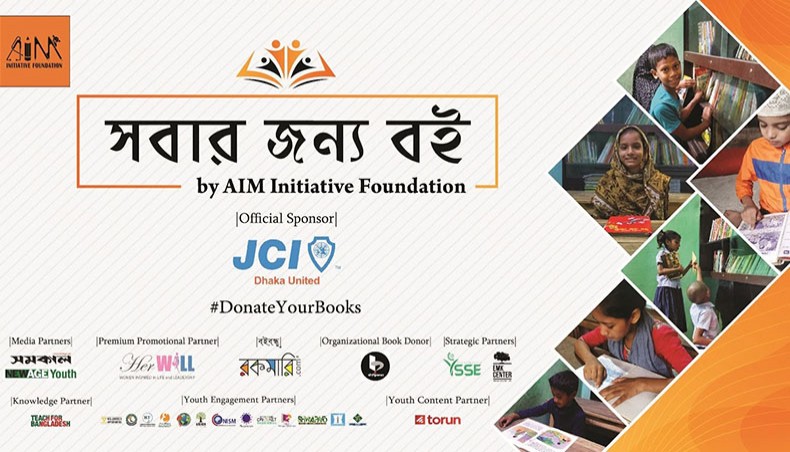 AIM Initiative Foundation completed its one and a half month long annual campaign Sobar Jonno Boi to build libraries with donated books from people.
The foundation organised online events for the third time this year from February 1 to March 20, 2021 to collect donations and gathered 5,000 old and new books.
The goal of the campaign titled Sobar Jonno Boi by AIM Initiative Foundation was to build five school libraries in five different underprivileged schools in Bangladesh. The collected books will be distributed equally by the end of June and each school will have one library with 1000 books, reads a press release.
The books will include fiction, non-fiction, novel, poem, et cetera for the students from standard 1 to standard 10.
JCI Dhaka United is sponsoring to setup the libraries. As youth engagement partners, Volunteer Opportunities Bangladesh, Ascension Foundation, Excellence Bangladesh, Evolution360, Arohon Foundation, Pathchakro East West University, ONSIM Consultancy, Wheelchair Cricket Bangladesh, SHWAPNO Youth Development Organization, Youth Flambeau, BRAC University Business and Economics Forum, Jahangirnagar University Debate Organization, and Jahangirnagar University Science Club contributed in raising book donations.
Rokomari BoiBondhu, Shikha Prokashoni, Darikoma Prokashoni and some other notable publishers contributed a significant number of books while HerWILL, Youth School of Social Enterprise, EMK Centre and Teach for Bangladesh contributed with promotional resources to reach the donors.
The campaign is currently in its second stage where the organisation is collecting the books from their donors.
New Age Youth desk
Want stories like this in your inbox?
Sign up to exclusive daily email