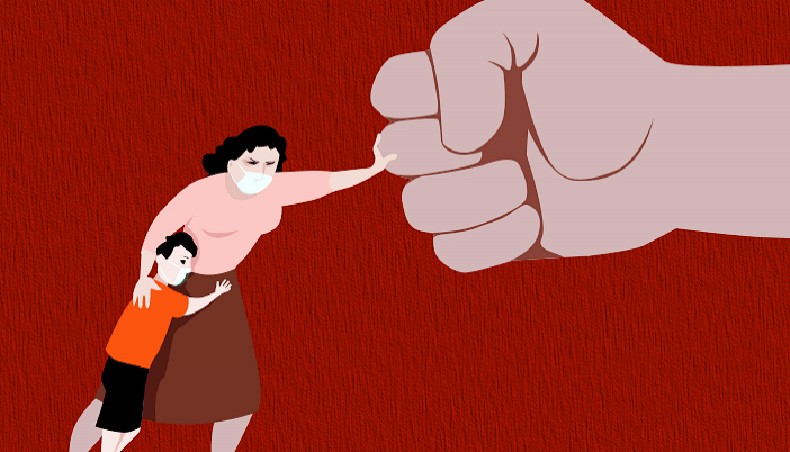 THE government of Bangladesh has announced a week-long countrywide lockdown from April 5 which may be extended further considering the rapid spread of the COVID-19 infection. Lockdown measures, whilst essential to contain an epidemiological pandemic, often kicks off a new pandemic within pandemic. The United Nations terms it as 'shadow pandemic' while I call it as 'violence pandemic'.
It is evident that public health measures such as stay at home, social distancing, business shutdowns or school closures often exacerbate existing gender-based disparities between women, men, girls and boys. Movement restriction, loss of livelihood, food insecurity, household tension, individual vulnerabilities and growing level of frustration are likely expose women and girls to multiple and compounding forms of inequality, maltreatment and violence in home setting, including domestic violence, child marriage, abuse or exploitation.
Women and children all over the world are suffering from the complex effects of 'pandemic paradoxes'. Where going outside home raises the possibility of them getting infected with the deadly virus, on the one hand, home, on the other hand, is not always a safe place to live; especially for women and children living in situations of domestic and family violence. Amid lockdown, domestic sphere becomes a place where dynamics of power are distorted and subverted by those who abuse, often without scrutiny from anyone 'outside' the couple or the family unit. The Bangladesh Legal Aid and Services Trust reported that most callers to their hotline said that they were trapped, unable to escape violence at home because they could not travel to a friend or relative's home during the lockdown, and there were no accessible government shelter as an alternative.
Moreover, the lifesaving care and support to violence survivors, in most of the cases, get disrupted when front-line service providers and systems, such as health (physical and mental), protection and social welfare, are overburdened and preoccupied with handling the pandemic. Women and children therefore remain at risk of suffering from the burns of a dual pandemic.
Bangladesh has a dominant and harmful patriarchal societal structure with norms and practices that place women at higher risk of violence, irrespective of their age, geographical locations, social background or economic class. Offences like dowry-related violence, child marriage, marital rape, physical torture, verbal abuse, harassment or humiliation frequently take place in many families. One in every two married women in the country experience physical and/or sexual violence by an intimate partner and over 70 per cent of these survivors never told anyone and less than 3 per cent took legal action. Violence against women and girls is so socially normalised that survivors often do not feel that violence against them is something that should be taken seriously or is worth reporting.
The government issued the first lockdown, though named it general holiday, in 2020 which remained in place from March 26 to May 30. During this time, the country saw a massive surge in domestic violence cases due to the magnification of gender based discrimination, inequalities and oppressions, all of which already existed in the male-dominated hierarchical and layered society. Homes became a site of physical, emotional and sexual violence during lockdown, as people were placed under forced cohabitation, financial insecurities and high level of mental stress.
A survey conducted by a local human rights organisation, the Manusher Jonno Foundation, in 27 out of 64 districts in Bangladesh, found that 4,249 women and 456 children were subjected to domestic violence in April 2020. Of these survivors, 1,672 women and 424 children faced violence for the first time in their lives. The women, who faced first time domestic violence, blamed the lockdown for their situation. The foundation interviewed about 57,704 women and children for the study in June 2020. The data show that 4,622 women were mentally tortured, 1,839 were physically abused, 203 sexually abused and 3,009 women faced financial constraints imposed by their husbands.
From March 26 to April 12, 2020, the national emergency helpline in Bangladesh received 769 calls related to violence against women, which is higher than usual. Nevertheless, it is highly likely that the actual number of cases were much higher as under-reporting of domestic violence is a common practice in Bangladesh. On top of it, reaching out to helplines or reporting the violence can be more difficult during lockdown as the victims are trapped with their very abusers inside the same house, or may be in the same room.
Similar to previous year, the fresh lockdown measures are also likely to drive up many of the complex factors that can exacerbate family violence. But, is Bangladesh prepared to face another violence pandemic? The answer appears to be a big no. The main reason behind it is that we never learn our lessons. Despite the previous surges in gender-based violence and maltreatment, those responding to the pandemic are not aware of these problems. They often do not prepare to deal with them, thereby making the situation worse. Tackling violence within home, child marriage or teen pregnancy still remain the least discussed issues in Bangladesh's response to the COVID-19 pandemic. No special measures have been taken to face these emergencies.
Even though violence against women and girls increased markedly during the pandemic, government policies made it even more difficult for survivors to access urgent support and legal redress by temporarily shutting down court services for survivors of gender-based violence or closing already-limited shelters. During lockdown, the law enforcing agencies were so overburdened with relief distribution that they had no time to look into violence cases. Claims of domestic violence were overlooked by the police, who in many cases refused to file a charge sheet let alone investigate the incidents. Family courts were not under virtual court, so the survivors did not get any support therefrom.
Regardless of the pandemic and lockdowns, perpetrators of domestic violence frequently enjoy impunity in Bangladesh due to a lack of implementation of relevant laws, an ineffective criminal justice system, corruption in the law enforcement and administration sectors, and political protections for perpetrators. For example, over 11,000 women who filed legal claims via the government's One-stop Crisis Centres only 160 saw the successful conviction of their perpetrators. Not only is this damaging to the individual survivor in each case, but it is also highly discouraging for those who have experienced this violence to come forward and report their experience of victimisation, given such a low likelihood of being able to achieve a successful legal outcome.
Knowledge of this, in combination with the limited accessibility to safe shelters, witness protection and other support services, leaves many women in situations where they perceive any escape from violence as virtually unattainable. Such barriers only worsen during lockdown, with the closure of the already-limited number of shelters, shutting down of court services and the police turning away survivors.
Lack of awareness regarding legal rights and protection is another major impediment in preventing domestic violence. Most of the women in Bangladesh, irrespective of educational background or social status, have no proper idea about their rights. They do not know anything about laws such as the Women and Children Repression Prevention Act 2000 or Domestic Violence Prevention and Protection Act 2010, which have been enacted especially to prevent gender-based violence. Survivors usually lack proper information about helplines or shelter homes from where they might get help. So, they are kind of left alone inside the home to toil against the abusers.
Bangladesh must take even greater action to protect and support survivors of gender-based violence as well as appropriately prosecute and punish those responsible for such heinous crimes. The government should work to improve the accessibility of safe shelters across the country, providing these women with an opportunity to escape further violence as well as a sense of security as they seek out a legal remedy. Besides, basic safety net programmes must be provided to some of the most at risk women and children.
Government, non-governmental organisations, community-based organisations, voluntary organisations, and religious leaders should use various media and platforms to raise awareness. Social media should be used as a forum to raise awareness of domestic violence.
COVID-19 may leave Bangladesh, but the long-lasting impact of violence during lockdown days may haunt the survivors. Therefore, the state needs to create structured support services and implement laws properly. Most importantly, it is immensely important to acknowledge the patriarchal culture and state of gender inequality in the country and to take steps to tackle them effectively.
Tasnim Nowshin Fariha is a student, Women and Gender Studies, University of Dhaka.
Want stories like this in your inbox?
Sign up to exclusive daily email
More Stories from Opinion