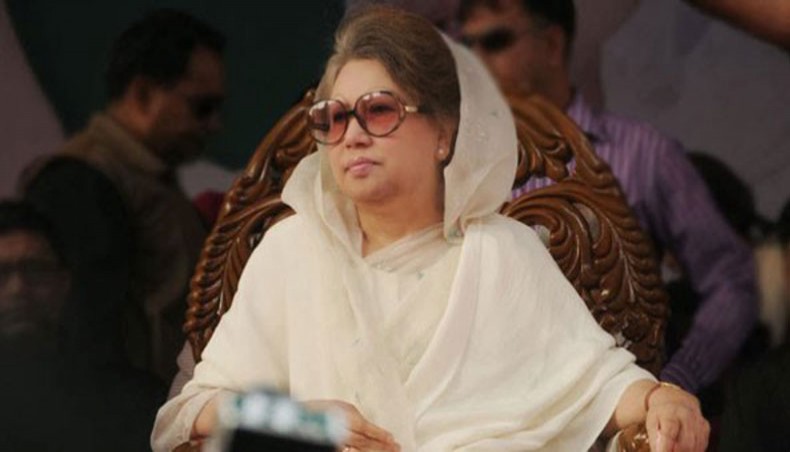 Opposition Bangladesh Nationalist Party has taken necessary steps to admit COVID-19-infected chairperson and former prime minister Khaleda Zia to a hospital if her condition deteriorates.
'We have taken all-out preparations in case we find it necessary to shift her to a hospital,' Professor Dr SM Siddique, the leader of Khaleda's personal physician team, told reporters after visiting Khaleda at her Gulshan residence Firoza.
He said that they also consulted experts from the United Kingdom and the United States of America while Zubaida Rahman, wife of BNP acting vice-chairman Tarique Rahman, also motivated Khaled Zia through videoconferencing.
He said that all members of Khaleda's residence are COVID-19-infected and most of them are asymptomatic.
Khaleda Zia's physical movements are normal and she is taking care of other infected people at her residence, Siddique said.
He said that the immune system of Khaleda Zia is still stable and she would hopefully be cured if the condition stays stable for this week.
'We will run biochemical tests after every 48 hours,' he said, adding that Khaleda requested the country people to pray for her recovery and follow the health guidelines during the COVID-19 crisis.
Hindu Buddha Christian Kollyan Front on Monday held a prayer session at Dhakeshwari National Temple for the quick recovery of Khaleda Zia.
Khaleda's sample was tested at the lab of the International Centre for Diarrheal Disease Research, Bangladesh on Saturday and the report was delivered in the evening.
Khaleda has been staying at the Gulshan residence since she was released from jail by the government for six months on an executive order on March 25, 2020, after the emergence of the novel coronavirus outbreak.
She was initially jailed on February 8, 2018 for five years in the Zia Orphanage Trust graft case.
On October 30, 2018, the High Court doubled her five-year jail term in the case.
Khaleda was released from Bangabandhu Sheikh Mujib Medical University's prison cell on March 25, 2020, suspending her conviction, on conditions that she would take medical treatment from home and would not leave the country.
The time of suspension of her conviction was extended for another six months on September 25, 2020.
The suspension of her conviction was extended for six more months for the third time on March 15, 2021 on the same conditions.
Khaleda was also sentenced to seven years in jail in the Zia Charitable Trust graft case on October 29, 2018.
She has been granted interim bail in all but the two cases related to Zia Orphanage Trust and Zia Charitable Trust.
The BNP has termed all the cases against Khaleda as false and fabricated.
Want stories like this in your inbox?
Sign up to exclusive daily email
More Stories from Politics