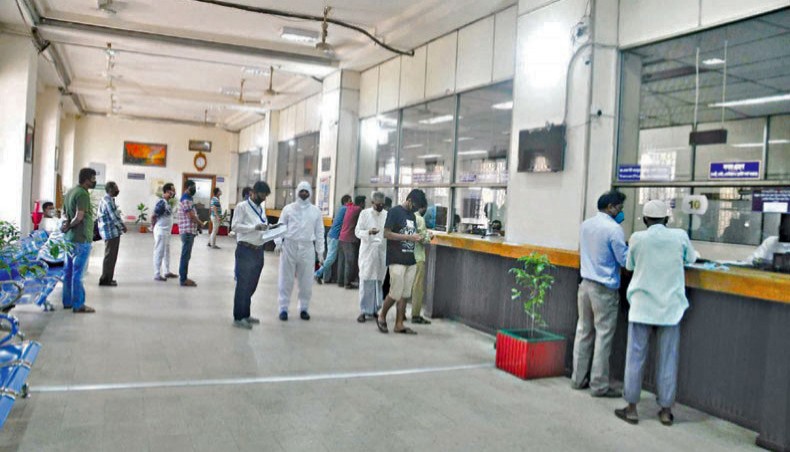 The Bangladesh Bank on Monday decided to keep scheduled banks closed during the countrywide shutdown of offices and transports and restrictions on public movement the government is going to enforce from April 14 to April 21 to check a fresh wave COVID-19 outbreak, BB spokesperson and executive director Md Serajul Islam told New Age.
The Bangladesh Securities and Exchange Commission on the day decided to keep the country's two stock exchanges closed in the period.
The decision on closure of banking services for the period was made at a board meeting of the central bank in line with a government's instruction.
A BB circular issued on Monday, however, said that the bank branches, sub-branches and booths adjacent to the country's land, water and airports would provide only export- and import-related services during the restrictions.
Banks have been asked to make decisions on keeping the branches, sub-branches and booths adjacent to the ports open in consultation with port authorities.
To facilitate the services, banks are allowed to provide services through authorised dealer branches and the department concerned in their head office with a limited number of officials, the BB circular said.
Though banks will remain closed, bank officials have been asked not to leave their work stations in the period.
This is the first time the central bank has decided to keep banking services closed for the general public since the onset of the COVID-19 outbreak in the country on March 8, 2020.
In 2020, the government kept banking services open on a limited scale during the countrywide general holidays for around two months. The government had declared the holidays to check the COVID-19 spread.
The BB circular also asked banks to take assistances from the administration of respective areas in feeding their (banks) automated teller machines adequate cash.
Banks have also been asked to take measures to ensure uninterrupted banking services round the clock.
Since April 5, banks have been operating services for shortened working hours amid the imposition of restrictions on public movement by the government.
A sharp increase in COVID-19 infection cases was the reason for the government move to impose fresh restrictions.
BSEC executive director and spokesperson Rezaul Karim told New Age that as the settlement of securities depends on bank transactions, the stock market would remain closed till banks remain closed.
The commission made the decision as the central bank issued a circular on Monday evening to keep banks closed during the restriction period, Rezaul said.
He said that the market would reopen as soon as banks would reopen.
Want stories like this in your inbox?
Sign up to exclusive daily email
More Stories from Banking