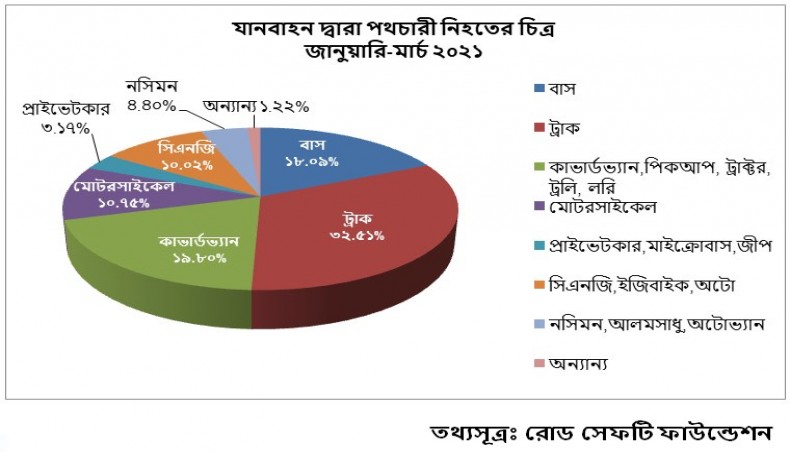 At least 409 pedestrians were killed in 398 road accidents in first three months of this year, said a report of Road Safety Foundation published on Monday.
The major portion of the accidents, 53.51 per cent, was occurred when pedestrians were walking and the rest occurred when they were trying to cross the roads, said the report.
The report was prepared on the basis of news coverage of accidents published in seven national daily newspapers, five online news portals and television channels, said a press release of the organisation on Monday.
Among the victims 246 were men, 97 were children and 66 were women, the report said.
Of the accidents, 61.8 per cent occurred due to reckless driving and 38.19 occurred due to negligence of the pedestrians.
Of the victims, 55 per cent were killed after vehicles crushed them under the wheels followed by 44.97 per cent incidents of hitting the pedestrians to death.
Trucks were involved in the highest 32.51 per cent cases of the accidents followed by covered van, pickup van, tractor-trolley, lorry involved in 19.8 per cent accidents, buses in 18.9 per cent, motorcycles in 10.75 per cent, three-wheeler vehicles like auto-rickshaws and easy bikes in 10.02 per cent, Nasimons, Karimons, Mahindras, Tomtoms and Alamsadhus in 4.4 per cent, while car, microbus, and jeep-like vehicles in 3.17 per cent accidents and by other vehicles 1.22 per cent accidents, it continued.
In division wise statistics, the highest 33.72 per cent pedestrians were killed in Dhaka division and the lowest 4.7 per cent in Sylhet division while 15.29 per cent were killed in Rajshahi, 14.9 per cent in Chattogram, 9.8 per cent in Khulna, 8.62 per cent in Mymensingh, 6.66 per cent in Rangpur and 6.27 per cent in Barishal divisions.
As per the report the highest 32.3 per cent of these victims aged between 26 to 50 years followed by 23.46 per cent aged between 3 to 10 years, 21.92 per cent aged between 51 to 70 years, 19.23 per cent aged between 11 to 25 years and 3.07 per cent aged more than 70 years.
It also showed that 30.9 per cent of the accidents took place on national highways followed by 29.89 per cent on rural roads, 23.86 per cent on regional highways, 14.32 per cent on urban roads and one per cent on other roads.
As per the report, 28.39 per cent of the accidents took place in the morning, 22.11 per cent in the afternoon, 20.1 per cent at noon, 14.82 per cent at night, 11.55 per cent in the evening and 3 per cent at dawn.
The foundation recommended implementing the Road Transport Act 2018, bring all locally made vehicles under registration, training for drivers, freeing footpaths from grabbers and hawkers and conduct awareness campaign.
Want stories like this in your inbox?
Sign up to exclusive daily email
More Stories from Country