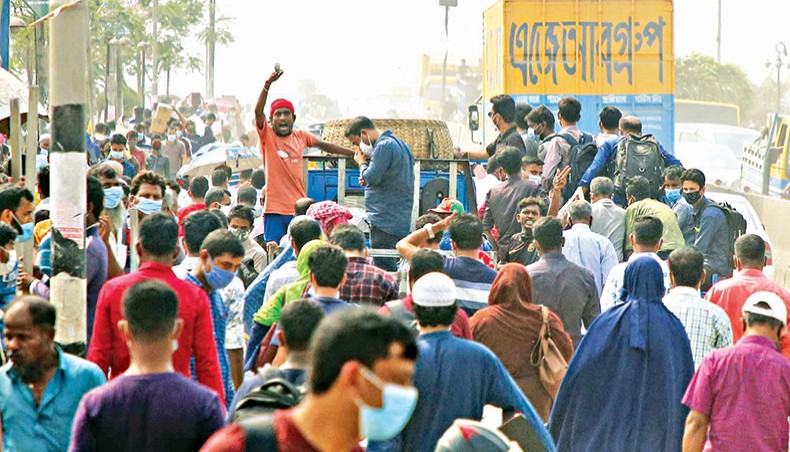 The government on Monday announced closures of all government and non-government offices and financial institutions for eight days, imposing further restrictions on public movement and overall activities from April 14 to check the worsening COVID-19 situation in a fresh order.
The previous restrictions on public movement and businesses that came into force on April 5 have remained on paper as more people came out of homes to reach their destinations while many went shopping crowding markets despite high risks of infections in the capital as in other cities across the country.
'All government, semi-government, autonomous and non-government offices, financial institutions shall be closed and the government employees and officials shall stay at their work stations. But offices at air, sea, river and land ports would remain outside the ambit of the restrictions,' said a circular of the Cabinet Division issued on the day in continuation of the 11-point instructions given on April 4 primarily to restrict public movement.
No one will be allowed to venture outside homes without emergency and operations of all modes of public transport — road, river, rail and domestic and international flights — will be banned during the period from 6:00am on April 14 to April 21 midnight, according to the circular signed by deputy secretary Md Rezaul Islam.
Industries will continue productions following the health rules and arranging for transports for their workers, the circular said.
Transportation of goods, production cycle and emergency services would remain outside the ambit of the ban on transports.
People could, however, move for vaccination by showing vaccine card, it said.
Hundreds of people on Monday thronged the major highways and waterways across the country violating social distancing norms ahead of the further restriction on movement beginning on Wednesday, the day Ramadan is like to begin.
The latest order came against the backdrop of a further surge in coronavirus cases and due to the continued violation of the week long restrictions extended till April 14 morning.
The daily deaths from COVID-19 jumped to a fresh record of 83 on Monday, raising the toll to 9,822 since the detection of the first cases of COVID-19 on March 8, 2020. Besides, 7,201 new cases were detected in the country, taking the number of total cases to 6,91,957.
The majority of the people seen crowding the bus stations and ferry terminals were leaving the capital while many were also seen travelling towards Dhaka amid the restrictions.
The pressure of passengers was immense on the major water routes — Shimulia-Banglabazar, Paturia-Daultadia and Aricha-Kazirhat — throughout the day while hundreds of vehicles remained stranded at the terminal areas.
People crowded the ferries, trawlers, local boats and even speedboats defying social distancing. 'Huge crowds are seen at launch and ferry terminals following the announcement of the lockdown where people were not following health rules and maintaining social distancing,' road transport and bridges minister Obaidul Quader said on Monday.
He said this attitude could worsen the COVID-19 situation and asked the authorities concerned not to allow carrying of passengers by any goods-laden vehicle during the 'lockdown'.
As per the Cabinet Division order, shops and shopping malls will remain shut during the period. Restaurants would be allowed to open from 12 noon to 7:00pm and 12 at night to 6:00am only to sell food items online or for takeaway.
More people began to pour into roads and markets ignoring the health guidelines immediately after two ministers — road transport minister Obaidul Quader and state minister for public administration Farhad Hossain — on Friday announced that the government was going to enforce a countrywide 'total lockdown' for a week from April 14.
People continued to rush out to their destinations outside Dhaka by private vehicles and other modes of transport amid the ban on inter-district transports.
The local administrations and market authorities have been directed for measures to ensure kitchen markets and the sale of essentials are arranged in open spaces from 9:00am to 3:00pm following the health guidelines.
The deputy commissioners have been asked to coordinate transport management for any emergencies to facilitate farm labourers to cut boro paddy.
On April 5, the government slapped fresh restrictions on public movement and businesses, banning operations of all modes of public transport, including domestic flights, across the country for a week to contain the new wave of COVID-19 infections.
Later, the restrictions were relaxed, allowing operations of road transports in cities from 6:00am to 6:00pm and shopping malls and shops to run businesses from 9:00am to 5:00pm on condition of strictly maintaining the health rules that include mandatory use of mask and hand sanitiser and maintaining social distancing.
But all these restrictions were largely violated as a rush of people at markets and roads increased after the ministers' announcement for a total lockdown.
They earlier said that the government would impose a lockdown from April 5, but later the government backtracked on its decision and issued restrictions on public movement and businesses.
All offices were allowed to operate on their own arrangements while banking hours were limited, leading to huge crowds at banks.
The district and field administrations across the country will take effective measures to enforce the restrictions while law enforcement agencies would beef up patrol, said the order again.
The Cabinet Division on April 4 issued the 11-point instruction keeping goods transports, production activities and emergency services alongside foreign travel or people returning home from foreign countries outside the purview of the ban with effect from April 5.
In 2020, the government announced a general holiday, shutting down all government and non-government offices and businesses, save for those providing emergency services, from March 26 for 10 days initially while it was extended later in phases to May 30.
All educational institutions, except qawmi madrassahs, remained closed since March 18, 2020 due to the coronavirus outbreak.
New Age correspondent in Munshiganj reported that since Monday morning pressure of passengers were seen both at Shimulia and Banglabazar terminals following the reimposition of COVID-19 restrictions.
People crowded the ferries with vehicles while Bangladesh Inland Water Transport Corporation was operating 14 ferries on the Shimulia-Banglabazar route in the River Padma.
New Age correspondent in Manikganj reported that since Monday morning hundreds of people gathered at the Paturia ferry terminal while BIWTC operated 15 ferries out of 16 on the Paturia-Daultadia route due to increased pressure of people.
Since Monday morning, people were seen gathering at the Gabtoli inter-district bus terminal but the bus counters remained shut.
Md Jahangir Alam and Md Ismail Uddin, two friends, were standing in front of the terminal with luggage to go to Rangpur.
'We will go by sharing a car as no bus is available,' said Jahangir, adding, 'The car drivers were asking for Tk 1,500 per person. The rate for a seat in a bus is only Tk 500 per person.'
Ismail said that he was going back to his ancestral home as his office was closed ahead of the lockdown.
Want stories like this in your inbox?
Sign up to exclusive daily email
More Stories from Country