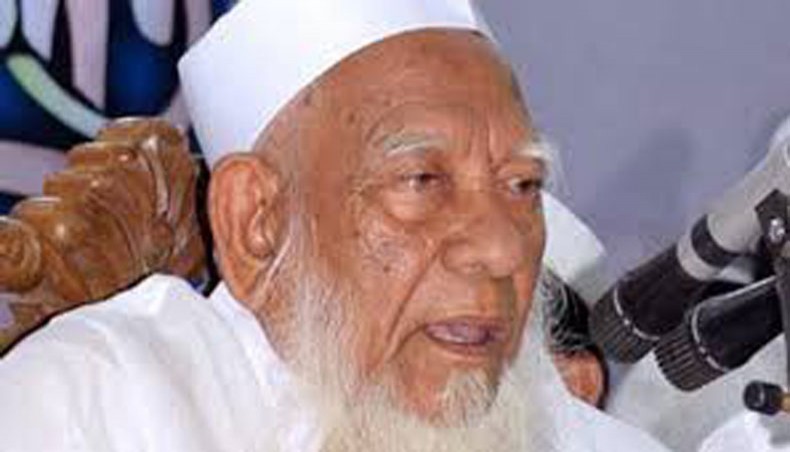 The police have found 43 Hefazat-e-Islam Bangladesh leaders, including its amir Junaid Babunagari, responsible for the death of the organisation's then amir Shah Ahmad Shafi on September 18, 2020.
Police Bureau of Investigation inspector Md Monir Hossain on Monday submitted to a Chattogram court his inquiry report in the complaint filed by Shafi's brother-in-law Mohammad Main Uddin on December 17, 2020 over the death of 104-year-old Shafi.
The report stated that the probe found evidences against 43 top Hefazat leaders of 'culpable homicide not amounting to murder', mischief causing damage, voluntarily causing hurt, house-trespass, wrongful confinement and intimidation, among others.
The report named Hefazat amir Junaid Babunagari, joint secretary general Nasir Uddin Munir, organising secretary Azizul Hoque Islamabadi and publicity secretary Jakaria Noman Foyezi, among others, as accused.
The investigator, however, has not found involvement of Hefazat joint secretary general Mamunul Haque and other leaders Nuruzzaman Nomani, Nazrul Islam, Nasir Uddin and Hasan Jamil named in the case.
Md Nazmul Hasan, superintendent of PBI Chattogram, said that they submitted the report over the death to the magistrate court on Monday.
Akhter Hossain, the bench officer of the court, said that they received the investigation report and it would be produced before the court in the next date.
Shafi's brother-in-law Main Uddin in his complaint accused 36 people, including Hefazat leaders Mamunul Haque, Nasir Uddin Munir, Azizul Haque Islamabadi, Mir Edris, Habib Ullah and Jakaria Noman Foyezi, among others.
A metropolitan magistrate court in Dhaka, meanwhile, on Monday remanded Hefazat organising secretary Azizul Haque Islamabadi for seven days in police custody in a case filed over the violence in Dhaka and elsewhere in May 5-6 in 2013.
The metropolitan magistrate, Debdash Candra Adhikari, passed the order after a hearing after the Detective Branch of the Dhaka Metropolitan Police had produced Azizul in the court and sought his remand.
Earlier in the noon, DB joint commissioner Mahabub Alam confirmed that Azizul was arrested, hours after Hefazat leaders had alleged that Azizul and one of his students had gone missing Sunday evening on their way to their houses in Chattogram from Hathazari Madrassah after holding an emergency meeting of Hefazat.
Mahbub said that Azizul was arrested in five cases, including a case lodged in 2013.
Without mentioning the time, the DMP in a statement said that Azizul was arrested in a joint operation with the Rapid Action Battalion at Baluchara in Hathazari.
It said that Hafazat held demonstrations in the capital's Shapla Chattar on May 5, 2013 and there was violence.
Cases were filed with the Mothijheel and Paltan police stations on May 6, 2013, it said.
Azizul was named in the First Information Reports and he has been arrested in the cases, it said.
The arrest of the Hefazat leader came hours after its chief Junayed Babunagari had called the government not to arrest anyone and to release who had been arrested in connection with the recent violence centring the visit of Indian prime minister Narendra Modi to Bangladesh in March 26-27.
The police headquarters has yet to disclose the number of cases filed and arrests made so far after the protests and violence in March 26-28 which left at least 17 people killed, mostly in the firing of the police and the Border Guard Bangladesh in the clashes during and after Modi's visit.
According to New Age correspondents and the police in different districts, at least 70 cases have been filed against 50,000 protesters in Dhaka, Narayanganj, Brahmanbaria, Sylhet, Chattogram, Kishoreganj, Feni and other places under the anti-terrorism act, and other charges.
Hefazat's joint secretary Mamunul Haque was also prosecuted in six more cases over the violence over his confinement with his 'second wife', Jannat Ara Jharna, by the police and ruling party activists in a resort in Nayaraganj.
Mamunul's follower Rafikul Islam, who is known as 'child preacher', was also arrested and named in three cases under the Digital Security Act for his 'anti-state' statement in social media.
A general diary was filed with the Mohammadpur police station on Sunday in which one Shahjahan stated that he could not reach his sister, Jannatul Ferdousy Lipi.
Shahjahan claimed that Lipi was Mamunul's another wife.
Earlier, Paltan police station officer-in-charge Abu Bakar Siddique said that Abdur Rahman, son of Jannat Ara Jharna, filed a general diary with the police station Saturday night, stating that he could not reach his mother for the last few days.
Want stories like this in your inbox?
Sign up to exclusive daily email
More Stories from Politics