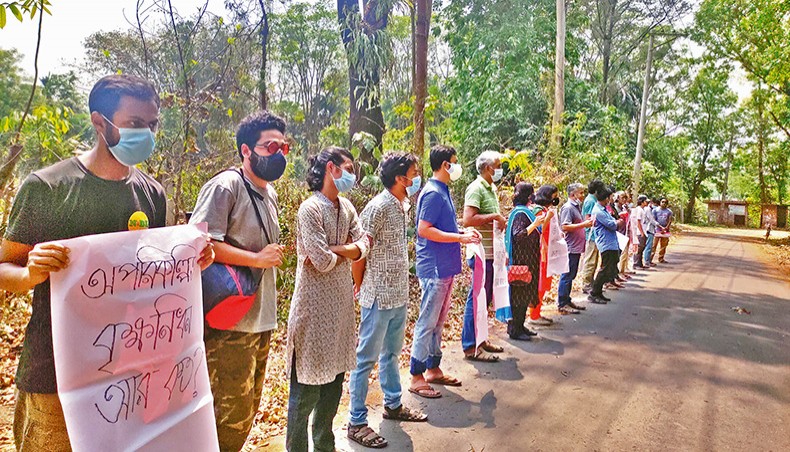 Teachers and students of Jahangirnagar University on Sunday demonstrated on the campus protesting at botany department's scheme of a modern botanical garden after cutting down the existing reserve forest trees on the campus.
Over 30 teachers and students formed a human chain in front of the university's botanical garden at about 1:00pm demanding immediate cancelling of the scheme.
Protesters at the programme alleged that the department also set fire to the reserve forest to execute their plan disregarding the ecological balance of the campus.
Addressing the programme, Professor Jamal Uddin of environmental sciences department said, 'The university has a committee on cutting down mature trees to protect the ecological balance of the campus. But destroying the reserve forest on the campus for any personal project cannot be expected.'
While the whole world is raising voice to protect forest ranges, Jahangirnagar University authorities continue their deforestation campaign in the name of development, he added.
Professor Tarek Reza and Professor Shamima Sultana of Bangla department, general secretary of the university unit of Bangladesh Chhatra Union Rakibul Rony, president of Jahangirnagar Cultural Alliance Dipankar Deep, general secretary of Smajtantrik Chhatra Front Abu Sayeid, among others, spoke on the programme.
Botany department chairman Professor Nuhu Alam denied the allegations of setting fire to the reserve forest.
'Several species of rare plants in our garden were also destroyed during the unexpected arson incident. There is no way to take such suicidal attempts', he told New Age.
'We have planned out a botanical garden with individual nursery, xerophytic and aquatic sections, greenhouses, digital plant plates which will be helpful to our students on their research, he added.
The university, like all other educational institutions in the country, has remained closed since March 18, 2020 due to the COVID-19 outbreak.
Want stories like this in your inbox?
Sign up to exclusive daily email
More Stories from Country