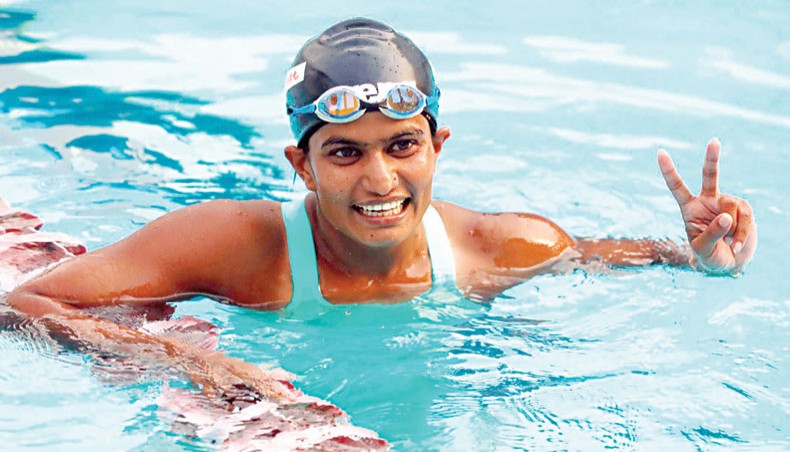 Bangladesh Navy swimmer Sonia Akter Tumpa, who finished the just concluded 9th Bangabandhu Bangladesh Games with highest 11 medals – eight gold and three silver — lamented the dearth of international success.
Tumpa, known as 'queen of the pool' among local athletes for her huge success in the domestic circuit, bagged gold in the women's individual 400metre freestyle, 200metre butterfly, 800metre freestyle, 50metre freestyle and 400metre medley relay.
She also shared three gold medals in the women's team events – 4x100 metre relay, 4x200 metre medley relay and 4x100 metre freestyle relay events.
The former BKSP student had earlier bagged the highest number of medals in her maiden appearance in the Games back in 2013, when she won six gold, three silver and one bronze medal.
Moreover, she has won a total of 21 gold medals at the National Championships – 10 in the 2010 edition and 11 in the 2011 one– in her 15-year-long career which began in 2007.
But she is yet to win any gold in international competitions and only has three bronze medals to her name, which came in the 2010, 2016 and 2016 edition of the South Asian Games.
The 26-year-old swimmer from Jhenaidah now thinks that her international career could end without any major success.
'Time is running out, newcomers are coming up. I don't know how long I can perform well…Yes, I will have grief, if I end my career without aking a major mark at the international stage, at least in the SA Games,' Tumpa, who is serving the Navy team since 2013, told New Age.
Tumpa believes that a lack of training opportunity in overseas facilities is the main reason behind her poor showing in international competitions and hopes that the younger swimmers will get the opportunities that weren't offered to her.
'I never went abroad for higher training and right at this moment I am not at my peak form …But there are other swimmers, who have possibility of success if get higher training in abroad.
'We need to set up the target first, then a long term planning and higher training in abroad before looking into success at the international stage…We become inactive after the Games whereas we need to continue our training throughout the year,' she added.
Tumpa married her Navy team-mate Asif Reza, who bagged four gold and one silver medal alongside setting up a record 4x100 metre freestyle relay event in the Games.
Though Tumpa has clinched the highest number of medals in the last two Games, she could not break any records.
The Navy swimmer believed that participating in too many events was the reason behind it.
'I needed to focus and compete in many events for my team's success. I could do better or break records, if I only focus on my favourite events — 50metre freestyle and 100metre butterfly,' Tumpa said.
'The team success comes first then my individual achievements. I always bear it in my mind to win as many medals as possible for the Navy.'
On the other hand, she also expressed her satisfaction for getting chances to compete in more events than other swimmers.
'If I did not take part in many events, I could not win as many golds.'
Want stories like this in your inbox?
Sign up to exclusive daily email
More Stories from Miscellany