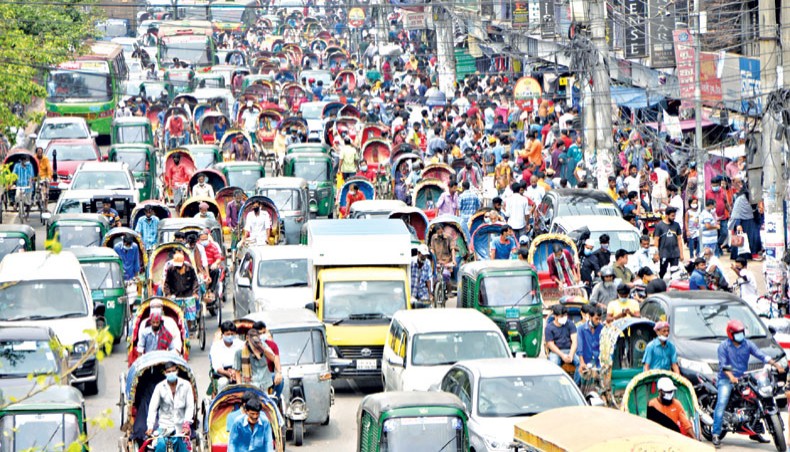 The weeklong restrictions imposed on public movement and businesses end today after a gross violation of the instructions to contain the current surge in COVID-19 cases.
In this circumstance, the authorities are likely to impose a weeklong 'complete lockdown' from April 14.
As for April 12 and 13 the government is yet to take a decision whether inter-district buses, passenger trains and passenger launches will resume operation or not on these two days.
Meanwhile, the violation of restrictions marked a further rise on Saturday as relatively more people poured out to roads, markets and shopping malls on the day — the sixth day of the weeklong nationwide regulations.
Vast numbers of shoppers flocked to markets in Dhaka on the second day of their reopening on Saturday violating health guidelines as traders and the government agencies remained indifferent to the situation.
A number of shoppers said that they thronged shops and markets this time as the government had announced a likely 'total lockdown' from April 14.
Following the increased pressure of cars, emergency services and goods-laden vehicles, the Bangladesh Inland Water Transport Corporation resumed the operation of some ferries on major water routes to lessen the pressure of traffic at ferry terminals.
On the day traffic congestion was seen on major roads and major crossings in the capital.
Bangladesh on the day logged the highest number of COVID-19 deaths for a single day, 77, after the coronavirus was reported in the country on March 8 last year.
The COVID-19 death toll has so far reached 9,661 and the total number of cases 6,78,937.
The Cabinet Division on April 4 issued an 11-point instruction restricting public movement outside home between 6:00pm and 6:00am without an emergency, closing all markets and shopping malls, banning the operation of all modes of public transport, including domestic flights, limiting the banking hours and the selling time at kitchen markets and shops of essentials between April 5 and April 11.
All these restrictions were largely ignored throughout the period, with the extent of violation increasing after the government from Wednesday allowed back buses on roads in all city corporation areas across the country from 6:00am to 6:00pm with increased fare until further notice and decided on Thursday to allow markets and shopping malls to reopen on Friday from 9:00am to 5:00pm till April 13.
Road transport and bridges minister Obaidul Quader on Friday said that the government was actively considering imposing a weeklong 'complete lockdown' from April 14.
The same day state minister for public administration Farhad Hossain said that the operation of all offices and garment factories except those providing emergency services and all modes of transport would remain halted from April 14 for a week.
He also said that a gazette notification on the planned total lockdown would be issued today.
Bangladesh Road Transport Authority chairman Nur Mohammad Mazumder told New Age on Saturday that a meeting was likely to be held today to take a decision on the operation of inter-district buses on April 12 and April 13.
Bangladesh Railway director general Dhirendra Nath Mazumder also said on the day that a meeting would be held today at the railways ministry to decide on running passenger trains on these two days.
Shipping ministry senior information officer Md Jahangir Alam Khan said that the restriction imposed on the movement of passenger launches from April 5 was for an indefinite period while no decision was taken yet to relax it.
On Saturday the number of vehicles went up on roads in the capital compared to the past five days causing traffic congestion in different areas, including Dhanmondi, the Science Laboratory neighbourhood, Banglamotor, Moghbazar, Karwan Bazar, Farmgate, Mirpur and Shahbagh, till the afternoon.
Huge crowds of shoppers were seen to buy clothes and cosmetics while the rushes to electronics and electrical shops were also considerable, particularly in the marketplaces like Bashundhara Shopping Mall, Eastern Plaza, Metro Shopping and New Market, said witnesses.
Md Enamul Haque, a private-firm employee, went to the Bashundhara Shopping Mall to replace his mobile-phone cover at around 2:00pm who, too, was frustrated by the non-compliance with health guidelines at the market.
He said that due to the flawed decision of the government he could not make any plan on his outdoor activities in the past two weeks.
'I went out of the house with my family members to complete a dozen or so pending tasks, including shopping,' he said.
Many customers and traders were seen moving around the markets without wearing facemasks on the day while there were no hand-washing or sanitising facilities available with crowds not maintaining physical distances at the markets.
Bangladesh Dokan Malik Samity president Md Helal Uddin said that traders were asked to strictly maintain the health guidelines but customers did not care even after installing healthcare facilities.
But only a few shops were found complying with the health rules on a limited scale with most of the shops and shoppers grossly ignoring instructions.
Dhaka South City Corporation and Dhaka North City Corporation officials said that they would operate mobile courts in all public places from today.
On Saturday the BIWTC operated eight to nine ferries on the Shimulia–Banglabazar route and nine on the Paturia–Daulatdia route.
Earlier, due to the restrictions the corporation operated only one or two ferries on these routes across the River Padma for emergency services and goods-laden vehicles.
BIWTC Shimulia ferry terminal assistant general manager (ferry services) Shafiqul Islam told New Age on Saturday that currently eight to nine out of their 18 ferries were on operation.
'Yesterday [Friday] due to the pressure of cars and goods-laden vehicles there was congestion at the terminal and that was why we have deployed more ferries to lessen the congestion,' he said.
The rush of vehicles continued on Saturday while most cars were coming from the Banglabazar terminal to Shimulia terminal, he said.
He mentioned that at around 2:00pm at least 200 goods-laden vehicles were waiting at the Banglabazar terminal to cross the Padma.
The New Age correspondent in Manikganj reported that on Saturday nine out of the 16 ferries ran on the Paturia–Daultadia route due to the pressure of vehicles.
According to BIWTC Aricha ghat deputy general manager (ferry services) Zillur Rahman, these ferries have been plying the route since Friday.
Want stories like this in your inbox?
Sign up to exclusive daily email
More Stories from Country