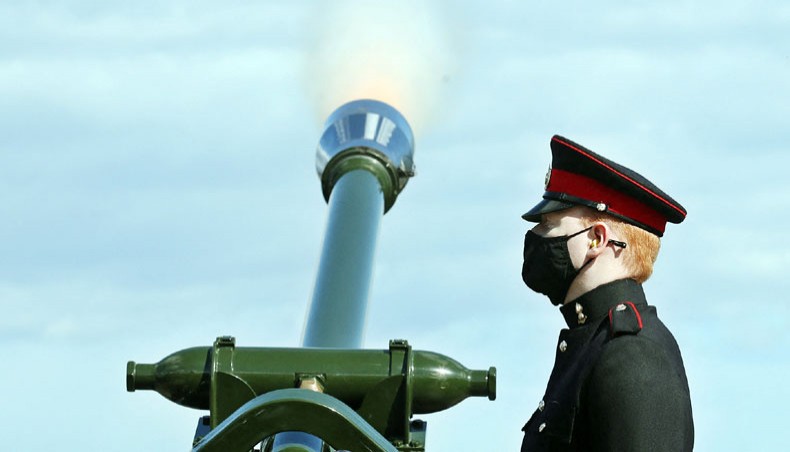 Gun salutes echoed around the United Kingdom on Saturday as the military paid solemn tribute to Queen Elizabeth II's husband Prince Philip after his death aged 99.
The coordinated 41-round volleys to the former Royal Navy commander were fired at a rate of one per minute from 12:00 (11:00 GMT) in London, Edinburgh, Cardiff and Belfast, as well as at naval bases, from warships at sea, and in the British territory Gibraltar.
Similar salutes — the most according to military protocol — were also held in Canberra and Wellington, as the queen is head of state in Australia and New Zealand.
At the Tower of London, a crowd of more than 100 onlookers kept a respectful silence as they watched the Honourable Artillery Company fire shots on the banks of the River Thames.
One onlooker, Heather Utteridge, said she had come to show her respects 'for a superhuman'.
'It's a great loss to not just the Queen, but actually to the country. He represented stability for all of our lives,' the 65-year-old said.
Alexander Beaten, 30, said the royal couple, who had been married for 73 years, had been an integral part of British identity and culture.
'We can disagree with the government, we can disagree with so many things that the country may or may not do, but the Queen and Prince Philip are just such a constant,' he said.
Sporting events, including Premier League football matches and at English county championship cricket, held moments of silence as part of worldwide tributes to mark the death of the Duke of Edinburgh, during a period of national mourning.
The death of the duke, the longest serving royal consort in British history, on Friday is a profound loss for the 94-year-old monarch, who once described her loyal husband as her 'strength and stay' throughout her long reign.
Flags are flying at half-mast on government buildings and will do so until the morning after his funeral, the date of which has yet to be announced.
The well-rehearsed protocol for the duke's death — codenamed 'Forth Bridge' — includes the recall of parliament on Monday.
British television stations cleared their schedules for special broadcasts looking back on his life, although the BBC said it had received complaints about the blanket coverage.
Westminster Abbey, where the couple married in 1947, tolled its tenor bell 99 times on Friday, once for each year of the prince's life.
Political campaigning for May local elections stopped, and loyalist leaders in Northern Ireland, who have been rioting for days amid heightening political tensions in the British province, urged a pause in violence on Friday.
The call — 'as a mark of respect to the Queen' — was largely heeded.
Marches that had been planned by members of the pro-UK unionist community in Belfast were cancelled on Saturday.
But despite the calls for calm, some lower-level disorder continued overnight.
Want stories like this in your inbox?
Sign up to exclusive daily email