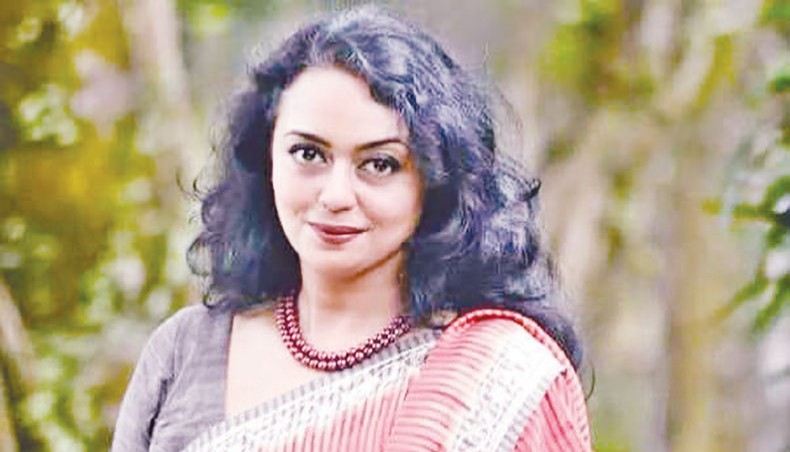 Writer-translator Afsana Begum's three new works are available at the on-going Amar Ekushey Book Fair.
Her novel entitled Ekla Megher Chithi has been published by Kathaprokash while two translated books entitled Kukur O Goyenda and Lekhak Haoyar Pathe have been published by Prothoma and Adarsha Prokashoni respectively.
'The novel Ekla Megher Chithi was published in February 2021 eyeing Amar Ekushey Book Fair. The cover of the book has been designed by Sabyasachi Hazra. This is my fourth novel and 21st literary work. The novel revolves around the life of a single woman who faces various obstacles and eventually overcome those alone,' Afsana Begum told New Age.
'The work entitled Lekhak Haoyar Pathe contains Bangla translation of 12 essays penned by renowned authors. Readers will get a glimpse into their literary journey reading the essays. Besides, the work entitled Kukur O Goyenda is the translation of Mark Haddon's The Curious Incident of the Dog in the Night-Time. The book is known as a teen classic in Europe,' added Afsana Begum, who also spoke about her upcoming works.
'I have been writing a novel for a long time. Besides, I am currently writing two novels scheduled to be published in Eid supplements. I am also looking forward to translating some noteworthy literary works,' she mentioned.
Readers can buy Ekla Megher Chithi at the stall of Kathaprokash Prokashani, Kukur O Goyenda at the stall of Prothoma Prokashan and Lekhak Haoyar Pathe at the stall of Adarsha Prokashani at Amar Ekushey Book Fair.
The books can also be purchased at book shops namely Batighar, Prothoma and others. Besides, readers can buy the books on online platforms namely rokomari.com, boibazar.com and others.
Earlier, Afsana Begum has penned works including Dashti Pratibimber Pashe, Ami Athaba Amar Chhaya, Dingata Kapatata, Pratichchhaya, Kolahal Thamar Pore and others.
Want stories like this in your inbox?
Sign up to exclusive daily email
More Stories from Literature