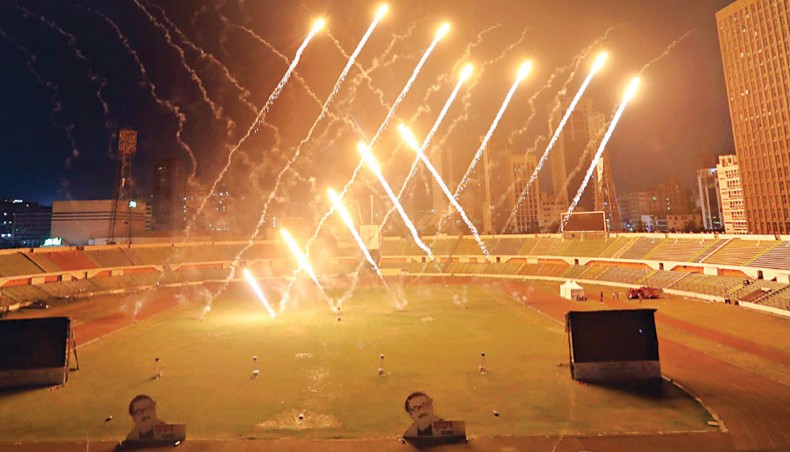 The curtain of the 9th Bangabandhu Bangladesh Games fell on Saturday with a simple virtual closing ceremony at the Bangabandhu National Stadium in Dhaka.
Bangladesh Ansar dominated in the multidiscipline competition, finishing with 132 gold medals, the highest out of the participating 363 organisations, which included associations, services teams, clubs and districts.
Ansar also took home 80 silver and 57 bronze medals and to take their total tally of medals to 269.
Bangladesh Army bagged 297 medals, the highest in the Games, but finished second as they ended up with 17 gold medals fewer than Ansar.
Ansar had also dominated in the previous edition of the Games, which was held in 2013, where there secured 250 medals – 111 gold, 75 silver and 64 bronze.
A total of 60 new national records were set in this year's Games, – 34 in weightlifting, 13 in cycling, 11 in swimming, one each in archery and athletics – in this edition.
Navy's swimmer Sonia Akter Tumpa bagged the highest 11 medals – eight gold and three silver.
Tumpa bagged gold in the women's individual 400metre freestyle, 200metre butterfly, 800metre freestyle, 50metre freestyle and 400metre medley relay.
She also shared three gold medals in the women's team events – 4x100 metre relay, 4x200 metre medley relay and 4x100 metre freestyle relay events.
The 26-year-old swimmer from Jhenaidah was happy after finally excelling at a number of events in the Games and hoped take confidence from here and start winnings medals on the international stage, where her only achievement so far is a bronze medal in the 2016 South Asian Games.
'After a long time I did well in a number of events… I feel that I can do better on the international stage, if I get good training facilities. We, the swimmers, don't get sufficient training opportunities,' Tumpa said.
Meanwhile, in the day's only event, Jahangirabad Central Zone clinched the four-team men's cricket event title after beating Varendra North Zone by seven-wicket in the final held at the Shaheed Abdur Rab Serniabat Stadium in Barishal.
Batting first, Varendra posted 270-6 in 50 overs before Jahangirabad chased it down comfortably, reaching 273-3 in just 40.2 overs.
Varendra's skipper Nayeem Ahmed hammered 128 off 129 balls but innings was outdone by Jahangirabad's opener Jishan Alam's thunderous 169 off just 119 balls.
Bangladesh Games organising committee chairman and finance minister AHM Mustafa Kamal gave the addressing speech in the virtual closing ceremony as the chief guest.
State minister for youth and sports Zahid Ahsan Russel, Bangladesh Olympic Association president and Army chief General Aziz Ahmed and BOA secretary general Syed Shahed Reza also delivered a speech on the occasion.
In the ninth edition, some 225 sports organisations finished their campaign without a medal.
Around 5300 athletes competed in 31 disciplines for 1247 medals –380 gold, 375 silver and 492 bronze.
The Games officially commenced on April 1.
FINAL MEDALS TABLE (Top 10 teams)
P T G S B T
1 Ansar and VDP 132 80 57 269
2 Army 115 99 83 297
3 Navy 63 39 25 127
4 BGB 14 16 2 6 56
5 BKSP 10 17 23 50
6 Police 8 14 35 57
7 Chattogram DSA 3 5 9 17
8 Navy Shooting Club 3 4 4 11
9 Air Force 2 4 5 11
10 Quantum CS&C 2 4 0 6
Want stories like this in your inbox?
Sign up to exclusive daily email
More Stories from Miscellany