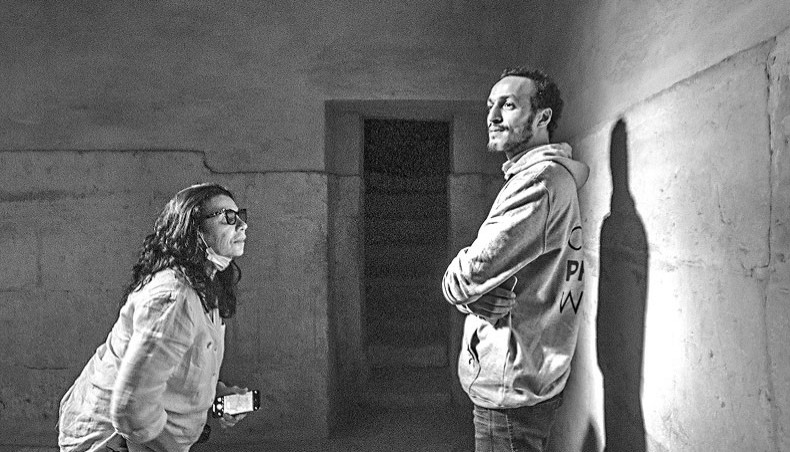 THE Cairo trip last month had been my first overseas visit in over a year. My previous trip to Egypt had ended just before Tahrir Square erupted, and I was keen to see what changes had taken place. Keen to see what my students had been up to, and to meet old friends. I had bumped into Barrister Taposh and his family, who were staying at the same hotel on that trip and not knowing who he was, had happily played with his kids and chatted with the family. Except for some discerning journalists, who had sensed we were sitting on a tinder box, the world had been unaware of what was brewing in Egypt. For a while at least, Tahrir Square had represented freedom from tyranny.
No chance of taking photographs my friends had warned me this time. Even indoor portraits won't work, no one will want to be interviewed by you. Egypt under Abdel Fattah Saeed Hussein Khalil el-Sisi, was not very different from Bangladesh they said. Effectively under military rule, there was no independent media. People spoke in hushed tones. Taking photographs of the now famous Tahrir Square was out of the question. My friend's brother had been in jail without trial for two years. Photojournalist Mahmoud Abu Zeid, known as Shawkan, arrested along with 700 others in August 2013 as he covered deadly clashes in Cairo between security forces and supporters of ousted Islamist president Mohamed Morsi, faced the ridiculous charges of killing police and vandalising property during the clashes. He had been 'released' after five years, but still had to spend his nights in jail. He was given temporary release to join us during Cairo Photo Week when we went to the mastaba of Mereruka, the largest and most elaborate of all the non-royal tombs in Saqqara.
Egypt had been possible as they didn't care much about COVID. There was no quarantine for visitors, and few people bothered with masks. 'We have no idea how many have COVID', an organiser of the event said, 'we are simply in denial.' Coming from Dhaka, I could relate. The repression, the suppression of free speech, the fear amongst the public, the corruption, and the denial, were all too familiar. Despite all this, I was surprised that I hadn't seen a single photo or billboard of Sisi anywhere. I had been similarly surprised while attending the Asma Jahangir Conference in 2019 in Lahore, where I hadn't seen a single image of Imran Khan on any hoardings. I had been driving forty minutes from the airport to the city before I saw posters of Muhammad Ali Jinnah and his sister Fatema Jinnah.
Quite apart from the visual diarrhoea of mug shots of every ward commissioner, with dynasty images of the ruling clan in the background producing tons of PVC that went into these grotesque hoardings, the nausea resulting from being constantly stared at by unelected politicians, wherever one went in Bangladesh, was distinctly bad for one's health.
People being killed for protesting against Modi's visit. The predictable drownings in overcrowded launch resulting from snap lockdown decisions designed to side step the opening of the games and all the other ill-timed and ill planned knee jerk responses have taken far too many lives. Over the years, despite clear culpability, I have never seen the decision makers responsible for such disastrous decisions ever made accountable, even in the face of convincing evidence.
It was refreshing therefore to see that the Norwegian prime minister Erna Solberg, had been fined twenty thousand kroner (£1,713) for breaking the law, despite the two-term leader apologising several times for organising the event. She had flouted social distancing restrictions while celebrating her 60th birthday.
I sincerely hope the police chief, Ole Saeverud, has since not been disappeared.
Shahidul Alam is a photographer, writer and curator.
Want stories like this in your inbox?
Sign up to exclusive daily email
More Stories from Opinion