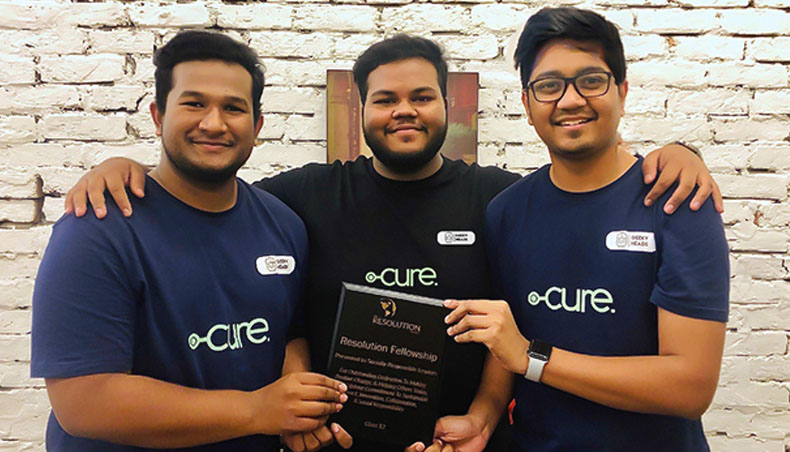 The Cure is a healthcare software that will connect doctors with patients. Patients can share their problems and doctors will prescribe remotely. The brainchild of three young Bangladeshi students, the project was presented in Tokyo and Harvard University. Mahamudul Hassan Tonmoy writes his experience of working in the project
THE friendship of the three started from high school. Sakib and I used to participate in technology-related segments and Arnob joined as a debater. From that time until now we have been working together. But that did not lead to any gap in our friendship.
We were spending some lazy time after the Higher Secondary Certificate exams. In the meantime, Sakib informed us that there is an event called Banglalink Drink Entrepreneurs where young entrepreneurs will meet. At that time, we did not know exactly what entrepreneurship meant. There we met with young entrepreneurs and got to know about different start-up projects. This event motivated us to think and generate ideas.
Since that event, we started learning about entrepreneurship and looking for some opportunities to grab. In between, we came across an event of Bangladesh Innovation Forum called Business Innovation Summit, one of the segments of this summit was the national business idea competition. We were very interested in participating in the competition. Then we started thinking about our real-life problems and started finding a solution.
We were thinking about what problem to deal with or what problem we face every day which can be solved through technology. In the middle of the discussion, we started thinking about the health sector. A lot of people are working in this sector but there is still more to do yet. Because most of the experienced and skilled doctors live in Dhaka, people need to come to Dhaka three to five times every year. Sometimes they need to come for some simple health problem which is not worthy enough. So, that is the problem we found, there is a lack of communication between the doctors and the patients. We also found that people nowadays are very busy with their own life and they do not have enough time to visit doctors for simple problems. They just neglect it and sometimes they need to pay high for such negligence.
We found our problem, now it is time to find the solution to make our health system more convenient and easily accessible. Finally, we structured a software project which can make it possible. That is how we have come up with the idea of 'Cure'.
The cure is a healthcare software that will connect doctors with patients. Patients can share their problems and doctors will prescribe remotely.
Moreover, the patient will be delivered medicine at home. Patients and doctors, both will see the report. We were preparing for the business idea competition, polishing our idea, and gathering data about validating the problems. Finally, the day came, our project was short-listed, and we were called by Bangladesh Innovation Forum to pitch our idea. We worked on the presentation all night. After all, the three of us went to pitch our idea with a lot of courage. We entered there and saw that there were several well-known entrepreneurs of the country as our judges. They listened to our idea very carefully and then asked some questions about the project. The wait was over, and we made it to the final round. The first time participating in a business competition and qualifying for the final round was a little big achievement for us. The second opportunity came up with another business competition organised by YES. By this time, we came across the Microsof-YoungBangla internship program. It was an honour for us that we got selected as an intern and completed a short internship in Microsoft Bangladesh's Office on our project — Cure. After that, we participated in a seminar by YSI Bangladesh, which is an organisation for young entrepreneurs headquartered in Norway. We improved ourselves and learned how things work. We implemented our experience in our project to make it better than before.
One night at around three o'clock I suddenly received an email stating that our project had passed the first round of the International Young Innovators Summit and they had invited us to Japan to compete with the rest of the contestants. That summit was officially organised by Student International and Japan Student Services Organisation (JASSO).
The first problem after that invitation was convincing our parents as they had concerns about travelling abroad alone in that teenage. We already started the processing for the travel.
At the summit, the top 50 projects were invited to present their work in Tokyo. We competed with the contestants and waiting for the result. The wait was over, they announced the winner of the Best Idea Innovation award and it was none other than Cure from Bangladesh. It was something we felt proud of, we were proud of representing our country, we were proud of holding and uprising our flag. This was it which we worked hard for so many months.
After coming back from Tokyo, we were welcomed warmly, everybody was excited about our achievement. But we kept working, this was not enough for us. After that win, our confidence was much higher. And it was not wasted again, this time we were invited to Harvard University, USA.
Harvard University organised the 65th edition of Harvard National Model United Nations, one of the oldest and most prestigious conferences of Model United Nations globally. Over 3000 delegates from 80 countries and 230 Harvard undergraduate staff members and students took part in this conference. Social Venture Challenge, a business ideation competition designed to inspire students to propose their solutions for pressing social issues around the world, was jointly organised by Resolution Project and Harvard University, at the conference. The panel of judges for the competition comprised experts from Harvard University, Microsoft, Bank of America, and other top organisations.
Our project Cure was announced as one of the top eight projects by the end of the programme. We worked harder, kept working on the feedback we got. And this time we were invited to Malaysia to present our project in front of the current Malaysian prime minister Mahathir Bin Mohamad and other dignitaries. It was a real pleasure for us, we have ended that event as the world's top 20 best projects.
These competitions were something where we were gaining experience and constantly updating and working on our project and ourselves. Finally, next year we were again invited to Harvard University, USA. This time we worked with our flaws, judges were impressed, some of them recognised us from the last year. They were amazed that we took their feedback very sincerely and worked on that for over a year. This time we made no mistake, it was Cure from Bangladesh, who won the title of Resolution Fellowship and Social Venture Challenge Winner at Harvard University, USA. Representing Bangladesh on an international platform is truly a proud moment for us. Over 3000 delegates from 80 countries were there when we proved to them that Bangladesh is one of the best, the moment was truly memorable. That was one of the greatest achievements of our life where we got the opportunity to uphold our country's name before the young delegates from all over the world.
This competition meant a lot for us. As the winner Cure got a lifetime Resolution Fellowship. In this fellowship, Cure will be advised in numerous fields to become a successful venture from the brilliant minds of Harvard alumni.
The most exciting part is, Cure is getting seed funding from resolution to kick-off as a start-up.
From Japan to Malaysia, From New York to Massachusetts to the United States of America project Cure has been highly appreciated. It always feels great to represent Bangladesh in other countries, but the feeling is way different when we end up as the best in the world.
Mahamudul Hassan Tonmoy is a fellow at The Resolution Project and a student at Independent University, Bangladesh.
Want stories like this in your inbox?
Sign up to exclusive daily email
More Stories from Initiative