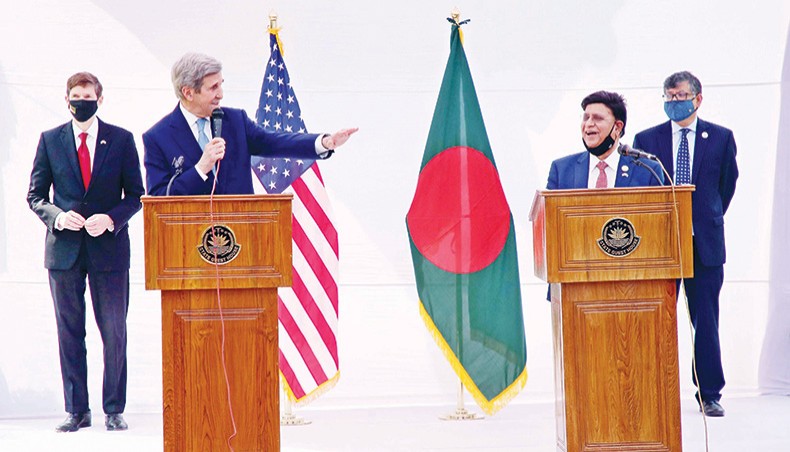 US special presidential envoy for climate John Kerry on Friday emphasised forging cooperation for taking action globally without making any mistake in dealing with the global climate crisis.
'We know from the scientists we must all take action,' he said at a joint press conference in Dhaka noting that the US administration is looking for greater collaboration with Bangladesh on the issue after his arrival in Dhaka earlier on the day.
'We've the ability to work together now in order to bring technology, research, development and finance to the table to do what we know we must do,' he said after a talks with foreign minister AK Abdul Momen at the State Guest House Padma, seeking joint efforts to protect the countries, citizens and the future generations as no single country can solve the climate crisis, according to the United News of Bangladesh.
Kerry and Momen exchanged views on possible areas of Bangladesh-US climate collaboration in mitigation, adaptation and renewable energy through technology transfer, capacity building and climate finance, according to a foreign ministry press release.
In his about six-hour visit, Kerry called on prime minister Sheikh Hasina when she extended assurance for cooperation on climate issues in spite of Bangladesh's need for more energy for the development of the country.
'We want the development of our country. That's why we need energy,' Hasina said with an emphasis on the source of clean energy particularly from hydroelectric power plants, according to her press secretary Ihsanul Karim.
The prime minister informed Kerry that Bangladesh is in discussions with Bhutan, Nepal and India to set up hydroelectric plants through bilateral and trilateral initiatives on regional basis. There are around 5.8 million solar connections in Bangladesh, she said, according to UNB.
She appreciated the joining of the US in the Paris Agreement on Climate Change stating that it will create new momentum in climate diplomacy.
Kerry extended the invitation of president Joseph Biden to Bangladesh prime minister for joining Leaders Summit on Climate on April 22-23.
Kerry, during his visit in Dhaka, also joined a roundtable with international partners organised by US ambassador Earl Miller at his residence.
Kerry's visit underscored the importance the US places in partnership with Bangladesh, a vital leader in international efforts to address climate change, ambassador Miller said, according to a US embassy press release.
The trip laid the groundwork for president Joseph Biden's Leaders Summit on Climate on April 22-23, where prime minister Sheikh Hasina will be recognised for Bangladesh's leadership of countries especially vulnerable to climate impacts, according to the embassy.
As the chair of the Climate Vulnerable Forum and the Vulnerable Twenty Group of Finance Ministers, Bangladesh plays a vital role in international efforts to combat climate change and adapt and build resilience to climate hazards, it said.
Kerry, who reached Dhaka on Friday morning, left Dhaka in the afternoon on the day for Washington DC.
Want stories like this in your inbox?
Sign up to exclusive daily email
More Stories from Foreign affairs