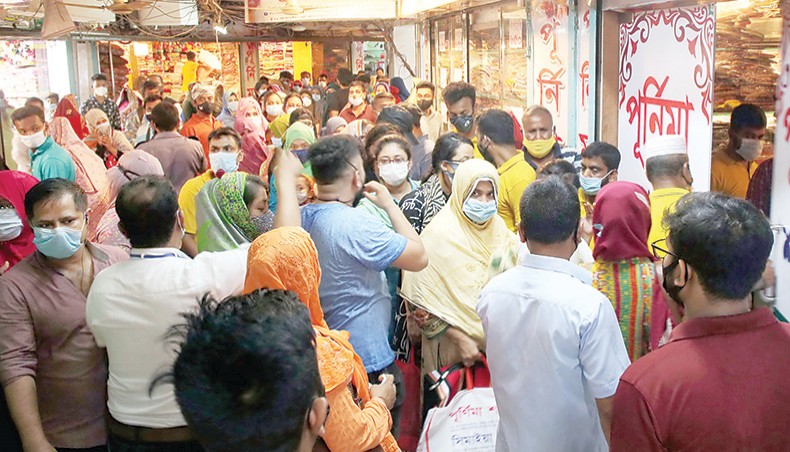 Both shoppers and shopkeepers in a number of city markets on Friday, the first day of market reopening after four days of shutdown, largely ignored health restrictions imposed by the government amid worsening COVID-19 situation.
Traders said that no government agency visited their markets on the first day while the number of customers was very low.
On April 4, the Cabinet Division issued an 11-point instruction restricting public movement and businesses and banning operations of all modes of public transport, including domestic flights, across the country for a week with effect from Monday.
Traders protested at the government decision and took to the streets and even clashed with police in different parts of the country demanding permission to keep shops open.
After four days, traders reopened their shops on Friday as the government in an order on Thursday allowed them to reopen markets maintaining strict health guidelines.
On Wednesday, the government allowed public transports on roads in cities.
In a circular the Cabinet Division said that shops and shopping malls can be kept open from 9:00am to 5:00pm from today till April 13 on condition.
Many customers and traders were seen roaming around the markets without wearing facemasks while hand-washing or sanitising and maintaining physical distances was a far cry in the markets.
Only a few shops were found maintaining limited measures, but most of the shops and shoppers grossly ignored instructions.
A mad rush of customers was found at Gausia Market, near New Market, as shopkeepers declared discount offers to boost sales.
Witnesses said that customers rushed to Purnima Sharees, a clothing shop in Gousia Market, as the shop owner declared 20-50 per cent discount on different products.
But in a number of shopping malls like Metro Shopping Mall, Eastern Plaza, Motaleb Plaza and Bashundhara City Shopping Mall shoppers' turnout was very poor.
The management of the markets took some measures like measuring temperature with temperature measuring machine, keeping hand washing facilities, spraying disinfectants at the entrances of the markets but none of them found in action.
In Metro Shopping Mall customers were seen enter as they wish as none was there to spray disinfectant.
Bangladesh Dokan Malik Samity president Md Helal Uddin said that they had asked the traders to maintain health guidelines as they have no legal right to take actions against anyone.
He said that the association was encouraging and creating awareness among the shoppers and traders for maintaining health guidelines.
'If government agency takes actions against errant traders we will cooperate,' he said requesting government not to shut shops anymore.
Dhaka Metropolitan Police additional deputy commissioner for media Iftekhairul Islam said that police was doing regular duty of awareness building and alerting people about the virus.
'If any government agency deploy magistrate police will play its role,' he said.
Dhaka South City Corporation and Dhaka North City Corporation officials said that they did not conducted any drive on holiday but would do in future if needed.
Want stories like this in your inbox?
Sign up to exclusive daily email
More Stories from Trade & Commerce