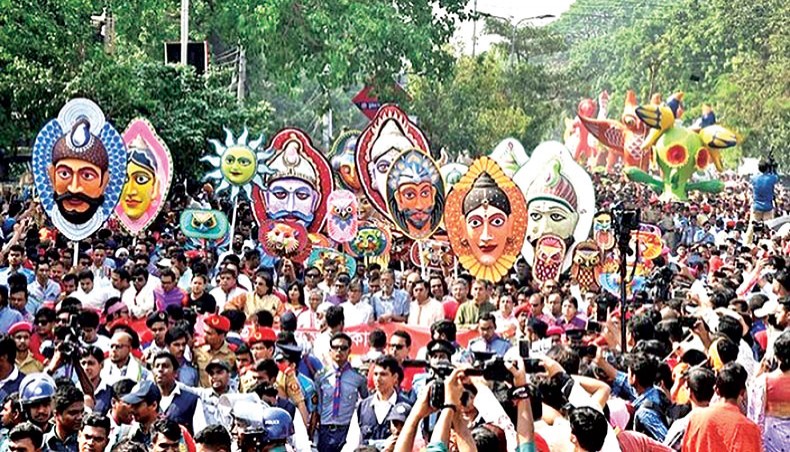 The government asked all organisations and institutions not to celebrate Pahela Baishakh organising outdoor programmes and to opt for virtual events avoiding mass gatherings.
Outdoor celebrations of Pahela Baishakh are called off for the second consecutive year due to the COVID-19 outbreak.
The ministry of cultural affairs issued a notification on Wednesday signed by the ministry's deputy secretary ASM Hasan Al Amin in this regard.
'In line with the instructions issued by the cabinet division due to the ongoing COVID-19 situation, it is requested that events would have to be organised on online platforms if possible,' according to the notification.
The notification also urged all to avoid all kinds of mass gathering at any cost.
However, the Dhaka University authorities on March 29 decided to organise a token Mangal Shobhajatra on a limited scale on April 14 due to the COVID-19 surge.
The Faculty of Fine Art of Dhaka University initiated the Mangal Shobhajatra procession for the first time in 1989 to celebrate the Bengali New Year with the participation of people from all walks of life.
The celebrations received special importance after getting the recognition of UNESCO as an intangible cultural heritage on November 30, 2016.
DU fine art faculty dean Nisar Hossain said, 'We are now taking preparations for organising a symbolic Mangal Shobhajatra on a limited scale. We have plans to organise the programme maintaining social distancing. We will maintain 10 feet distance instead of six feet.'
'Participants will stand at one place as there will not be any procession. We will also stream a version of it online,' Nisar Hossain added.
Chhayanaut was established in 1961 with an aim to promote and nurture the cultural and musical heritage of Bengal among the masses. Chhayanaut organises a massive programme at Ramna Batamul in the capital to celebrate Pahela Baishakh every year. The organisation did not arrange the programme in 2020 due to the COVID-19 crisis and this year's programme has been cancelled as well. The organisation will upload a video on YouTube marking Pahela Baishakh on April 14.
Chhayanaut general secretary Laisa Ahmed Lisa said, 'There is no alternative to cancel our programme at the Ramna Batamul this year. We will steam an online programme. Besides, Bangladesh Television will air our programme at 7:00am in the morning.'
'The programme will feature speech of Chhayanaut president Sanjida Khatun, compilations of chorus songs from the previous years' programmes. It will also include some videos made this year by our artistes at indoor venue,' Laisa added.
Want stories like this in your inbox?
Sign up to exclusive daily email
More Stories from Miscellany