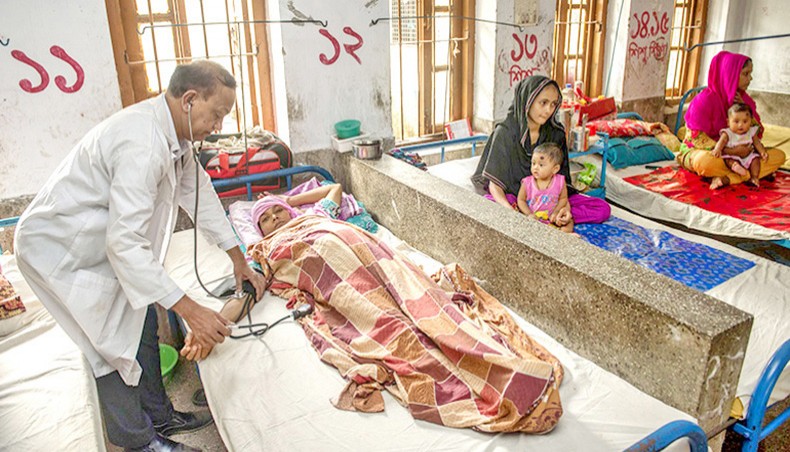 THE World Health Organisation is committed to ensuring that everyone, everywhere can realise the right to good health. The organisation, founded in 1948, celebrated its founding anniversary on April 7, which is also World Health Day. World Health Day draws worldwide attention to a subject of major importance to global health. For World Health Day 2021, the WHO chose the theme of 'Building a fairer, healthier world'. This is an awareness day organised by the WHO to invite all to build a healthier world focusing on inequality.
The satisfaction with the highest achievable quality of health is one of the fundamental rights of every human being, regardless of race, religion, political affiliation, economic and social status.
When COVID-19 broke out, all activities except medical services were stopped. Many vital health and nutrition programmes had to be stopped too as Bangladesh battles to contain the COVID-19 infection. The collapse of these programmes has had a devastating effect on the health and nutrition of people, especially of poor families. Healthcare barriers due to the COVID-19 outbreak could lead to more deaths in Bangladesh.
The world is an unequal one where most people struggle to make ends meet with little daily income, have poorer housing conditions and education, fewer employment opportunities, experience greater gender inequality, and have little or no access to safe environments, clean water and air, food security and health services. This leads to unnecessary suffering, avoidable illness and premature death. It harms our societies and economies in direct and indirect ways.
On the contrary, all over the world, some people are able to live a completely healthier life and have better access to health care. This is unfair and preventable.
The COVID-19 outbreak has hit all countries hard, but its impact has been severest on those communities which were already vulnerable, are more exposed to the disease, less likely to have access to quality healthcare services and more likely to experience adverse consequences as a result of measures taken to contain the pandemic. For this year, the World Health Organisation notes that the pandemic has highlighted that some people are able to live healthier lives and have better access to health services than others.
The COVID-19 outbreak has also highlighted inequalities in health and in access to health care. Millions of people around the world are struggling physically, financially and emotionally amidst the outbreak and their livelihoods are at risk because of the economic slowdown induced by the pandemic.
Health inequality leads to unnecessary pain, avoidable illness, disability and premature death. They exacerbate existing difficulties and harm our society and economy. There are nine determinants of health that are drivers of health inequities: income and wealth, housing, health systems and services, employment, education, transportation, social environment, public safety, and physical environment.
The World Health Organisation argues that access to sufficient health care should not be a luxury, reserved for the few, and that poor health is unfair and preventable. That is why, the WHO calls on world leaders to help ensure that everyone is fit for a healthier lifestyle and work. In addition, the organisation urges leaders to monitor health inequities so that everyone can access quality health care at any stage, especially during the pandemic. We all have a role to play in emphasising and tackling the root causes of health inequities.
Reduction in health inequalities
HEALTH inequalities are the preventable, unfair and unjust differences in health status between groups, populations or individuals that arise from an unequal distribution of social, environmental and economic conditions within societies, which determine the risk of people getting ill and their ability to prevent sickness.
The fundamental causes of health inequalities are an unequal distribution of income, power and wealth. This can lead to poverty and marginalisation of individuals and groups. Health disparities include race, gender, education, income, disability, geographic location and sexual orientation. Health disparities create health inequities.
Circumstances that lead to marked health disparities are detrimental to all members of society. Some types of health inequalities have obvious spillover effects; for example, the spread of infectious diseases, the consequences of alcohol and drug misuse, or the occurrence of violence and crime. Social determinants of health such as poverty, unequal access to health care, lack of education, stigma, and racism are the underlying contributing factors of health inequities.
The COVID-19 outbreak has played an important role in uncovering and amplifying numerous health inequalities that already existed within societies and between different population groups. Health inequities have become even more apparent during the COVID-19 outbreak as individuals from poorer socioeconomic backgrounds, minority ethnic groups, urban and rural deprived locations, refugees, and vulnerable groups of society bear the brunt most.
Inequalities in health during the pandemic are exacerbated by interweaving risk factors and comorbidities which unfavourably magnify the disease burden.
As it turns out, existing government priorities and decisions on macro socio-economic infrastructure and a lack of political will in ensuring equal access to health care have allowed COVID-19 to discriminate against disadvantaged populations. Only a few rules and regulations exist in Bangladesh to address health inequalities that address inequalities in accessing health services and outcomes of different patient groups.
Despite this, the pandemic has undoubtedly impacted certain population groups more than others. Mortality rates have been particularly high in the elderly with those aged 80 years and above making up the largest proportion of COVID-19 deaths. Men have higher mortality rate than women in all age groups. Globally, the mortality rate amongst the black people is 2–3 times higher than that amongst the white. Other factors such as geographical location, occupational exposure, socioeconomic status and barriers in accessing healthcare play a role.
How to reduce health inequality?
INCOME support from the government like tax and benefit systems, Coronavirus Job Retention Scheme, an increase in housing facilities for low-income families, financial support for the families who are unemployed due to pandemic etc can help reduce income-related health inequalities.
We know that low-income households take less medication than prescribed to avoid the out-of-pocket expenditure. So, implementation of reduced or free prescriptions or funding can be introduced to support those requiring prescriptions during the pandemic.
Amidst the pandemic, healthcare delivery has been modified to various clinical templates and moved away from the traditional face-to-face consultation. Clinicians are now employing a more radical approach which has been mostly in forms of remote telephone or video calls. Improving accessibility of health services by ensuring more accessible mode of healthcare delivery and a better opportunity for vulnerable groups to access health departments are important
The government can take another measure by providing free meals to children to ensure healthy growth, and by reducing price barriers to accessing preventative health services, which may potentially lessen the burden of COVID-19.
Local community support in the forms of supportive measures for pregnant and postnatal women who faced challenges with regards to their continuity of care and an emergence of online communities to support parents working from home with childcare, education and neighbourhood aids for vulnerable groups can reduce inequalities.
Evidence shows that poor living conditions make individuals susceptible to numerous health problems ranging from infections, respiratory conditions, injuries, and depression. Damp, cold, and mouldy housing can worsen respiratory conditions such as asthma and those with chronic respiratory conditions tend to have poorer outcomes associated with concurrent COVID-19 infection.
Standard housing with safe drinking water, hot water for washing, effective waste disposal, and adequate food storage can decrease the transmission of infectious diseases. Individual efforts, such as healthy lifestyle and diet, can also play a role in reducing healthcare inequalities.
The COVID-19 pandemic has demonstrated the seriousness of the health inequalities faced by those from underprivileged backgrounds and highlighted the difficulty they face in a health emergency that has also largely impacted people's financial ability. Action must be taken at the earliest to ensure the needs of the vulnerable to help them to survive the pandemic.
Equitable distribution of income, wealth, power, safe working environments and access to health care is the idealistic approach to equality. Since health inequality is preventable, and an unfair distinction in health status, let us all join the campaign to build a fairer, healthier Bangladesh and the world.
Dr Mohammed Shadrul Alam, a paediatric urologist and health economist, is a professor of paediatric surgery in Dhaka Medical College.
Want stories like this in your inbox?
Sign up to exclusive daily email
More Stories from Opinion