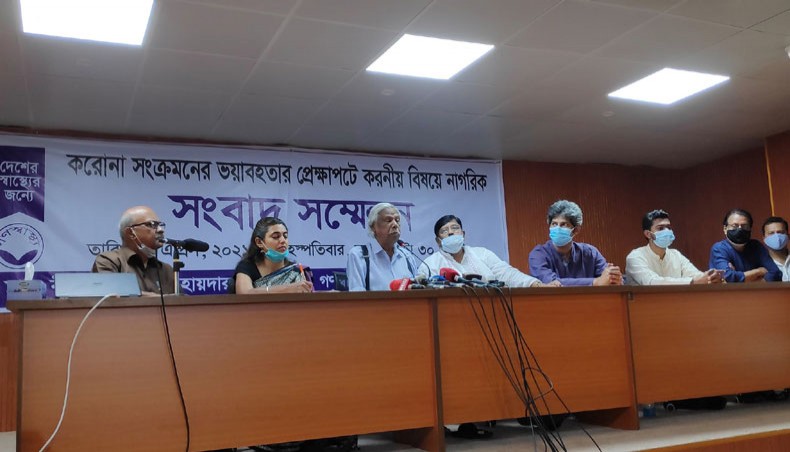 Gonoshasthaya Kendra founder Zafrullah Chowdhury on Thursday urged the government to declare a zero tax on medical equipment and medicines as people are crying for healthcare services amid a surge in COVID-19 infections in Bangladesh.
The public health expert made the demand in a press conference organised by the Nagarik Samaj, a platform of civil society people, at Gonoshasthaya Kendra Nagar Hospital at Dhanmondi in Dhaka.
'COVID-19 takes away life of one person but the mismanagement in healthcare services and the high costs of treatment paralyse the whole family,' said Zafrullah, also a freedom fighter.
He said that sufferings of people due to a lack of healthcare services became more acute after the second wave of COVID-19 infections had begun in the country.
He alleged that people were now crying for oxygen, hospital beds, intensive care unit beds, plasma and other healthcare services but all of them had become elusive for general people.
'Even if one ICU bed could be managed, it would be highly expensive. It would paralyse the whole family to manage the money,' he said.
Zafrullah said that if the government scrapped all types of taxes in the medical sector and strictly controlled costs of services at this time of the pandemic, people would get a huge support.
The government imposes different amounts of taxes, including 31 per cent tax on syringe and Tk 19 per cent on oxygen.
He also urged the government to ensure livelihood of poor and working-class people before taking any decision like 'lockdown', saying that these sections of people are most vulnerable during the pandemic.
Ganosamhati Andolan chief coordinator Zonayed Saki said that the government had not taken any practical step to prevent COVID-19 even after getting much time.
'The government did not extend healthcare facilities in the last one year,' he said.
Bangladesh Environmental Lawyers' Association chief executive Syeda Rizwana Hasan also alleged that people were not getting hospital services after getting infected with COVID-19.
She urged the government to form a commission comprising public health and virology experts to take impartial suggestions.
Dhaka University Central Students' Union's immediate past vice-president Nurul Haque Nur said that as people no longer trusted the government, they were violating its directives on tackling the coronavirus outbreak.
'Ensure livelihood of working people before taking further decisions,' he asked the government.
Jatiyatabadi Muktijoddha Dal president Ishtiaq Aziz Ulfat alleged that the government did not focus on tackling COVID-19 infections as it was busy celebrating a birthday.
Dhaka University law professor Asif Nazrul, engineer Inamul Haque, Bhashani Anushari Parishad presidium member Nayeem Jahangir, among others, also spoke.
Bhashani Anushari Parishad secretary general Sheikh Rafiqul Islam Bablu presided over the event.
Want stories like this in your inbox?
Sign up to exclusive daily email
More Stories from Country