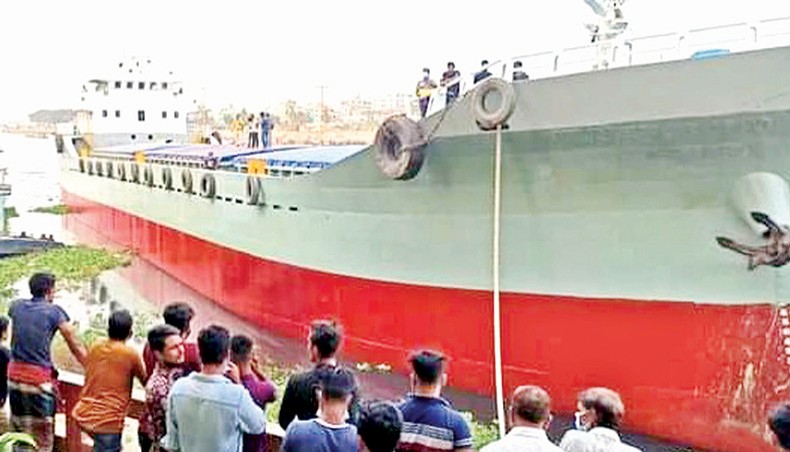 The cargo vessel that is reportedly responsible for a recent launch capsize in the River Shitalakhya was seized in Munshiganj on Thursday.
Fourteen employees of the cargo vessel, owned by ruling Awami League member of parliament for Bagerhat2 constituency, Sheikh Sharhan Naser Tonmoy, were also detained there, said police.
The Coast Guard seized the cargo vessel SKL-3 which reportedly hit the launch and fled away on Sunday evening killing at least 34 people.
The cargo vessel was seized from the river Meghna at Gajaria of Munshiganj on Thursday afternoon, the New Age correspondent in the district reported.
Coast Guard media officer Khondoker Munif Toki said that they had seized a vessel that hit the launch named Sabit AL-Hasan.
Rafiqul Islam, BIWTA director for marine safety and traffic management, said that the employees had changed the colour of the vessel to avoid seizure.
Thunderstorm started a few minutes after the accident, but the vessel did not stop, rather it continued moving far away from the accident spot, the Coast Guard officials said.
The employees changed the colour of the vessel and anchored it near Coast Guard Gajaria station later.
The Coast Guard seized it from there and it was handed over to river police who are investigating the case.
They will confirm whether it was the responsible vessel that caused the accident, said Munif.
Narayanganj river police superintendent Meena Mahmud said that they were confirm that SKL-3 cargo vessel was responsible for the accident and it was seized.
She said that they were yet to interrogate the detained people and know their identities and roles during the incident.
Department of Shipping's engineer and surveyor in Dhaka Md Mahbub Rashid said that the SKL-3 cargo vessel had no permission to ply the route.
The launch, heading towards Munshiganj from Narayanganj, was carrying over 50 passengers, the police said.
The river police rescued some passengers while some managed to swim ashore after the launch capsize, rescuers said, adding that the victims were mostly from Munshiganj.
Meanwhile, a public hearing was conducted by the ministry of shippingformed investigation committee at Koylagath of Narayanganj on Thursday.
Twenty-six people, including workers of the capsized launch, survived passengers and witnesses, gave their statement before the investigation team.
Bangladesh Inland Water Transport Authority filed a case against an unidentified cargo vessel over the launch capsize in River Sitalakhya although witnesses of the accident had identified the vessel that had hit the launch and ran away.
Want stories like this in your inbox?
Sign up to exclusive daily email
More Stories from Country