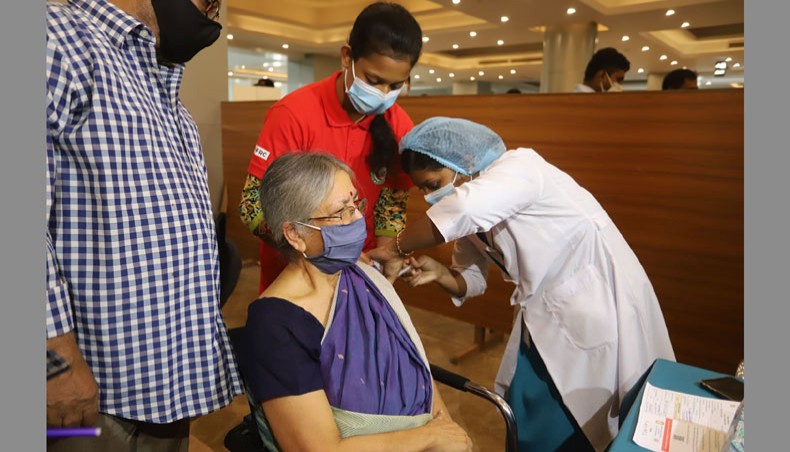 Bangladesh on Thursday began the second-dose inoculation of the COVID-19 vaccine amid a supply shortage.
With a gap of eight weeks, first-dose recipients took the second jab at vaccination centres.
But on the first day of the second-dose vaccination many vaccine seekers said that they were in confusion as they did not get their expected message in their mobile phones about their scheduled date to get the second jab.
Expanded Programme of Immunisation officials, however, said that all the vaccine recipients were being sent mobile messages about the second shot.
'But anyone not receiving the message will be given the second jab if they visit their centre on the day after two months,' said EPI director Shamsul Islam.
The country began its mass COVID-19 vaccination on February 7.
Bangladesh is using the Oxford-AstraZeneca vaccine manufactured by the Serum Institute of India.
Until Wednesday, nearly 56 lakh people took the first dose of the vaccine.
The first-dose and second-dose inoculation would continue simultaneously, said Shamsul.
'We've started our second-dose inoculation with the available doses,' he said.
'The day's programme was successful,' he further said.
Bangladesh has so far secured 1.02 crore doses of the vaccine.
It received 70 lakh doses from the Serum under a deal to purchase three crore doses by June this year and 32 lakh doses from India as gift.
Uncertainty grew over the Serum vaccine supply in recent days as the manufacturer did not supply the vaccine doses for March.
The Serum, under the deal, is scheduled to deliver 50 lakh doses to Bangladesh every month and 1.5 crore doses by March but so far it has delivered only 70 lakh doses.
The Bangladesh authorities are in the dark about when the next shipment of Serum vaccine will arrive and how many doses will be in the shipment.
Health secretary Lokman Miah said that the government was exploring other options for obtaining vaccine to meet the country's demand.
He said to reporters at his office on Thursday, 'We are trying to explore all possible sources.' He, however, did not give any details.
Want stories like this in your inbox?
Sign up to exclusive daily email
More Stories from Country