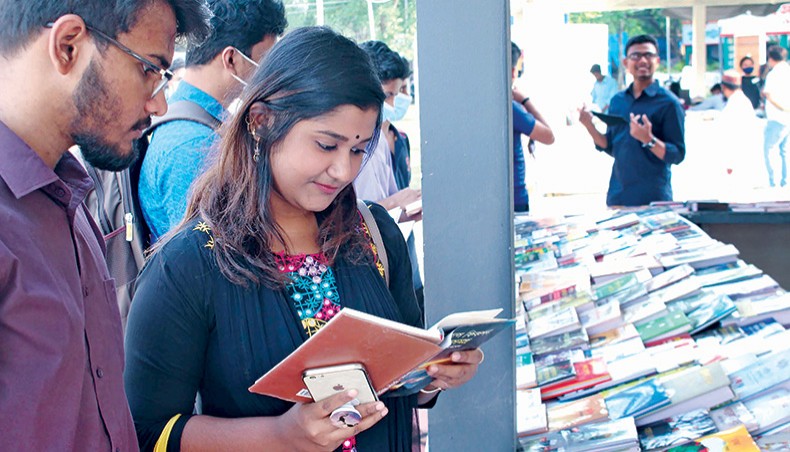 Many publishers and book sellers are breathing a sigh of relief despite a thin presence of visitors at Amar Ekushey Book Fair in Dhaka as the online book sales have gained momentum.
Publishers said that they found the alternative market more robust as the hot weather, fragile public transport system, COVID-19 situation and whimsical decisions of the authorities concerned on the fair hours had made potential visitors disinterested to visit the fair.
They also said that book lovers had started collecting books from online stores.
Anupam Prakashani manager Mohammad Shahin said, 'We sold books of Tk 2,000 yesterday but, we received orders from online stores for about Tk 19,000 on the day. We have already delivered books of about Tk 15,000.'
Dipankar Das, owner of publishing house Batighar, said, 'We have started selling books online after the COVID-19 situation began in our country. We have been receiving good response in our online outlet comparing to the stall in the fairground. Our online collection is richer than that of in our fair store.'
Zainal Abedin, an executive of publishing house Ananya, said, 'The fair is a flopped one. We are selling books worth about Tk 35,000 to Tk 40,000 through online book store Rokomari every day. Our sales in last three days have not crossed Tk 12,000 but our highest sale was last Friday TK 1 lakh'.
AKM Kamruzzaman, assistant sales manager of University Press Limited, said, 'We hoped that the people would come at the fair after allowing mass transport but the situation has worsened. I think that the new schedule kept visitors away from the fair'.
'Our online sales are better than what we are doing at the fairground. We have launched our new e-commerce website recently and we are getting good response from readers,' AKM Kamruzzaman added.
A total of 69 new books were launched on Wednesday and the total number of new arrivals reached 2,286 so far on the twentyfirst day of the month-long fair.
Want stories like this in your inbox?
Sign up to exclusive daily email
More Stories from Country