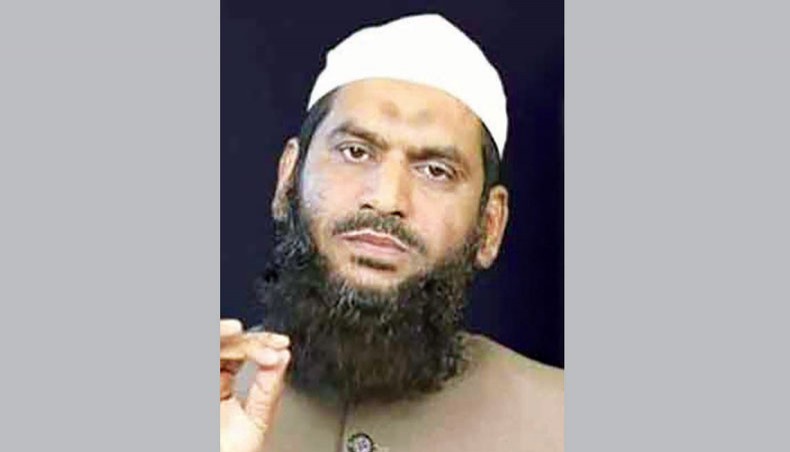 The Rapid Action Battalion on Wednesday detained a Bangladesh Nationalist Party leader in Narayanganj in connection with the violence during the protests against Indian prime minister Narendra Modi's visit to Bangladesh, and an Islamic preacher on charges of spreading 'anti-state' statements in Netrokona.
The Narayanganj police prosecuted Hafazat-e-Islam Bangladesh joint secretary general Mamunul Haque and 83 others over the violence that took place in separate places in the district on Saturday.
The RAB detained BNP leader Iqbal Hossain raiding his Narayanganj house early Wednesday in a case filed over the vandalism in Narayanganj on March 28 during a daylong strike enforced by Hefazat protesting against the March 26-27 visit of Modi, reported New Age correspondent in the district.
Iqbal, a member of the Narayanganj district BNP convening committee, is the councillor for ward no 2 of the Narayanganj City Corporation.
'Iqbal was arrested as there is a case against him with the Siddhirganj police station. He was handed over to the police in the morning,' RAB-11 commanding officer Lieutenant Colonel Khandaker Saiful Alam told New Age.
The Siddhirganj police said that 30 BNP leaders, including Iqbal, and activists and 300 to 400 unidentified people were accused in the case for committing vandalism, setting fire to vehicles and attacking the police during the hartal enforced by Hefazat.
At least 70 cases have been filed so far in different districts accusing over 40,000 for violence between March 26 and March 28 over the visit of Modi.
At least 17 people were killed and scores injured in police firing amid violence, and clashes between the protesters and the law enforcers, aided by ruling party activists.
Brahmanbaria police superintendent Anisur Rahman said that seven more cases were filed on Wednesday and a total of 47 cases had been filed and 48 people arrested in the district since March 26.
The RAB on Wednesday also detained Hefazat supporter and Islamic preacher Rafiqul Islam Madani at a place in Netrokona on charges of spreading 'anti-state' and 'provocative' statements.
Rafiqul, popularly known as 'child preacher', was detained as he created chaos and made imprudent statements on the recorded video statements, said RAB assistant director for media Emran Khan.
Rafiqul was briefly detained on March 25 for joining the anti-Modi protest in Dhaka and was related later.
Hefazat in a statement demanded the release of Rafiqul.
In Narayanganj, the police said that three cases were filed with the Sonargaon police station on Wednesday over the violence on Saturday.
On Saturday, the Narayanganj police claimed that it rescued Hafazat leader Mamunul after locals had confined him to a resort with a woman in the district while he was spending private time.
Mamunul, also the secretary general of Bangladesh Khelataf Mojlish, said that the woman was his second wife.
Of the three cases, the police filed two cases against Mamunul and 83 others while a journalist filed another case, the district police superintendent, Muhammad Zayedul Alam, said.
The journalist, Habibur Rahman, the Sonargaon correspondent of a private television channel, was on Monday assaulted by some Hefazat supporters at Bhatir Char for questioning Mamunur during his confinement in the resort.
The recorded video shows Hefazat activists assaulting Habibur and asking him to apologise for 'insulting' Mamunur.
The Hefazat supporters also ransacked Habibur's village home at Bhatir Char in Sonmandi union.
Habibur was admitted to Sonargaon Upazila Health Complex.
The Narayanganj police chief said that a supporter of Hefazat, Muhammad Mostafa, was arrested in connection with the attack after he had been identified through CCTV footage.
Mamunul was in the resort with the woman and ruling party activists, the police and a few journalists entered his room, asking about his relation with the woman on Saturday.
The incident triggered protests, with many Mamunul supporters allegedly carrying out attacks in different places. Mamunul's supporters also attacked the resort and took him away from the police custody.
New Age correspondent in Chattogram reported that an Awami League leader, Mohammad Muhibullah, 54, who had allegedly been attacked by Hefazat supporters in Rangunia upazila in Chattogram on Saturday, died from his injuries in a hospital in Chattogram early Wednesday.
Muhibullah, a member of Kodala union Awami League, was also a former president of the union Awami Juba League, the police said.
He was critically injured Saturday evening during a Hefazat demonstration in Rangunia over the confinement of Mamunul in the Sonargaon resort.
Two cases were filed with the Rangunia police station on Sunday over the attack by Hefazat activists, said Rangunia circle assistant superintendent Md Anwar Hossain.
Injured AL leader Jabbar filed a case over the attack on them and the police filed another case on charge of vandalism.
The police official said that each of the cases mentioned names of 64 people and 130-150 unidentified people as accused and the police had so far arrested four people in this connection.
Mamunul in a statement on Wednesday said that a conspiracy against Islamic scholars was underway and it should be dealt with patience and tolerance.
Want stories like this in your inbox?
Sign up to exclusive daily email
More Stories from Country