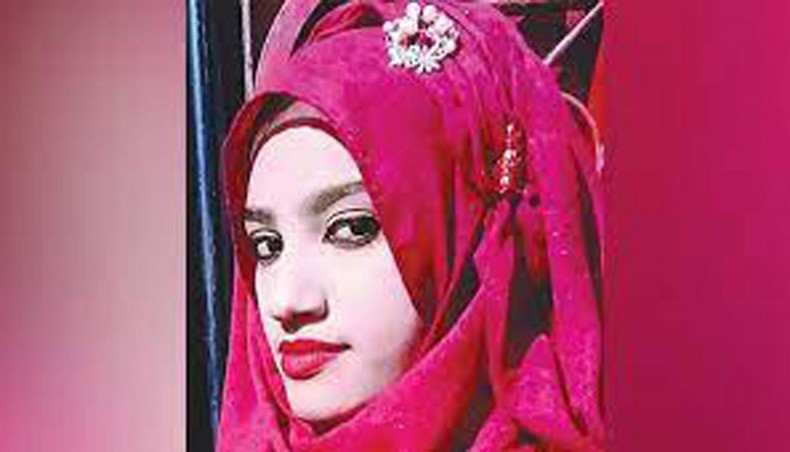 Two years have passed since the killing of Feni madrassah student Nusrat Jahan Rafi by setting her ablaze but the victim's family members are yet to get justice as the death reference and appeals of 16 death-row convicts in the murder case awaited a hearing by the High Court.
Nusrat died four days after she was set on fire on April 6, 2019 by her classmates on orders from madrassah principal Sirajuddoula at her Alim examination centre at the Sonagazi Senior Islamia Fazil Madrassah.
Nusrat, 18, was an Alim examinee from Sonagazi Senior Fazil Madrassah.
Nusrat, daughter of AKM Musa of Uttar Charchandia in Sonagazi, was murdered as she refused to withdraw the case filed by her mother with Sonagazi police station on March 27, 2019 against Sirajuddoula for sexually harassing her.
'We have got justice from the lower court. But I came to know that all the convicts who were sentenced to death earlier by the trial court, have appealed to the High Court,' Nusrat's mother Shirin Akhter told New Age.
'I appeal to the prime minister to take immediate steps towards execution of all the 16-death-row convicts after disposal of their appeals,' she continued.
On October 24, 2019, the Feni Women and Children Repression Prevention Tribunal sentenced all the 16 accused to death for killing Nusrat.
On October 29, 2019, the High Court received the death reference and the paper book of the case was completed on a priority basis on January 30, 2020 so that it could be disposed of expeditiously.
An official of the High Court told New Age that the chief justice on March 1, 2020 assigned HC bench of Justice Soumendra Sarker and Justice Shahed Nuruddin for hearing the death reference and the appeals.
He said that Justice Soumendra Sarker returned the case to the Death References' Section soon after his court has no power to hear death references following the reconstruction of benches by the chief justice on August 12, 2020 after the closure of the court for 140 days due to the COVID 19 outbreak.
Since then the death reference of 16 convicts and their appeals remained shelved in the Death Reference Section of the High Court as no bench was assigned to hear and dispose of the sensational murder case.
The death reference and the appeals of the 16 convicts were ready for hearing on January 30, 2020.
The convicts are Sonagazi Senior Islamia Fazil Madrassah principal SM Sirajuddoula, 57, Sonagazi upazila unit Awami League's former president Ruhul Amin, 55, Sonagazi municipality AL's former joint general secretary Maksud Alam alias Moksud, 50, teachers of the madrassah Abdul Quader, 25, and Absar Uddin, 33, Nusrat's classmates Umme Sultana Popy, 19, and Kamrunnahar Moni, 19, and former and present students of the madrassah Shahadat Hossain Shamim, 20, Nur Uddin, 20, Imran Hossain Mamun, 22, Iftekhar Uddin Rana, 22, Saifur Rahman Mohammad Zobair, 21, Javed Hossain alias Sakhawat Hossain Javed, 19, Mohiuddin Shakil, 20, Mohammad Shamim, 20, and Abdur Rahim Sharif, 20.
All of them are from different areas of Sonagazi upazila in Feni district.
Besides, the Cyber Tribunal in Dhaka on November 28, 2019 jailed former Sonagazi police station officer-in-charge Moazzem Hossain for eight years with a fine of Tk 10 lakh under the Digital Security Act for illegally recording and sharing a video clip of Nusrat Jahan Rafi, which was recorded on March 27, 2019 when she went to the police station with her mother to file a case against principal Sirajuddoula.
The appeal of OC Moazzem, who is now in jail, against his sentence was also pending with the High Court.
Want stories like this in your inbox?
Sign up to exclusive daily email
More Stories from Country