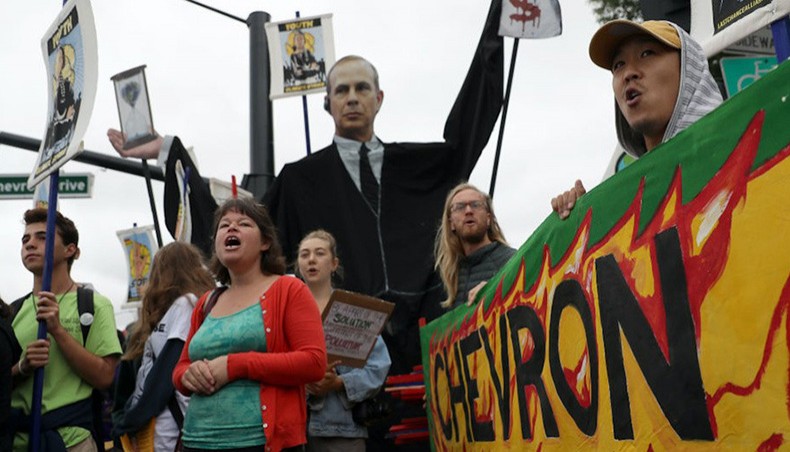 ALTHOUGH we're barely one quarter into 2021, multiple forces are squeezing Chevron for the preventable harm it is inflicting on the global climate. The company is also being dragged for its greenwashing, its role in perpetuating racial injustice in the United States, and its violations of indigenous peoples' rights and other human rights from Myanmar to Ecuador.
The table is now set for Chevron's annual meeting in May, where several climate-related shareholder proposals will be on the agenda. Campaigners are calling for votes against both the board chair and the lead independent director on the basis of failures to oversee climate performance. Last year, a majority of Chevron shareholders rebuked corporate leadership by demanding increased disclosure of the company's climate lobbying. Here are six issues the Union of Concerned Scientists and our partners will be watching in the lead-up to Chevron's annual meeting this year.
Failure to reduce global warming emissions: According to an analysis by Richard Heede published by The Guardian in 2019, Chevron is responsible for more carbon emissions since 1965 than any other investor-owned fossil fuel company.
In early March, Chevron announced new climate goals and published a new climate report, which said Chevron intends to reduce its global warming emissions by about 5 per cent over the next seven years. Underwhelming, to say the least.
No wonder my colleague Nicole Pinko says Chevron is in a fight for second-to-last place with ExxonMobil on climate action. And in its new Net Zero Company Benchmark, the investor-led Climate Action 100+ initiative found that Chevron met none of the criteria related to net-zero ambition by 2050 or short-, medium-, and long-term emissions reduction targets towards that aim.
Fortunately, shareholders will have a chance to weigh in on Chevron's climate ambitions and targets. Over the company's objections, the Securities and Exchange Commission will allow shareholders to vote on a proposal put forth by the investor advocacy group Follow This calling for Chevron to substantially reduce its heat-trapping emissions.
The Securities and Exchange Commission also allowed a proposal by As You Sow — another investor advocacy group — calling for an audited report on how a significant reduction in fossil fuel demand would affect Chevron's financial assumptions and position. This is further evidence, if we needed it, that the commission and other financial regulators are concerned about climate-related financial risks and moving to strengthen climate change disclosures.
Foot-dragging on climate policy: Chevron's climate-related policy positions are as pathetic as its emissions-reduction goals. In February, when Chevron issued a report on climate lobbying in response to last year's shareholder vote, the company falsely claimed that its positions line up with the Paris Agreement. (Climate Action 100+ agrees that Chevron's lobbying is not Paris-aligned).
From that deception, it was an easy sidestep for Chevron to give a seal of approval to each of the trade associations to which it belongs — including the American Petroleum Institute. Earlier this year, French oil and gas company Total withdrew from the American Petroleum Institute over the lobbying group's lack of support for the Paris Agreement.
The institute has done some fancy footwork since Total's departure, including releasing a new 'Climate Action Framework' — but the latest greenwashing by a group with a decades-long history of climate disinformation deserves its own blog. For now, check out this story on recent research by Stanford University scholar Ben Franta.
Chevron now publishes a list of trade associations to which the company pays more than $100,000 in annual dues. But trade associations are not the only industry groups through which fossil fuel giants wield influence over climate policy. Take the American Legislative Exchange Council, a 'bill mill' that has opposed renewable energy and emissions reduction policies at the state level. As far as we can tell, Chevron has not joined Shell, BP, and ExxonMobil in severing ties with the council. More on the council a bit later.
Greenwashing: While Chevron's climate actions are decidedly understated, its climate ads are dangerously overstated. That's why Earthworks, Global Witness, and Greenpeace USA, represented by Richman Law and Policy, filed a greenwashing complaint to the Federal Trade Commission against Chevron.
The complaint argues that Chevron's ads are unlawfully deceptive because they overstate the company's investment in renewable energy and its commitment to reducing fossil fuel pollution. The groups are asking the trade commission to require Chevron to remove the ads, refrain from placing similar ads in the future, and face relevant penalties.
With greenwashing attracting unwelcome attention, fossil fuel clients could become a liability for public relations firms — and some ad agencies are already starting to back away, as they did from the tobacco industry.
Perpetuating racial injustice in the US: After tweeting that 'Black Lives Matter' during racial justice protests in June 2020, Chevron faced scrutiny over the harm it has inflicted and continues to inflict on communities of colour near its facilities in Richmond, California, and elsewhere around the world. Faith- and values-based investors submitted a shareholder proposal requesting that Chevron commission an independent third-party report analysing how the company's policies, practices, and the impacts of its business perpetuate racial injustice and disparately impact people of colour.
The Securities and Exchange Commission ruled that Chevron could prevent shareholders from considering the proposal, on the basis that it relates to the company's legal strategy and could harm its defence in ongoing litigation, and thus interfere with its 'ordinary business.' In Chevron's case, 'ordinary business' means burning fossil fuels like there's no tomorrow, and the litigation in question seeks to hold Chevron and other fossil fuel polluters accountable for climate damages and fraud. Or — as Chevron's legal team at Gibson Dunn put it in the Securities and Exchange Commission filing —'the alleged resulting injuries, including the alleged harmful impacts of climate change on communities of colour.'
Indeed, many of these legal complaints — including those filed by Charleston, South Carolina; Hoboken, New Jersey; Washington, D.C.; Delaware; Minnesota; and most recently, Annapolis, Maryland — emphasise how climate impacts hurt low-income communities and communities of colour first and worst.
The proposal that won't be put to a shareholder vote next month also called for an examination of how Chevron's public policy advocacy aligns with respect for civil rights. While Chevron professes support for Black lives, Global Witness found that the company gave over four times more funding to politicians who fail to uphold voting rights than to those who do. And back to the American Legislative Exchange Council here: the group is crafting model legislation and lobbying to roll back voting rights in dozens of states to a level not seen since the end of Reconstruction. Rollbacks recently passed in Georgia will disproportionately affect Black voters. The legislative exchange council is also behind 'critical infrastructure' laws that target indigenous and environmental activists protesting oil and gas pipelines.
Supporting the Myanmar military: Chevron is the largest US corporate investor in Myanmar. It partners with the state-owned Myanma Oil and Gas Enterprise, France's Total, and other international companies to extract and transport natural gas in Myanmar. The country's government earns close to $1 billion annually from sales of natural gas.
Since the February military coup, protesters in Myanmar have been putting their lives on the line to oppose and disrupt the military regime. Activists around the world are demanding that Chevron stop bankrolling the Myanmar military.
Last month, the Union of Concerned Scientists signed onto a joint civil society letter to Chevron calling on the company to use its ownership stakes in joint ventures with Myanma Oil and Gas Enterprise to ensure that payments of royalties and other revenues are not made to Myanma. The letter urged companies instead to make revenue payments into protected accounts until the legitimate and democratically elected government is returned.
While Chevron joined a public statement by concerned businesses operating in Myanmar, it has not responded to the specific request made in the civil society letter.
Evading accountability in Ecuador: Nearly a decade ago, indigenous people and farmers won a $9.5 billion judgment against Chevron over deadly pollution from oil and gas production in the Ecuadorian Amazon dating back to the 1980s. Not only does Chevron refuse to pay to clean up its mess and address the ongoing health crisis it created, the company and its lawyers at Gibson Dunn (remember them from the Securities and Exchange Commission challenges?) are blocking access to justice for the affected communities.
Chevron has engaged in a ruthless, unprecedented, and sustained attack on the Ecuadorian plaintiffs'attorney, Steven Donziger, who estimates that the company has spent $2 billion on lawyers, public relations teams, and private investigators fighting the case. Donziger will have spent 630 days under house arrest on contempt charges by the time he faces trial in May.
In February, the Union of Concerned Scientists joined with allies in the Protect the Protest coalition, which works to end strategic lawsuits against public participation, in a letter to US attorney general Merrick Garland. We urged the attorney general to review Chevron's legal attacks on attorney Steven Donziger and, by extension, the rural people and communities of the Amazon that he represents. In light of president Joe Biden's campaign pledge to 'strategically support ongoing plaintiff-driven climate litigation against polluters,' we are hopeful that the administration's department of justice will send a clear signal that it will not help Chevron evade, obstruct, or pervert justice any longer.
These six examples illustrate a stunning array of corporate abuse, deception, and misconduct by one of the world's largest and most powerful corporations. They also provide incredible opportunities for cross-sector, cross-issue organising and campaigning to hold Chevron accountable as it prepares to face its stockholders. The Union of Concerned Scientists and our partners are up for the challenge.
CommonDreams.org, April 4. Kathy Mulvey is the accountability campaign director for the Climate & Energy team at the Union of Concerned Scientists.
Want stories like this in your inbox?
Sign up to exclusive daily email
More Stories from Opinion