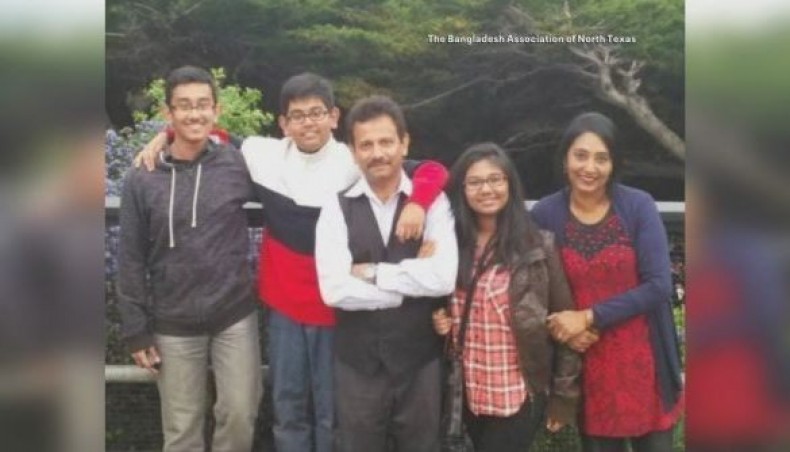 Six members of a Bangladesh origin family, who had been residing in the United States, were found dead at their house at Dallas in Texas on early Monday, reported Texas-based news portal FOX 4.
The deceased were identified as Towhidul Islam, 54, his wife Iren Islam, 56, his mother-in-law Altafunnessa,77, and the couple's three children — Farbin Towhid, 19, Farhan Towhid, 19, and Tanvir Towhid, 21.
The police said two brothers — Farhan and Tanvir made a pact to kill four family members and themselves.
Their bodies were found on Monday morning at their residence in Allen when a friend found a rambling suicide note posted on Instagram describing what led up to this tragedy.
The Allen police said that it received a call for a welfare check at a home on Pine Bluff Drive around 1:00am on Monday, the news portal reported.
Officers who went to the home found the six dead from gunshot wounds.
The grandmother was visiting from their native Bangladesh. 'The grandmother was supposed to go back to Bangladesh next month,' explained Quamrul Ahsan, a representative of the Bangladesh Association of North Texas.
'Two brothers entered into an agreement that they were going to commit suicide and from that it went to where the entire family was taken with them,' explained Allen police officer Jon Felty.
Based on decomposition, police believe that the killings took place sometime on Saturday. Police got a call from Farhan's friend at about 1:00am on Monday.
'The friend had seen the post that his friend made on Instagram, and that is what made him call and say that he was concerned for his wellbeing,' the police officer explained.
Farhan's post said why he was going to kill his family. It rambles from battling with depression since 2016 and cutting himself to being unhappy with how the TV show The Office ended and how easy it was for Tanvir to purchase a gun.
In the note, Farhan detailed 'depression since 9th grade' and 'the first time [he] cut himself.' He also wrote: 'the only reason for existence is happiness,' and that he should not live if he was not happy.
According to the note, Farhan said, 'They would spend the rest of their lives feeling guilt, despair. I could just do them a favour and take them with me.'
The two boys were students at UT Austin. The sister had a full scholarship to NYU.
The lengthy note from Farhan Towhid went up on Instagram over the weekend, beginning with an alarming claim: 'Hey everyone. I killed myself and my family,' reports The Washington Post.
When a family friend saw the 11-page letter, they quickly called police to request a wellness check, warning that Towhid was suicidal.
On early Monday, police forced their way into the red brick house in Allen, Texas and discovered that the six were already dead.
They had all been shot to death, police said, by Farhan and Tanvir Towhid as part of a suicide pact the pair had planned out for over a month, the US newspaper reported.
Police have not confirmed when the deaths took place but said it is likely that the brothers killed their family members on Saturday night.
The mass killing of the family, which had moved to the United States from Bangladesh about 15 years ago, left friends and neighbours in shock.
'We just cannot believe it happened to this family,' family friend Sied Chowdhury, 60, told The Washington Post. 'They are a very loving family. We did not see anything wrong with the family,' he added.
The Towhid family first settled in New York before moving to Allen, a northern suburb of Dallas, Chowdhury said. Towhidul, the father, worked in information technology while his wife, Iren, took care of the house and their children. A neighbour told the Dallas Morning News that Altafun, the grandmother, was visiting from Bangladesh and was scheduled to return home last week, but her flight got postponed because of the pandemic.
According to Farhan's note on Instagram, he and his brother Tanvir had struggled with mental illness for years.
Farhan wrote that he had suffered from depression since the ninth grade and had repeatedly harmed himself. His family had tried to help him, but he said that his mental health issues had recently worsened. He had been studying computer science at the University of Texas at Austin, he wrote, but was expelled from his dorm in the winter after telling a roommate that he planned to kill his family.
He moved home, where Tanvir, whom he described as 'depressed and socially anxious,' was staying.
Eventually, the pair decided to kill their family and then themselves, he wrote. 'Instead of having to deal with the aftermath of my suicide, I could just do them a favour and take them with me,' the note reads.
The pair bought guns, he wrote, adding that 'gun control in the US is a joke' because the pair lied when asked if they were suffering from mental illness.
Touhidul Islam of old Dhaka was married to Irene Islam Mary, daughter of Doharpara in Pabna town about 25 years ago.
The couple, who have been living in the USA since their marriage, had a happy family with two sons and a daughter. Mary moved her mother, Altafunnessa, from Pabna to Dallas two years ago. Police recovered the bodies of six members of the family from their Allen City home in Dallas on Monday.
As the news reached their relatives back home in Pabna on Tuesday morning, all became shocked and could not believe it, New Age correspondent in Pabna reported.
Relatives said that Farhan and Tanvir were gifted since childhood. They said there was no crisis in the family. No one can believe that they committed suicide after killing everyone in the family out of frustrations.
They demanded a proper investigation, calling such allegations mysterious.
Arifur Rahman Alpha, the eldest son of the deceased Altafunnessa, said, 'My sister used to take care of us, besides her own family. We never witnessed any turbulence over anything in the family.'
'I request to the governments of Bangladesh and America is for a proper investigation,' he said.
Relatives said a decision would be taken to bring their bodies back to the country when Altafunnessa's eldest son arrives in Texas from New York.
Want stories like this in your inbox?
Sign up to exclusive daily email
More Stories from Diaspora