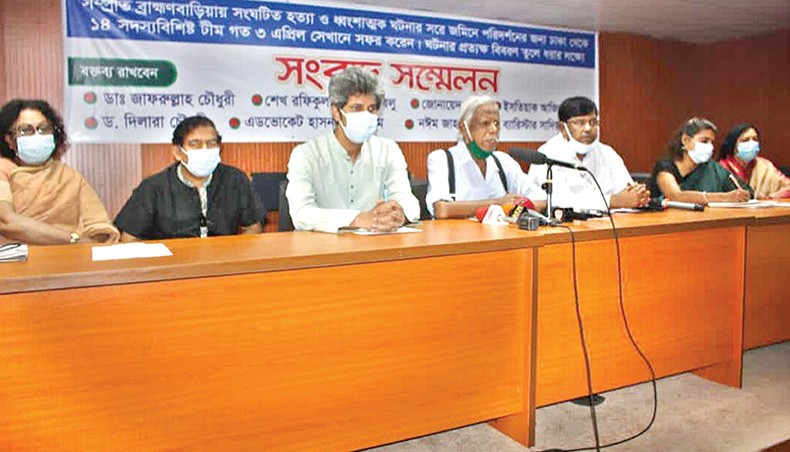 Gonoshasthaya Kendra founder Zafrullah Chowdhury on Monday said that he suspected that intelligence of another country was involved in the recent violence in Brahmanbaria district that claimed several lives.
'I am not supporting the activities of Hefazat-e-Islam. But I am supporting their right to hold a rally and bring out a procession,' Zafrullah said at a press conference at Major Hayder Auditorium of Gonoshasthaya Kendra in the capital.
He organised the press conference to share their findings of Brahmanbaria visit as a 14-member team visited Brahmanbaria on April 3 to know the reason behind of the violence that occurred on March 26 and 27 during Indian prime minister Narendra Modi's visit in Bangladesh to join the celebrations of the golden jubilee of Bangladesh's independence.
During the visit, the team talked with local leaders of the ruling Awami League, police, Hefazat activists and the locals, Zafrullah said, adding that after listening to statements of people concerned the team is suspecting that 'a third country' was involved in the violence.
'We found fire in the rail station on April 3, seven days after the incident. Who did it and why?' he posed a question. He said that politics has gone into the hands of bureaucrats and businesspeople, which has made things more precarious.
'The local lawmaker [Brahmanbaria-3] is a former bureaucrat. He has no political strength in the area and is dependent on the power of the police and the helmet group,' Zafrullah said.
On behalf of the 14-member team, Ganosamhati Andolan chief coordinator Zonayed Saki placed three proposals at the press conference for the authorities concerned.
Saki urged the authority to make a list of the killed and injured people in the Brahmanbaria incident to ensure proper investigation, justice and compensation.
The proposal also demanded reliable probes into the incidents that occurred at Baitul Mukarram National Mosque and in Brahmanbaria, where members of various different quarters of the civil society were involved.
It also urged the authorities to stop harassing people using the cases filed against over 20,000 unnamed people.
Gono Forum leader Reza Kibria said that the wholesale arrest of people using the cases filed against the unnamed people should be stopped.
Bhasani Anusari Parishad secretary general Sheikh Rafiqul Islam said that a minor boy was injured by a bullet but he did not receive any treatment yet because of the situation in which people are scared of police harassment.
Among others, political scientist Dilara Chowdhury, freedom fighter Ishtiaq Aziz Ulfat, Rastra Chinta organiser Hasnat Abdul Quaiyum, engineer M Enamul Haque, Bhasani Anusari Parishad member Naim Jahangir and lawyer Sadia Arman were present at the press conference.
On Sunday, home minister Asaduzzaman Khan told the parliament that a total of 17 people died during the Hefazat mayhem that took place from March 26 to 28 at Hathazari of Chattogram and Brahmanbaria.
Want stories like this in your inbox?
Sign up to exclusive daily email
More Stories from Politics