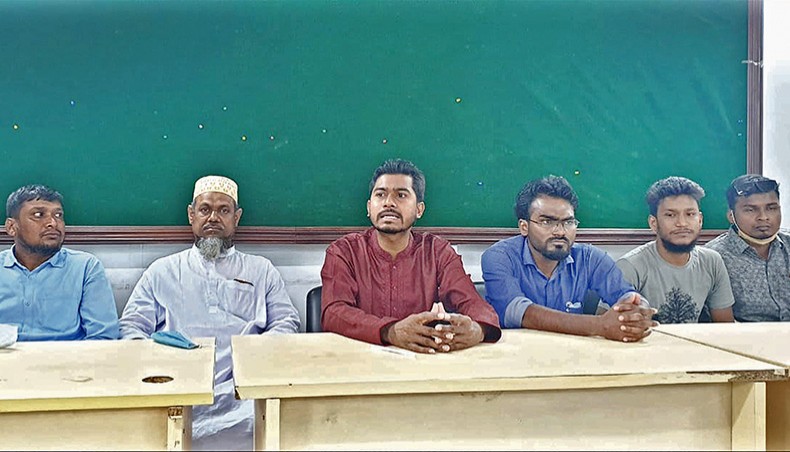 Former Dhaka University Central Students' Union vice-president Nurul Haque Nur on Monday said that the weeklong 'lockdown' imposed by the government seemed a 'crackdown' to resist people from taking to the streets as impacts of the protests centring the visit of Indian prime minister Narendra Modi in the past month had continued.
'We think that the government declared the lockdown completely with a political intention. All sections of people, including leftists, rightists, students and general people, started the anti-Modi protests and the impacts of the protests have continued,' said Nurul, coordinator of the Chhatra, Juba and Sramik Adhikar Parishad.
'I think that the government has launched a crackdown in the name of lockdown to resist people from taking to the streets,' he told a press conference at his office in Dhaka.
During 10 days when the government held programmes and foreign guests visited the country in the past month, there was no problem but suddenly the government has declared a 'lockdown', he said.
Some 17 people were killed in police firing over protests and violence during and after the visit of Indian prime minister in March 26-27.
Nurul said that the decision to impose the 'lockdown' was impractical as one third of the country's population were in the low income group and they had no way but to go out for livelihoods.
Nurul called the press conference over an alleged attempt to abduct him Sunday evening at Badda.
His said that after his abduction bid had been foiled, one of the leaders of his organisation, Bin Yamin Mollah, was arrested along with two others.
A court on Monday remanded Bin Yamin in police custody for two days in a case filed with the Paltan police station on March 25 over anti-Modi protests in Dhaka's Mothjheel.
Nurul said that their protests were not meant to resist the visit of the Indian prime minister, rather to give a strong message to the Indian government that the people of Bangladesh were not happy with the hegemonic India foreign policy.
In a joint statement, 17 noted personalities and activists, including Dr Kamal Hossain of Gono Forum and Zafrullah Chowdhury of Gonoshasthaya Kendra, called on authorities to follow the due legal process during an arrest instead of trying to abduct someone.
Want stories like this in your inbox?
Sign up to exclusive daily email
More Stories from Politics