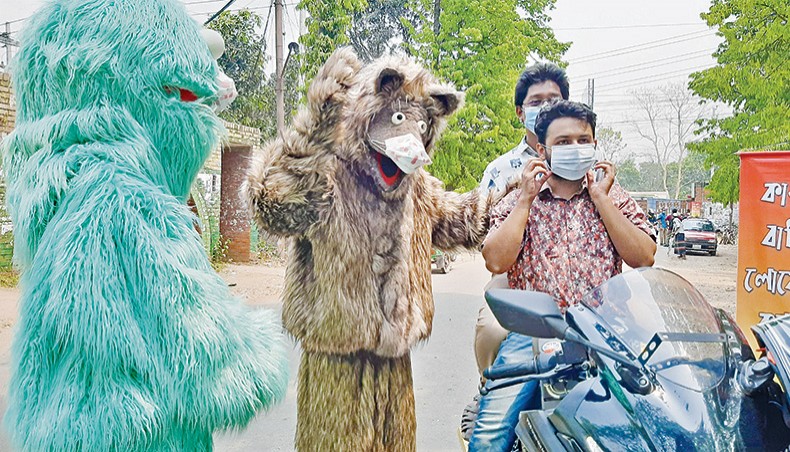 Jahangirnagar University students on Sunday organised a street puppet show aiming to raise awareness among people regarding health directives that everyone needs to follow to prevent the spread of COVID-19.
Students of JU drama and dramatics department performed the street puppet show under the banner of Kaktarua Puppet Theatre, which has been founded by the department's student Asaduzzaman Ashiq, at the Joy Bangla Gate of the university.
Students in muppet costumes for characters namely Etu and Goggles urged passers-by to wear masks and wash their hands to prevent the spread of coronavirus as part of the performance, which was held from 9:00am to 1:00pm.
Besides, they distributed masks among people and offered hand sanitizer to passers-by.
'We staged the street puppet show to raise awareness among the people regarding health directives that must be followed to prevent the spread of COVID-19. The show drew a satisfactory audience, who listened to the muppets and watched them perform with rapt attention,' Asaduzzaman Ashiq told New Age.
'We will organise similar programmes in future to spread awareness among the common people,' added Ashiq.
Want stories like this in your inbox?
Sign up to exclusive daily email
More Stories from Theatre