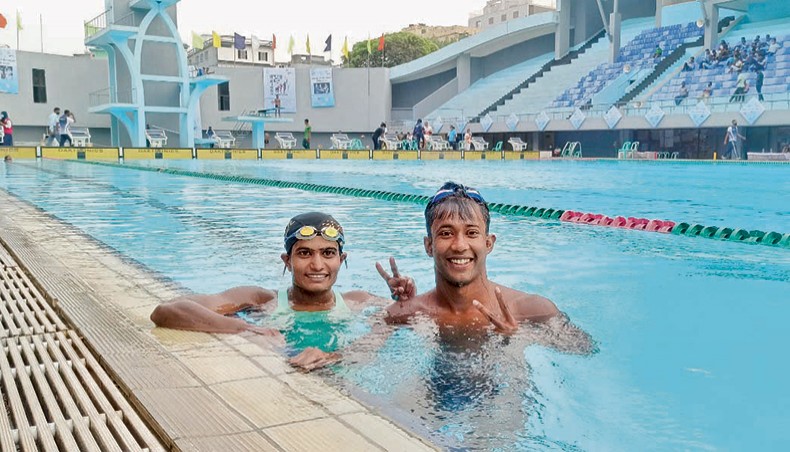 Bangladesh Navy team athlete Shirin Akter broke a 14-year-old record in the women's 200-metre sprint to win her second gold medal in the ongoing Ninth Bangabandhu Bangladesh Games at the Bangabandhu National Stadium on Sunday.
Shirin clocked 24.20 seconds to break the previous record of 24.30 seconds made by the now defunct BJMC team's Nazmun Nahar Beauty in 2006.
Earlier on Saturday, Shirin bagged her first gold in the Games in the women's 100-m sprint, which was also her 12th straight medal win in sprint competitions.
In the other track and field events on the day, Army athletes dominated as Masud Rana, Asif Biswas amd Raju Ahmed bagged gold in the 400m hurdles, 10,000-m race and the 20 km walking event respectively.
Army team cyclist Biswas Foysal Hossain clocked 13.60 seconds in the men's 1000m race and broke the previous record of 15.10 seconds set by Tarikul Islam of Ansar team in 2013.
Bangladesh Navy team swimmers – Mahfizur Rahman Sagor, Asif Reza and Sonia Khatun – set up new national records in their respective events held at the Syed Nazrul Islam National Swimming Complex in Mirpur.
In the men's 200m freestyle event, Sagor clocked 1:58.25 minutes, breaking his own timing of 1:58.44 minutes in 2016. Asif and Sonia set new records in the men's 50m freestyle and women's 50m butterfly events.
Asif clocked 23.32 seconds, surpassing his own previous record of 23.85 seconds, while Sonia clocked 30.63 seconds to break the previous record of 31.17 second made by Nazma Khatun in 2016.
Navy's women's swimming team had gold-filled day as Junaina Ahmed, Soni Akter Tumpa and Juthi Akter bagged gold in the 200m freestyle event, 50m freestyle event and women's 100-m backstroke event respectively.
In the men's 100m backstroke event Army's Jewel Ahmed bagged gold while Mahmudunnabi Nahid won gold in the men's 50m butterfly event.
South Asian Games and Commonwealth Games gold medallist shooter Shakil Ahmed showed dismal performance as he bagged bronze medal in the 10m air pistol while Army's Sabbir Alam bagged gold, scoring 563 points. In the women's 10m air rifle event Nafisa Tabassum scored 625.5 for gold.
In the 10m women's senior division air pistol event, Army's Tanzila Amzad won gold while Navy's Turin Dewan bagged top-prize in the 10m women's junior air pistol event.
Chattogram Rifle Club's Nuruddin Selim bagged gold in the shooting skit event.
At the Sheikh Russel Roller Skating Complex, Ansar's wrestlers Sheikh Shipon and Rakibul Islam won gold in the 79 and 92kg categories while Police's Raju Islam won in the 86kg category.
Ansar team athletes Noor Akter Banu bagged gold in four events in the women's gymnastics events held at the Natioanal Sports Council gymnasium.
Banu won in women's floor exercise, balance beam, all-around and artistic team event.
Ansar's bodybuilder Suman Das won gold in the men's senior 85 kg plus category while another Ansar athlete Maksuda Mou won gold in the women's open category.
Ansar beat BGB by 36-26 to win gold in the men's handball event.
Want stories like this in your inbox?
Sign up to exclusive daily email
More Stories from Miscellany