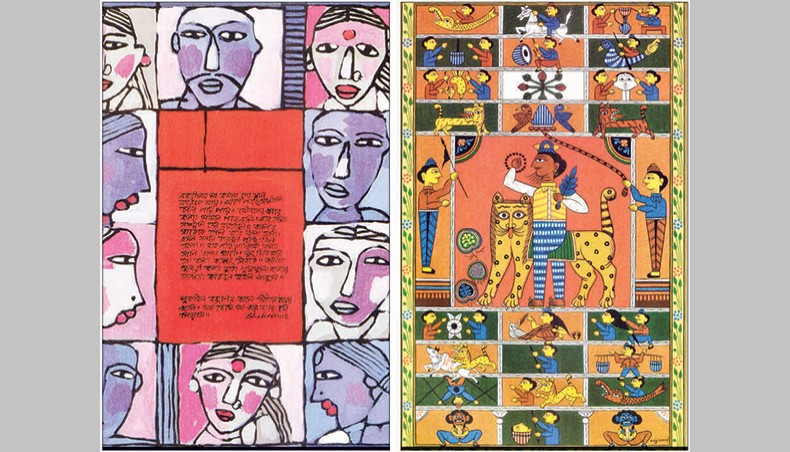 A duet art exhibition designed around the idea of the folk tradition brings modern artist Abdus Shakoor Shah close to Shambhu Acharya, a traditional patua.
The coupling that creates an immersive experience at Edge Gallery began on April 3 comes under the title Colours of Tradition. The 20-day exhibition is organised by Edge, The Foundation and features over 70 paintings.
Artist Abdus Shakoor Shah's acrylic-on-canvas works complement Shambhu Acharya's pata paintings done using natural ingredients on canvases.
The artworks highlight the folk tradition of image-making in both colours and forms, exploring a spectrum of subject matters such as the enduring lore of Gazi or other folk epics, besides the idealized life in Bengal, festivals, motherhood and more. In the works of these two artists birds, animals, fishes, women serves as an entry point to the narratives they chose to attend to in order to highlight the regional culture.
Shambhu Acharya belongs to a family pata painter. In fact he is the last torch bearer of the traditional art of Gazi pata. His father Shudir Chandra Acharya was a patua and mother Kamola Bala Acharya was an alpana painter. His family has been practicing patachitra or scroll painting for more than 450 years or nine generations.
The themes of their paintings are drawn from the legends of Gaz Pir, Sree Krishna, Muharram, Ramayana, Mahabharata, Manasha Mangal, Ras leela and various other lores.
'I wanted to promote our traditional art form globally. I am the ninth generation artist practicing this art form and in future my son will move it forward,' Shambhu Acharya told New Age.
'These canvases tell traditional folk stories in a single frame. All of my works portray the country's cultural heritage alongside nature's beauty. I also introduced some additional elements of folk culture into some of my canvases.'
To mention a few works by Shambhu Acharya, Gazir Pata 1, 2 and 3, narrates the legend of Gazir Pir and his life in his time. Artist painted multiple subjects following a sequence of layer on each frame which gives the viewers a complete glimpse on life and bravery of Gazi Pir.
Shambhu Acharya's another painting titled Gorur Gari, bullock cart depict a rural scene using the technique of pata where the painted space is divided into subsections and images are relayed in the vein of a strip comics.
Another panting titled Nadi O Nari shows a group of women collecting water from a river. The work highlights the relationship between river and people.
Shambhu's Bedeni'r Nouka portrays the life of a nomadic people who live on boats, while another painting titled Krishok Krishani features a series of birds, cat, cows, crops, lands and a farmer and his wife. The latter work refers to a simple lifestyle of a peasant family.
Abdus Shakoor Shah studied art in Dhaka's first modern institution, which is now the faculty of fine art at Dhaka University. He employs vivid colour but in a form akin to that of a modern artist. His Village Story 1 to 14, a series of paintings developed using acrylic on canvas, portrays traditional lifestyles by referring to the ballads of Mymensingh that are known in modern parlance as Mymensingho Gitika.
Shakoor primarily develops his images based on portraits of men and women interspersed with texts and motifs of birds and he also uses nuanced colours to evoke emotion.
Chandrabati 1, 2 and 3 and Kamala 1, 2, 3 and 4, series Abdus Shakoor Shah depict the beauty of a character named Chandrabati and Kamala. He uses stark contrast between dark and light colours on faces to emphasise their faces as forms.
In paintings titled Nature 1 and 2 appears colourful flowers and birds and they simply highlight the natural beauty of Bengal.
Besides, the exhibition also features paintings under the titles Lilabati, Ballad and Faces, Nakshikatha, Dhekishal O Nari, Biral, Palki, Mach Kuta and others. They all refer to folk legends.
The exhibition will end on April 23.
Want stories like this in your inbox?
Sign up to exclusive daily email
More Stories from Theatre