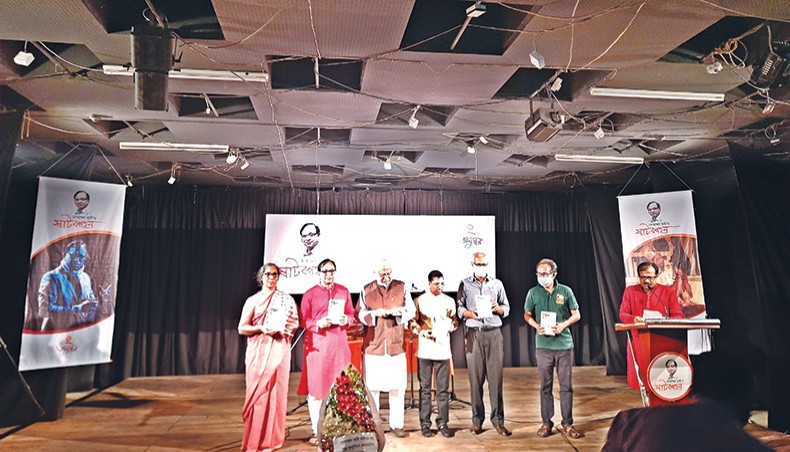 Theatre troupe Anuswar felicitated its chief Mohammad Bari at a programme held at the Studio Theatre Hall of Bangladesh Shilpakala Academy on Saturday.
The programme featured 60th birthday celebration of Mohammad Bari and launching ceremony of his play Tin Galper Natyayan.
Playwright, director and actor Mohammad Bari was born on April 3, 1961 in Damodarpur, Rangpur.
Ataur Rahman, Mamunur Rashid, Razequzzaman Ratan, Alfred Khokon, Jasim Uddin and Nishat Jahan Rana, among others, were present at the programme.
The event began with Anuswar artistes singing the song Shatkahaner Gaan, which has been penned and tuned by Mahfuz Sumon.
Saif Suman delivered the welcome speech at the programme, which was anchored by Proshanta Haldar.
'Mohammad Bari is not only the chief of theatre troupe Anuswar but also a popular playwright, actor and organiser. He has also acted in small screen productions. I wish him good luck in his future endeavours,' said Ataur Rahman.
'Mohammad Bari has been playing an important role in promoting theatre practices. He is a free thinker and progressive individual. I wish him a long life filled with happiness,' said Mamunur Rashid.
'I want to thank all who have supported me during my journey. I have dedicated my life to theatre. I want to keep working for the progress of the country's theatre scene,' said Mohammad Bari.
In solos, Sabira Shahinur sang Anandadhara Bahichhe Bhubane, Lipika Taposhi rendered Ei Bela Tor Moner Khabar and Parvin Paru sang Praner Manush Achhe Prane.
Poets Ismat Shilpi, Sumon Mazumder and others paid tribute to Mohammad Bari reciting self-penned poems at the programme.
Mohammad Bari became involved in cultural activities in his early teenage. He began his theatrical career as a member of theatre troupe Dhaka Padatik in 1990. He co-founded theatre troupes namely Anyadal Natya Sampraday and Theatre Art Unit in 1991 and 1992 respectively. He founded theatre troupe Anuswar on July 25, 2019 and became the chief of the troupe.
He has directed plays namely Samayer Proyojone, Shesher Kabita, Bandh, Anuddharaniya, Mulya Amulya and Janam Dukhi Maa.
He penned plays titled Surje Cyclone, Samayer Proyojone, Chhayachakra, Bandh, Anuddharaniya, Mulya Amulya and others.
He acted in several plays namely Amina Sundari, Court Martial, Swapna Dyakho Manush, Byartha Fantasy, Magaj Samachar, Tinkari and others and film Sei Ami Sei Tumi.
Want stories like this in your inbox?
Sign up to exclusive daily email
More Stories from Theatre