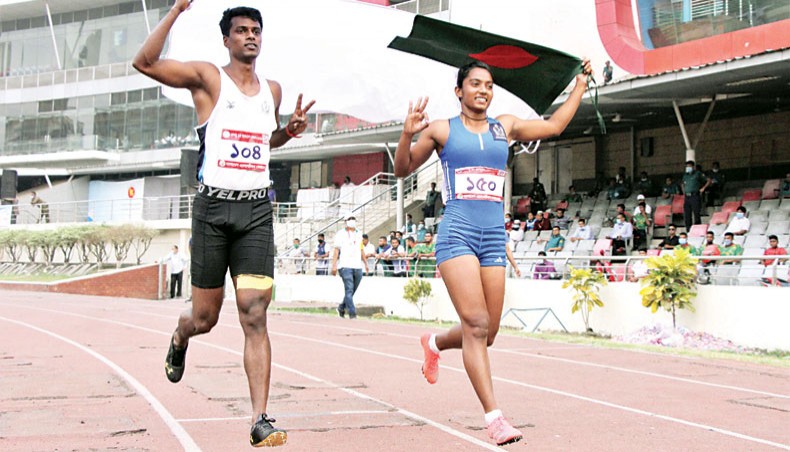 Bangladesh navy team athletes Mohammad Ismail and Shirin Akhter emerged champions in their respective men's and women's 100metre sprint events of the Ninth Bangabandhu Bangladesh Games at the Bangabandhu National Stadium on Saturday.
Ismail clocked 10.50seconds while Shirin clocked 11.60seconds in hand timing to bag gold medals for the first time in the games.
In the National Championship held at the same venue in January 2021, Ismail clocked 10.55 seconds while Shirin clocked 11.80 seconds in the same event.
Navy's Abdur Rouf and Air Force's Nayeem Islam bagged silver and bronze medals respectively clocking 10.60 and 10.70 seconds.
Army's Shorifa Khatun and Bangladesh Krira Shikkha Protisthan's Sonia Akter bagged silver and bronze in the women's category, clocking 11.70 and 12.10seconds respectively.
'This is my first title in sprint in the Bangladesh Games. Overall I have won fastest man's title four times at national level competitions since 2018,' said Ismail.
'It was difficult for me to continue practice during the coronavirus pandemic. If I get to practice regularly under high profile coach, the timing would be better,' he added.
'It is my first gold in Bangladesh Games as I finished runners-up in the last edition in 2013,' said Shirin.
She also claimed that this was overall her 12th title in the event at national level competition.
'It's a great feeling that I clinched the fastest women's title at national level for the 12 consecutive time,' said the 26-year old sprinter.
Meanwhile, in other events, Navy's M Masud Khan announced his retirement from the track and field right after winning golf in the men's 110m hurdles.
Navy's Tamanna Akter clinched gold in the women's 100m hurdles, clocking 14.50 seconds.
Navy swimmers Mahmudunnabi Nahid and Sonia Khatun and Army's Jewel Ahmed bagged gold medals in their respective events with three new national records at the Syed Nazrul Islam National Swimming Complex in Mirpur.
Nahid clocked 56.71seconds in the men's 100m butterfly event, breaking his previous record of 56.82 seconds in 2019.
Sonia clocked 1:7.12 minutes in the women's 100m butterfly to break the previous record of 1:8.95 minutes, set by Navy's Sonia Akter Tumpa in 2019.
Jewel bagged gold in the 200m backstroke event, clocking 2:16.12minutes to break his own previous record of 2:16.12minutes in 2019.
In cycling, two new national records were set. Army's Foysal Hossain bagged gold setting up records in the men's 1000m time trial event as he clocked 1:20.40 minutes to break the previous record of 1:26.10 minutes made by Army's Ekramul Islam in 2017.
Border Guard Bangladesh's Nishi Khatun set a new record in the women's 500m time trial event clocking 45.47 seconds to break her previous record of 48.65 seconds.
Grand Master Ziaur Rahman and International Master Rani Hamid emerged champions in the men's and women's single's event of the Rapid Chess Competition at the National Sports Council.
Chattogram bagged gold in the women's basketball competition after they defeated Dhaka by 8-6, Rajshahi by 14-2, Khulna by 9-8 and Rangpur by 7-5 points at the Dhanmondi Basketball Gymnasium.
Bangladesh Police team bagged gold in the men's Table Tennis team event held at the Shaheed Tajuddin Ahmed Indoor Stadium in Paltan.
Bangladesh Ansar dominated in women's wrestling by bagging three gold medals with Mashinu Marma emerging champion in the 53kg weight category, Razia Sultana in the 57kg and Sukanti Biswas in the 62kg category while Army's Sharmin Akter won in the 59kg weight category.
In gymnastics, BKSP's Sabina Yeasmin Shimla bagged gold in the women's individual vault with 10.625 points while Quantum Cosmo School's Rajib Chakma clinched gold in the in the pommel horse event scoring 10.90 points.
Bangladesh Police team gymnast Shishir Ahmed bagged gold in the steel rings event scoring 11.00 points.
Want stories like this in your inbox?
Sign up to exclusive daily email
More Stories from Miscellany