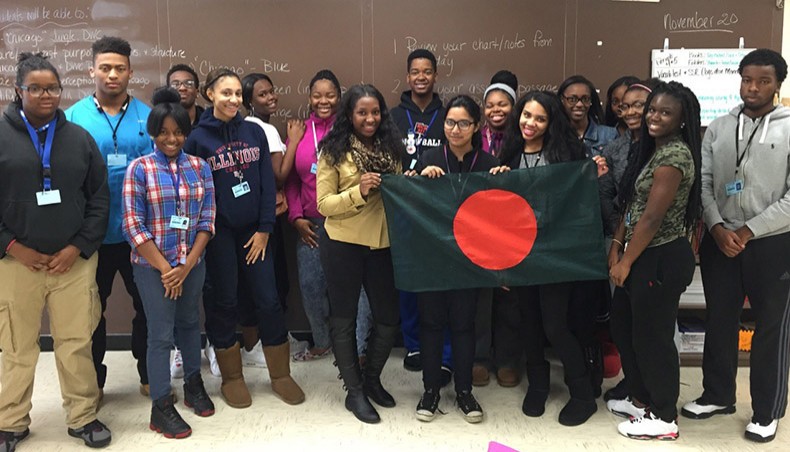 High school students from around the world live and study in the United States for an academic year through the US Department of State's Kennedy-Lugar Youth Exchange and Study. Shortly knows as the YES programme, this initiative helps American families and foreign students to understand different cultures and lifestyles. Zarin Masah Chowdhury, a graduate of the programme shares her experience
I was in class eight when I first learned about the YES Program. My father had brought home a brochure of the program, and when I read about it, it just seemed like one of those sketchy scams that promise to send you abroad but never do. Why would anyone send students to the United States for a year for free? It just seemed too good to be true. I was also two years too young to apply, so the chapter was closed for then.
Two years later when the applications opened again, I thought why not give it a try since it was all free. I was just an average student, and the program seemed too competitive for me to be selected. My parents were very supportive, but I do not think any of us thought I would get in. I was passionate about giving back to the community, I had been the secretary of my school's community service club, and in the end, I believe this is what helped me get selected rather than my grades, which to be honest I am not too proud to share.
I was never one of the top students of my class and coming from a society that valued role numbers more than anything else I never felt I was good enough to do anything great. But as I kept passing the selection stages I started gaining back the confidence I had lost.
The application process itself was a very new experience for me. When I was called for the final interview at the American Centre Dhaka on January 15, 2015, I was only a few weeks away from my SSC examination. I could only come to Dhaka for one day without hampering my studies and had to travel alone for the first time since my father was at Chittagong for work and was going to meet me at Dhaka.
Fast forward to March and I receive the email that I got selected for the programme. My memory from then on is a big blur; I was too excited and happy to pause and take everything in. I do not think my parents believed I was leaving until the day of my flight.
At the travel orientations in late June, I had received my flight date, which was to be the beginning of August. However, when I had not yet received a placement with an American host family by July 31, I was rescheduled. I was visiting Sylhet for a cousin's wedding on August 20, the last day for receiving placement if I were to catch a flight on August 24. I had given up hope for that flight too and was mentally preparing for a flight in September, when around 11:30 pm, I receive a call from the recruitment organisation that I was placed in Chicago, Illinois, and should prepare to fly in three days.
Even then it seemed too good to be true and was not until I was sitting on the flight that it hit me that I was leaving.
I was too overwhelmed and excited to remember every detail of the first three days that I spent in Washington DC. The DC Orientations prepared me for the ten months I was to spend in America. I met many amazing people from all over the world in those three days that are still my friend.
So after more than a year of dreaming, on a very hot day in August, I finally found myself at my new home in a small town in Chicago, Illinois. The ten months I spent in the United States was just wonderful; I was placed in the same house as another Brazilian exchange student Lara, who became my sister very quickly. We bonded over our shared love for books and quarrelled over chores as most siblings do.
My host mom, just like most mothers, is a very strict parent. But we bonded easily over our love for travelling and trying out new places to eat. Within a few weeks, I had a whole support system of friends and acquaintances who made me feel just at home.
High school was probably my favourite part of the whole experience. When I realised I could choose whatever classes I wanted, I was just over the moon. My favourite was the foods and nutrition class where I learned to cook tons of dishes under the guidance of chef Crawford.
My teachers were the kindest and most patient; because of their support, for the first time, I felt like I could be more than just an average student. They inspired me to work hard and guided me whenever I needed help. It was because of their constant support; I was able to finish high school with good grades and was awarded the President's Award for Educational Achievement signed by president Barack Obama.
During my time there, I had volunteered in many places including libraries and at afterschool programmes. During International Education Week that runs from November 15-19, I made almost a hundred presentations about Bangladesh and Bengali culture.
At the end of my year, I was heartbroken to return, leaving back a life and a family that had become so dear to me. But I came back with newfound skills that I was ready to use to give back to the community in Bangladesh. As soon as I returned in June 2016, I got involved in Project Ramadan 3.0, organised by YES Alumni Bangladesh Association members. As a member of the YES Alumni Bangladesh community, I was involved in 13 community service projects between July 2016 and August 2019.
In spring 2017 I had the amazing opportunity to do an internship with iEARN-BD, the recruiting organization for YES Program in Bangladesh. With iEARN-BD I visited many schools all over Bangladesh to promote YES Program and share my story.
In the summer of 2019, I was selected to be one of the eight alumni instructors from all over the world to attend the DC orientations at Washington DC and assist in facilitating the orientations for exchange students from almost 40 counties. Four years ago, I was in the same place as these students, and now to be on the other side and guide them with information that can make their year a positive one, was an honour.
In the winter of 2019, my love for travelling had taken me back to the United States where I went back to my little town in Chicago, Illinois to visit my host mom. It felt amazing to be back home again. It was as if nothing had changed and time had stopped, we bonded over her delicious spaghetti and watched movies just like old times.
Just like most people, I had taken the idea of home for granted until I found my home away from home. Through this experience, I found a family on the other side of the world. If it were not for that leap of faith I had taken and filled out the applications, I would have never known the world of possibilities. I now cannot imagine a life without these people from all over the world.
I could not have imagined in 2015 that I would be where I am right now. Never say 'NO' to a life-changing opportunity, you will regret it. Sometimes it all just seems a very long dream to me. But I am glad to have lived it all, making friends across the world, and having not just one but two families.
Zarin Masah Chowdhury is majoring in English Literature at Independent University, Bangladesh.
Want stories like this in your inbox?
Sign up to exclusive daily email
More Stories from Mindspeak