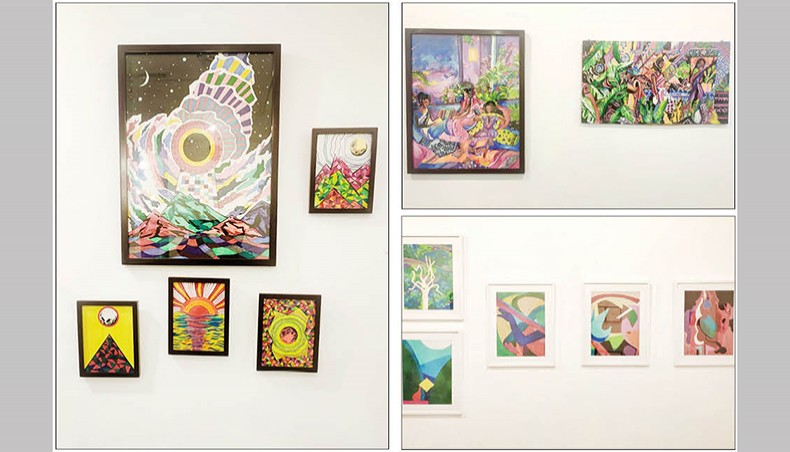 A group art exhibition featuring artworks by young artists under the rubric Dui is under way at Dwip Gallery and Studio 6/6 in the capital.
Dui is the second chapter of a series exhibition, Ek, curated by Taiara Farhana Tareque. It began on March 20. A total of 17 young artists have showcased their artworks in two different venues under the theme, to initiate synchronised encounters with the aim to create 'counter-arguments in audiences' minds'.
The assortment of artworks on display addresses a spectrum of social and aesthetic issues. The works were created using mediums like acrylic on canvas, print, pen, watercolour, photography as well as soft plastic and leaves.
Each artwork portrays two alternative visions of each participating artist while attempting to draw viewers' closer to a set of conversations the artists are trying to have by eliciting response based on the idea of synchronicity.
Artists who contributed to the show are Nuzhat Tabassum, Shehzad Chowdhury, Taiara Farhana Tareque, Rubaiya Amin Rhea, Rafi Nur, Nabil Rahman, Kazi Asadur Rahman, Prithi Khalique, Papia Sarwar Dithi, Nazm Anwar, Kazi Tahsin Agaz Apurbo, Fahad Al Alam, Aabir Khalid, Monon Muntaka, Alex and the Monsters, Toukir Ahmed Tanvee and Farhand.
'The exhibition is tied to a theme through which the artists made visible their respective creative journeys as they created works based on a specific theme and places in mind. The previous exhibition of this series Ek was made mostly through on-site activities. This time, for Dui, there are two different venues — Studio 6/6 and Dwip. And works by the artists are simultaneously on display in these two galleries. The series also follows an open studio format where the artworks change as the days pass. Under this theme, the only place the two works will come together is the audiences' mind. And that is where the synchronized encounter will happen,' Taiara Farhana Tareque told New Age.
To mention a few works, Shehzad Chowdhury's seven mixed medium paintings portray the relationship between nature and life. This collage artwork helps viewers understand the message that nobody can surpass the spirit of nature.
Another collage artwork, featuring a leaf, lizard, hair, braces, scream, butterfly, feather and flower in different frames by Toukir Ahmed Tanvee, portrays dream of life based on several occasion of his life.
A photographic collage of solar eclipse titled Partial Solar Eclipse by Fahad Al Alam, captured on December 26, 2010, portrays the power nature exerts on human beings and how the plat of shadow and light can be defined in terms of the known and unknown recesses of the human psyche.
Aabir Khalid's five paintings, created with soft pastel, portray nature-human relation while Prithi Khalique has portrayed his concept of life and dream in two of his paintings that feature dreams and metamorphosis.
Five collages on paper titled Beginning by Nuzhat Tabassum feature the new beginning of a new day with the representation of a new sun and hope.
The exhibition is also featuring Nazm Anwar's acrylic on canvas work titled The Pit 01, Nabil Rahman's acrylic and gouache on paper work titled The Letter, Rafi Nur's photograph titled Eet Kabba, Ales and the Monsters's postcards titled Letters, among others.
The exhibition will end on Saturday.
Want stories like this in your inbox?
Sign up to exclusive daily email
More Stories from Exhibition