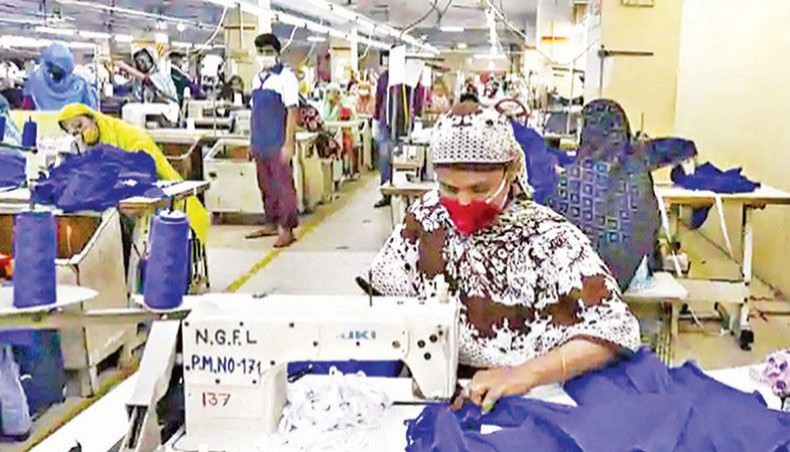 Readymade garment factory owners have expressed their unwillingness to comply with the government directive of running factories with 50 per cent workforce amid the recent surge in the number of COVID-19 infection cases and deaths.
The Bangladesh Garment Manufacturers and Exporters Association on Thursday in a letter to labour secretary KM Abdus Salam said that if factories ran with 50 per cent of existing workforce as per the government directive, RMG exporters would miss shipment deadlines and incur huge losses.
The letter signed by BGMEA president Rubana Huq said that work orders reduced by 30-40 per cent in the factories due to the second wave of the COVID-19 pandemic and buyers were putting pressure for making a prompt shipment of existing orders.
Against the backdrop of the recent surge in coronavirus infection in the country, the government on March 29 issued a gazette notification with 18 directives imposing restrictions on all types of public gathering.
To contain the new wave of the virus, the government also asked all government and non-government offices/institutions, except those provide emergency services, to run with 50 per cent of their manpower.
The BGMEA in its letter also said that apparel factories would run their operations following health safety guidelines.
Labour secretary KM Abdus Salam could not be reached for comments despite repeated attempts.
'We have had huge cancellations and deferred payments. Customers are threatening cancellation in case of the slightest delays. At this point of time, we need to be vigilant, protect our workers and protect the industry so that the fine balance between lives and livelihood can be maintained,' Rubana told New Age on Thursday.
She said that they were going ahead by maintaining the strictest factory operating guidelines and also tracking factories.
Rubana said that the BGMEA provided factory opening and closing protocols and continued making mask use, hand washing and temperature checking compulsory.
'We have also advised factories to operate in shifts to spread manpower over separate slots where and when possible,' she said.
Fazle Ehsan Shamim, a former vice-president of the Bangladesh Knitwear Manufacturers and Exporters Association, said that it would not be practical to run the RMG factories with 50 per cent workforce as exporters would have to ship goods on time to avoid any cancelation or deferred payment.
'The government authorities are also aware about the nature of RMG export business and they allowed manufacturers to run their factories with full capacity with maintaining health guidelines,' he said.
Want stories like this in your inbox?
Sign up to exclusive daily email
More Stories from Apparel