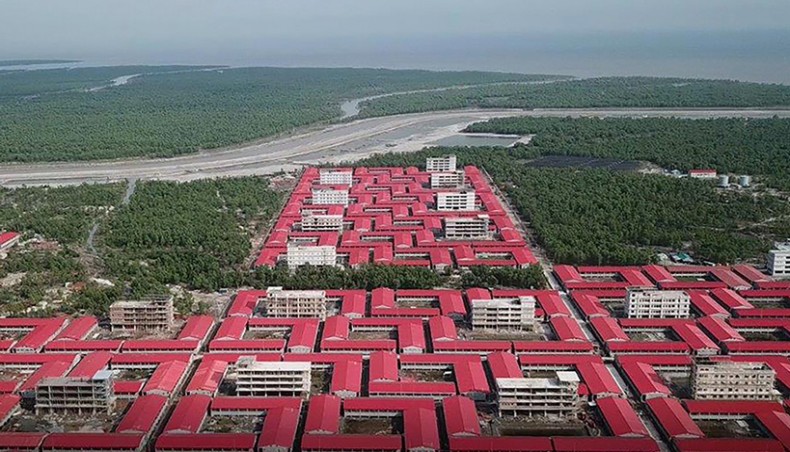 Ambassadors and high commissioners of at least 10 foreign missions in Dhaka would visit Bhasan Char tomorrow to observe facilities and services on the island and meet Rohingya people who were relocated there from camps in Cox's Bazar.
The government invited the chiefs of the missions of Australia, Canada, the European Union, France, Germany, Japan, the Netherlands, Turkey, the United Kingdom and the United States of America for the visit, said foreign ministry officials.
It would be a follow up visit by the foreign missions after the visit of an 18-member combined technical team of the UN agencies in March 17-20.
During this first visit to Bhasan Char by some of the heads of missions whose countries are contributing to the Rohingya response, participants will have an opportunity to see some of the facilities and services on the island and may have a chance to meet with relocated Rohingya refugees, authorities and others living and working there, according to a press release issued by the Canadian high commission in Dhaka.
Envoys look forward to continuing the dialogue with the Bangladesh government on its Bhasan Char project, as well as with the UN and other relevant partners following the visit, it said, adding that further conversations are needed, especially between the Bangladesh government and the UN to discuss the policy and technical issues in detail.
COVID-19 protocols will be followed in accordance with the regulations and guidelines of the government, it said.
The government has so far relocated about 14,000 Rohingya people of Myanmar to Bhasan Char under Noakhali from camps in Cox's Bazar till Thursday.
Over 3,000 Rohingyas are likely to be relocated from Cox's Bazar to Bhasan Char in a day or two, according to officials.
The government has claimed that they were relocated to the island after voluntarily expressing their willingness to leave the camps in Cox's Bazar.
The government invested more than Tk 3,100 crore from own funds to develop the 13,000-acre island with all amenities and facilities of supply of electricity and water, agricultural plots, cyclone shelters, two hospitals, four community clinics, mosques, warehouses, telecommunication services, police station, recreation and learning centres and playgrounds.
At least 8,60,000 Rohingyas, mostly women, children and aged people, have entered Bangladesh fleeing unbridled murder, arson and rape during 'security operations' by the Myanmar military in Rakhine, what the United Nations has denounced as ethnic cleansing and genocide, beginning on August 25, 2017.
The latest Rohingya influx has taken the number of undocumented Myanmar nationals and registered refugees in Bangladesh to over 1.1 million, according to estimates by UN agencies and the Bangladesh foreign ministry.
Not a single Rohingya has gone back to their home in Rakhine yet as the Myanmar government has stalled the repatriation process resorting to various means.
Want stories like this in your inbox?
Sign up to exclusive daily email
More Stories from Country