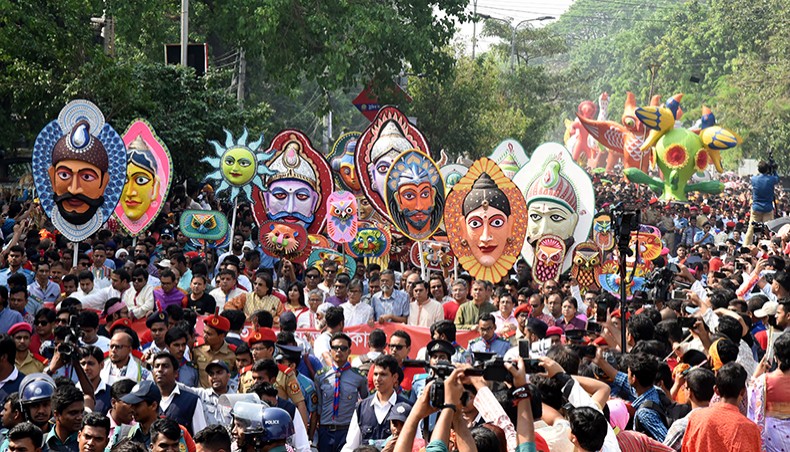 Pahela Baishakh celebrations will be held on a limited scale if the COVID-19 situation improves while there are plans to air a special programme on BTV if the situation deteriorates.
Two plans were drawn up at a meeting of cultural affairs ministry held on Monday, which was presided over by state minister for cultural affairs KM Khalid, informed cultural affairs ministry joint secretary Ashim Kumar Dey.
'Pahela Baishakh celebrations on April 14 would depend on the country's COVID-19 situation. We have drawn up two plans — one is to celebrate it on a limited scale if the situation improves and if it deteriorates public celebration will not be held and a special programme will be aired on BTV as it had been the case in 2020. We have not finalised anything yet,' said Ashim Kumar Dey, adding that Chhayanaut is looking forward to arranging a programme.
'Chhayanaut wants to organise a programme on the day maintaining COVID-19 health safety guidelines. However, we think that there is difficulty in arranging a programme following health guidelines,' mentioned Ashim, who also said, 'The holding of the annual Mangal Shobhajatra, organised by the fine arts faculty of Dhaka University, depends entirely on the university authority.'
'Dhaka University has the final say regarding Mangal Shobhajatra. Our ministry is not involved with the annual event arranged by DU's fine arts faculty,' he said.
Faculty of fine arts of Dhaka University initiated the Mangal Shobhajatra procession for the first time in 1989 to celebrate the Bengali New Year with the participation of people from all walks of life.
The celebrations received special importance after getting the recognition of UNESCO as an intangible cultural heritage on November 30, 2016.
The Dhaka University authorities arranged a virtual meeting on Monday, which was presided over by DU vice-chancellor professor Md Akhtaruzzaman. They decided to organise the Mangal Shobhajatra on a limited scale on the fine arts faculty premises with the participation of 100 people due to COVID-19 crisis. The event will be telecast live on TV channels.
DU fine arts faculty dean Nisar Hossain said, 'We have already had a meeting with the university authority on Monday. We have decided to organise a symbolic Mangal Shobhajatra on a limited scale with only 100 people to welcome the Bengali New Year 1428 on April 14 on the premises of the Faculty of Fine Arts.'
'There are risks of coronavirus spread and we do not want the festival to be the cause of death. We have been bringing out the procession for the welfare of people. We have been regularly arranging the programme in spite of receiving threats from extremists. If the situation improves, it can be arranged on a small scale. But, it is difficult to tell right now,' said Nisar Hossain.
'The Mangal Shobhajatra will be held following the COVID-19 health guidelines and social distancing. It will also be aired live on different TV channels and social media. We request all to enjoy the event from their homes,' Nisar Hossain added.
Chhayanaut is preparing to arrange a programme following health directives. If the situation deteriorates, the organisation will arrange an online programme.
Chhayanaut vice-president Khairul Anam Shakil said, 'We organised a meeting recently regarding Pahela Baishakh celebrations. We are looking forward to celebrating Pahela Baishakh on a limited scale. Artistes are rehearsing for welcoming Bangla New Year. If the situation deteriorates, we will celebrate the day through an online programme. We will take the final decision soon in a meeting and organise a press conference on Pahela Baishakh celebrations,' added Khairul Anam.
Bangladesh Sangeet Sangathan Parishad is looking forward to arranging a two-day programme at Bangladesh Shilpakala Academy following COVID-19 health directives. If the situation deteriorates, the organisation will arrange an online programme.
'We have already reserved a venue at Bangladesh Shilpakala Academy. We will arrange a two-day programme there if the situation improves. And, if the infection rates increase, we will arrange an online programme,' Bishwajit Roy, general secretary of Bangladesh Sangeet Sangathan Parishad, told New Age.
Want stories like this in your inbox?
Sign up to exclusive daily email
More Stories from Miscellany