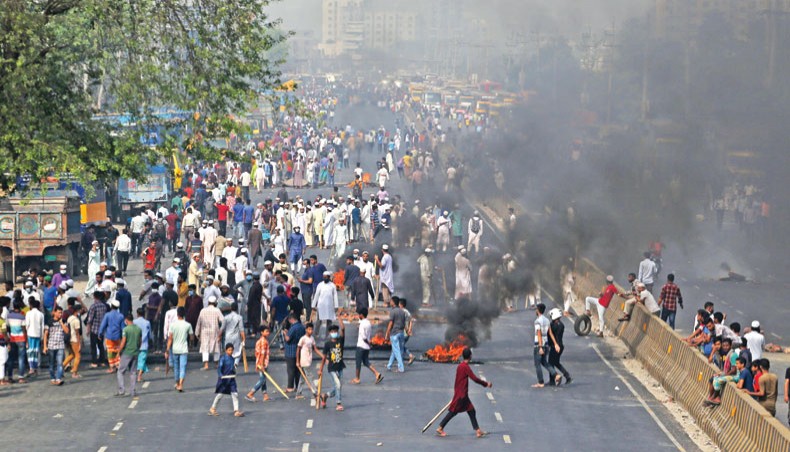 Violence triggered by Indian prime minister Narendra Modi's visit to Bangladesh continued Sunday with fierce clashes between anti-Modi protesters and law enforcement agencies aided with ruling party activists, leaving two more killed and scores injured during countrywide daylong general strike called by Hefazat-e-Islam.
During the strike hours, clashes across the country disrupted transport communications throughout the day amid heavy deployment of law enforcement agencies.
Hefazat supporters staged demonstrations in the capital Dhaka, on its outskirts Narayanganj and in many other divisional headquarters in support of their declared dawn to dusk strike on Sunday to protest against the shooting deaths of their supporters and others in Chattogram and Brahmanbaria during the visit of the Indian prime minister.
Two more were killed during the protest in Brahmanbaria on Sunday while scores of people including demonstrators, politicians, policemen and journalists were injured in the clashes and attacks in Sylhet, Dhaka, Kishorganj, among others.
With the two more deaths in Brahmanbaria, the death tolls reached 12 by Sunday evening as five were killed in Chattogram and Brahmanbaria on March 26 during the protest against the two-day visit of the Indian prime minister and five more including a child were killed on March 27 before Modi left Dhaka for India.
Modi was the last state-level invitee who joined on the last day of the 10-day celebrations of the golden jubilee of Bangladesh's independence and the birth centenary of the country's founding president Sheikh Mujibur Rahman, which began on March 17.
On Sunday, the transport communication was snapped on the Dhaka-Chattogram route after a clash broke out in Narayanganj while major bus operators refrained from running their transports from Dhaka until noon.
Train communications on Dhaka-Chattogram and Dhaka-Sylhet routes were also suspended since 9:30am on Sunday after picketers allegedly threw brickbats at Dhaka-bound Sonar Bangla Express train, leading to a halt of other trains including Dhaka-bound Intercity Upakul Express in Akhaura, Mahanagar Express in Kasba, and Kaloni Express in Azampur at different stations.
Bangladesh Railway's additional director general of operation Sardar Shahadat Ali told New Age on Sunday that they stopped the movement of all train services on Dhaka-Chattogram and Dhaka-Sylhet routes from 9:00am on the day following an attack on Sonar Bangla express.
The communications could not be resumed till 8:00pm on the day, he said.
Hefazat secretary general Nurul Islam in a press conference at Khelafat Majlish Bangladesh central office at Paltan in Dhaka said a total of 17 people — 12 in Brahmanbaria, four at Hathazari in Chattogram and one at Signboard in Narayanganj — were killed while over 500 were injured.
He also said that more than 200 were arrested between Friday and Sunday while announcing a two-day programme that includes a countrywide demonstration on April 2 to protest against the killing and injuring of their activists.
The Hefazat chief Junayed Babunagori in Chattogram said that Sunday's strike has been successful as people of all walks of life supported them.
He placed a set of demands including government compensation for the deceased, treatment of the injured and filing no cases against the protestors.
He also warned of fresh programmes if the demands remained unmet.
The home ministry in a press note on Sunday issued a warning by saying that stern action would be taken to protect public lives and properties if unruly behaviours are not stopped.
Without mentioning the name of any organisation or platform, the statement said that some unruly persons and group showing religious madness, in the past two days — Friday and Saturday — damaged public properties in Hathazari in Chattogram, Sarial, Ashuganj and the district headquarters in bordering Brahmanbaria.
During the time, the home ministry said, government establishment including upazila parishad, police stations, land offices, police boxes, rail stations, houses of political leaders and press clubs were damaged.
Despite requests, the police headquarters however did not share any information on how many were injured and how many cases were filed as well as what legal actions were taken following the violence.
The home ministry, however, said they would identify the troublemakers to bring them to justice.
New Age correspondent in Brahmanbaria reported that the pro-hartal activists set fire to different ground floor rooms of the district council and attacked and vandalised Sur Samrat Alauddin Sangeetangan, land office and the main gate of the Brahmanbaria Press Club.
The protesters also attacked the stalls of Unnayan Mela at Shaheed Dhirendra Nath Bhasha Chattar in the district town, witnesses said.
The protesters also barred the movement of transports, even rickshaws, by blocking roads, burning tires and placing tree trunks at different places of the district town.
The strike turned deadly as two pro-hartal supporters were killed in clashes with the law enforcers in the district headquarter.
Without providing details, Brahmanbaria General Hospital superintendent Shawkat Hossain confirmed the death of two people on Sunday's clashes. One of them was Al Amin, 15, the hospital officials said, while another man, Hadis Mia alias Kalan Miah, was killed on the spot.
The hospital's emergency department on-duty doctor Fayzur Rahman said that one of the protesters died of excessive bleeding after he was taken to the hospital in a critical condition.
He said that they also received 12 to 14 injured protesters at the hospital on Sunday.
In Narayanganj, the Hefazat and its supporters, along with Islami Andolon Bangladesh staged a demonstration since morning placing three tree trunks and bricks on Dhaka-Chattogram highway snapping the regional transport corridor that connects the river port to 22 districts.
Equipped with armoured vehicles, the police along with the local Awami League and its supporting groups carried out attacks on the demonstrating madrassah students.
The Nayaranganj police superintendent Mohamamed Zayedul Alam was seen on the spot with the Border Guard Battalion equipped with a number of armoured personnel vehicles and lethal weapons.
The protestors were seen vandalising busses, trucks, and other modes of transports.
In Dhaka, Hefazat activists and different Islamic organisations brought out back to back protest processions carrying sticks at Paltan, Baitul Mukarram National Mosque and Motijheel areas throughout the day.
The organisations' leaders and activists started gathering at the national mosque since the morning.
They brought out a protest procession at about 11:00am from the mosque and marched towards Zero Point.
Immediately after Zuhr prayers, the Islamic organisations' activists again brought out a procession from Baitul Mukarram mosque carrying sticks in their hands and blocking the road at Paltan.
Attending a procession, Hefazat joint-secretary general Mamunul Haque said that the government has enraged the countrymen by inviting Indian prime minister Narendra Modi, and he blamed prime minister Sheikh Hasina for the situations.
Chattogram correspondent reported that road communications with other parts of the country remained suspended since Sunday morning as no long-route buses left the port city.
A bus of Greenline Paribahan left Chattogram for Dhaka at about 8.30am but the bus was stuck on the road.
Hefazat leaders and activists in Hathazari damaged roads and created a number of holes on the Chattogram-Khagrachhari highway.
While visiting Shah Amanat Bridge area at about 2:00pm, around a hundred people were seen waiting for transports to go to their destination including Chakaria, Cox's Bazar and Bandarban.
A man, Sabbir Ahmed, who was waiting for buses at Shah Amanat Bridge area, said he was waiting for the bus to go Cox's Bazar at the area since 9.30am.
Leaders and activists of the ruling Awami League were seen roaming around roads in different areas in the city with sticks in their hands. But no clash or incident was reported.
Shah Md Abdur Rouf, the additional deputy commissioner of Chattogram Metropolitan Police, said that no incident recorded in the Chattogram city area during a strike on Sunday while SM Rashidul Hoque, the superintendent of Chattogram district police, also said that no untoward situation was reported while the police were trying to remove Hefazat activists from Hathazari road.
New Age correspondent in Sylhet reported that at least seven people were injured as the Bangladesh Chhatra League clashed with Jamaat-e-Islami student front Chhatra Shibir at Court Point in the metropolitan during the hartal hours.
Sylhet Metropolitan Police deputy commissioner Azbahar Ali Sheikh said the five student activists were arrested from the spot.
Sylhet correspondent reported that more than 50 people, including local police officer-in-charge and six more cops, were injured in a clash lasting for two and a half hours between the residents of two villages at Bishwanath upazila in Sylhet.
A group of hartal supporters, including activists of Hefazat, Jamaat-e-Islami and Bangladesh Nationalist Party, led by Mufti Faruk Ahmad, imam of Gazir Mokam Mosque at village Amtoli under Rampasha union of the Bishwanath upazila, started picketing at Pichermukh along Bishwanath-Lamakazi road since morning.
Some 1,000 people came out with locally made sharp weapons, including bamboo sticks and spears and started to attack the residents of Dholipara, they said.
In response, residents of Dholipara also launched counter-attacks triggering the clash that injured at least 50 people, including cops and members belonging to both the sides, they added.
When contacted, Bishwanath police officer-in-charge Shamim Musa said that they rushed to the spot immediately after receiving the news and brought the situation in control at about 12-30pm after firing 90 blank shots and seven teargas shells to disband the clashing villagers.
At least 10 persons were picked up from the spot for interrogation.
No long-route buses left for their destinations from the terminals, including Central Bus Terminal at Dakshin Surma and Kumargoan Bus Terminal at Uttar Surma.
A number of CNG-run auto-rickshaws, private cars and microbuses, however, were seen plying the city streets during the daylong hartal, transport workers said.
Munshiganj correspondent reported that a clash left 20 people including Sirajdikhan police station officer-in-charge SM Jalal Uddin. The clash took place at noon.
Feni correspondent reported that the Hefazat enforced strike passed without any major incident.
United News of Bangladesh reported that miscreants set two buses of Bangladesh Road Transport and Corporation on fire at Rajshahi Truck Terminal in the city's Amchattar area at about 6:30am on Sunday. However, no causality was reported till the filing of this report.
Dhaka Road Transport Owners' Association executive president Abul Kalam told New Age on Sunday that in the morning movement of long route buses to Sylhet and Mymensingh were obstructed briefly due to the strike.
Long route buses from Mohakhali bus terminal were running normally in the afternoon, he said.
Throughout the day, movement of buses was normal inside the capital while a number of passengers were fewer compared with that on any normal day, he added.
Clockwise from top left, Border Guard Bangladesh personnel fire blanks to disperse pickets who blocked the Dhaka-Chattogram Highway at Shanarpar in Narayanganj during a daylong strike called by Hefazat-e-Islam; pickets set fire to a truck at Shanarpar; Hefazat and Awami League activists get in a clash during the strike at Ashuganj in Brahmanbaria and Hefazat activists brandishing sticks chase Bangladesh Awami League activists at Purana Paltan crossing on Sunday. — Sourav Lasker, Sony Ramany and Focus Bangla photo
Want stories like this in your inbox?
Sign up to exclusive daily email
More Stories from Politics