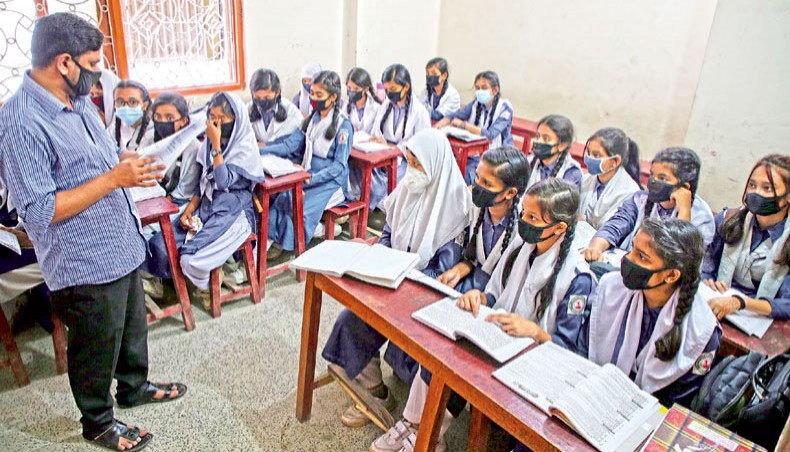 Tabassum Maisha talks about few points that the authorities should focus on when the educational institutions reopen
GOING back to schools and colleges after a long haul between lockdown and social distancing would appear as a different experience for students. It has been more than a year that their schools have been closed for the COVID-19 pandemic. The education system has severely been disrupted during this period with an impact on over 90 per cent of the world's student population. Around 1.54 billion children, including 743 million girls have been affected by this pandemic. The closing of schools and the wider socio-economic impacts of COVID-19 on communities and societies also have disrupted support systems for the young and adolescent generation while leaving them in vulnerable positions.
After a year of closure due to the pandemic with significant academic damages, the government has announced the reopening of schools and colleges on March 30, 2021. These students may face difficulties in returning to schools regardless of age, gender, disability, changed socio-economic status and factors related to their surroundings. Authorities, in this context, will need to be flexible and should be willing to extend their hands to provide a safe place for students. A hasty move during the reopening might cause situations beyond control.
The primary criteria for reopening will be related to physical protection against the COVID-19. It must be inclusive and accessible to all students. Maintaining necessary hygiene facilities, physical distancing, quality food, better teacher-guardian network and psychological counselling should be on top of priorities that the authorities of both schools and colleges should be aware of. The following are some pointers on health and nutrition that the authorities of schools and colleges can exercise to keep their students safe.
Mandatory campus sanitation
SCHOOLS and Colleges must run a thorough sanitisation project of their grounds and work area, including every class, laboratory, corners and washrooms before the reopening. The regular cleaning and disinfecting of the frequently touched surfaces like tables, chairs, doors, door handle, benches et cetera is a must. A roster for keeping up with the regular cleaning duties can be formed to ensure proper cleaning.
Wearing Mask Should Be Compulsory
THE novel Coronavirus mostly spreads through the droplets in the air. Wearing a mask for students, teachers, staff and all other concerns should be mandatory during school hours. In the secondary and the higher secondary level, those who have lab classes will be instructed to wear masks and hand gloves. Every piece of equipment in the lab should be cleaned by using disinfectant before and after using them. Teachers, students and staff members should follow the respiratory etiquettes in times of coughing and sneezing.
Installation of hand sanitisation system and thermal scanning
HAND sanitisers or other modes of sanitization systems should be placed before every classroom, library and offices. It would be easier to fight against coronavirus if everyone keeps their hands clean. The school and college authorities should give special attention to this issue to ensure proper amounts of soap and water for cleaning hands. Thermal scanning devices should be placed at the entrance of the institutions to ensure further safety. Those with the symptoms of the COVID-19 must be put into quarantine instantaneously.
Conducting classes
A MINIMUM safe distance needs to be maintained in the classes to keep everyone safe from the COVID-19. One student per bench can help to reduce the spreading out of the virus. Faculty members, administrative staff and all concerned should be given the proper training on physical distancing. The Directorate of Primary, Secondary and Higher Secondary Education Board has already sent the reopening guidelines including the sitting arrangements for students in the class. Two students would be allowed to sit on the same bench. The classes of SSC and HSC will be held regularly. The students of class IX and XI will attend their classes twice a week. Students from other classes will have to attend classes once a week.
Toilet facilities
SCHOOL authorities should be concerned about supplying healthier food. The school canteen should serve fresh food. The staff in the canteen should also be using masks and gloves and should discard them in separate bins after their use. The school authorities should ensure that the food vendors and the canteen staff are washing their hands with soap and clean water before entering the school premises and before preparing food.
Attendance
DAILY and weekly attendance data might be helpful to understand the health risk situation. Data-driven from the economic situation of the students, the student-teacher ratio, presence of the vulnerable groups and the presence of the female students in the class should be considered with great concerns. A collective comparison can be drawn from the newest data to the oldest to find out the exact amount of dropout students during the COVID-19. These steps will help authorities to provide proper guidance and much-needed help to vulnerable students.
Vaccination
A MANDATORY vaccination program needs to be implemented in schools and colleges with the help of the government. Almost 1.5 lakh teachers have already taken the COVID-19 vaccine. Providing vaccines for teachers, students and staff will result in a major beneficiary in achieving a coronavirus free environment.
The mental health of students and teachers
THE mental health of the teachers and students should also be a major concern for the authorities apart from physical health-related issues. The psychological states of the teachers and the students need to be taken seriously to ensure an anxiety-free environment. The teachers can also help their students in times of their distress. Many teachers of non-government schools and colleges have lost their jobs in the time of COVID-19. Some of the institutions didn't even provide salaries to their teachers. These psychologically vulnerable teachers and their families have faced severe crises in their lives. The authorities of the schools and colleges have to ensure that these teachers are getting their salaries on time so that they can support their families.
Students who are in high distress should be identified for specialised services. Students with high chances of dropout would require special support by providing them with intensive counselling. Students who lagged in their studies should be taken special care of so that their anxieties can be mitigated. There should be proper guidelines for helping out students in need. Both the school and college authorities can play a vital role in this context.
The teacher, student and guardian network
SCHOOLS and colleges were closed for more than a year. Now as they are opening, a student, teacher and guardian network is necessary. The students and especially the guardians are mostly confused on the issue of whether to send their children to schools or not. In this case, teachers can communicate with guardians and students. They can also arrange regular counselling for them. Keeping a close focus on shortening the academic calendar can be a great help to accelerate teaching and be exclusively helpful for students. Teachers can also organise special 'after school sessions for weak students so that they can catch up with others.
The COVID-19 pandemic has created an unprecedented situation that has gravely disrupted the education system. This pandemic has led to the cancellation of the Higher Secondary Certificate Examination and the equivalent exams which were supposed to be held on April 1, 2020.
As the government has decided to open the schools and colleges, the educationists and the guardians have appreciated this decision to keep the flow of education going. This reopening will also strengthen existing health protection and disaster management. In participating in these mentioned programs the students will be exposed to an accessible, inclusive, participatory and protective learning experience.
This pandemic has transformed our normal lives into a major halt but taught us to understand our position in the social bubble. Lessons from the COVID-19 can be a major beacon of light for the government and academic institutions. It gives rise to the awareness of physical and mental health issues and collectively strengthens the resilience of the education system.
Tabassum Maisha is a student of the University of Dhaka.
Want stories like this in your inbox?
Sign up to exclusive daily email
More Stories from Mindspeak