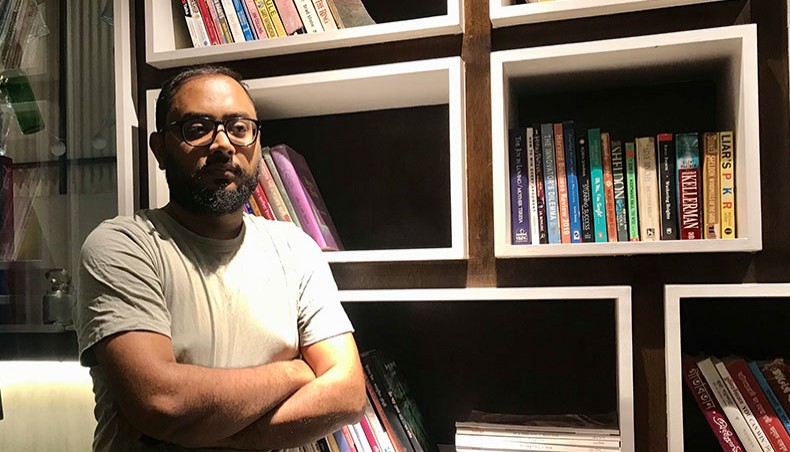 More or less every business sector was hit-hard in Bangladesh following the COVID-19 outbreak. The struggle to survive was even harder for new entrepreneurs. Syed Laden talks to MD Salah Uddin Mithu, a restaurateur to understand his entrepreneurial journey and survival methods during the hard times
MD SALAH Uddin Mithu is the co-founder and managing partner of Unaan, a successful rooftop restaurant in Dhaka. He was a student of economics at East-West University. Instead of seeking jobs, he created opportunities for people to work under him by being an entrepreneur. Here is the story of a man of value.
He started his career in 2012 by creating a production/animation house of his own but it was very difficult and a tough job for him to run due to its high maintenance cost. Then he started working in freelancing media as an art director, but it only continues till 2014.
He was done with his undergraduate studies in 2014 and then without any further delay, he started doing his master's in economics at the EWU. Unfortunately, he was unable to complete his master's and he dropped out of his studies.
After being dropped out, he was confused and tensed about his career. He started to feel the pressure when his family constantly pushed him to move abroad. As he was not very fond of going abroad, he tried to skip the whole process. He was not interested at all to listen to his family. He even got an opportunity to study in the Netherlands with a scholarship, but he did not go because he was determined about staying in Bangladesh and do something here.
After that, he finally had a chance to sit and talk with his father with a mutual understanding, and then he took his abroad going budget from his father for business. After that, he managed three more partners and started a construction business in 2016. Within a year, they gained their position with a good reputation but later, it was the downfall for them as they did not understand the concept of holding the position. He had to quit again.
Finally, he gets himself involved in the restaurant business after all the failed attempts. He started his first restaurant called 'Jomfa' in Nila market, Purbachal. He took 7200 square-feet of land to build an infrastructure for his restaurant by using bamboo and wood. He wanted to make it a productive place where people will find comfort and practice arts and literature. He had an intention from the very beginning that he will keep his customers healthy not only by providing fresh food but also a refreshing environment.
He was adamant about his food quality and he maintained proper hygiene. To him, he is not just selling the foods but also, he is selling the ambience. He never compromised with the quality of the ingredients. He knew the fact that the food business will be more profitable if he could use stored and stocked products.
As he was new to the restaurant business, he focused on gaining knowledge about how a restaurant should run. To go through the operation, he has done the washroom cleaning and dishwashing by himself just to see how these things work. He did every single work by himself just to clarify how he wants his work done.
While he was running his first restaurant, he used to go there from Rajarbagh. He had to get up early in the morning and he gets back to his home every night. Back at that time, he had to change the transport at least three times because the route from Rajarbagh to Purbachal was not straight and it was far away. Even he had to use a pick-up van at night to go home because there was no public transport available.
Seeing his hard work and dedication, he got so many offers to do business in partnership. He was also waiting for an opportunity to expand his restaurant business. At the beginning of 2019, he got an exciting offer to open a new restaurant from his current co-partner. Then in February 2020, he opened his second restaurant 'Unaan' in Kuril, Dhaka.
Two months before starting 'Unaan', His father died. It was a difficult phase for him. But he was determined. He told New Age Youth that he started with very low capital and by the time he has two restaurants in different places. He also stated, 'Either you have to put your money, or you have to put yourself in the business.' He chooses to put himself in his business just because he could not cover it up with the money.
He could only run his new restaurant for less than two months because of the pandemic. Due to the lockdown, he had to close the restaurant in March 2020. He could not run his business for a long time. In the meantime, he kept paying the rent, staff bills, and utility bills. He was tensed about its future, but he was calm, and he had faith in himself. In every step he took, he struggled but he never stops dreaming and never failed to accomplish what he wanted. Instead of freaking out about these constraints, he embraced them so that those can guide him in the right direction.
After everything started to go back to normal following the health restrictions, he was able to come back with his restaurant with his old staff because he had a wonderful relationship with his staff workers. He took care of every single worker during the pandemic and as a result, they all stayed loyal to him. He wanted to make sure that his staffs are satisfied with their work and his workplace. He chooses to stay like this with his staff because he believes maintaining this kind of relationship will minimise his cost and struggle and they also share the works thinking it is their own.
New Age Youth asked him about how he will define success as an entrepreneur? In reply, Mithu said, 'I like to think of success as being able to live a healthy life while also running a business. The business will go smoothly even if I am not present. There is always space for growth, and complacency is the greatest enemy of progress. So, I am not saying I am not interested in the business; we are still striving to improve and expand. It's nice to be able to take a step back and realise that things aren't going to fall apart.'
Also, he was asked about what advice he would give other entrepreneurs starting in the restaurant business. He replied, 'Consider the restaurant as a business with a set of processes rather than a restaurant. Many people who are excellent cooks would open restaurants. Develop structures to make yourself redundant; far too many people struggle when they try to do it all at once. Try to spend as much time as possible working on the company rather than in it. If you are a boss who is stuck in traffic, you are out of luck because you cannot handle the restaurant any longer. A company owner is in the same boat. Without a doubt, you would do it all at first, but this is not sustainable in the long run.'
Lastly, Mithu suggests to all young entrepreneurs of this generation to create a self-identity of their own. He also suggests not to lose hope and to keep the focus still. He wants that people will get motivated by themselves.
Syed Laden is a student of Independent University, Bangladesh.
Want stories like this in your inbox?
Sign up to exclusive daily email
More Stories from Initiative