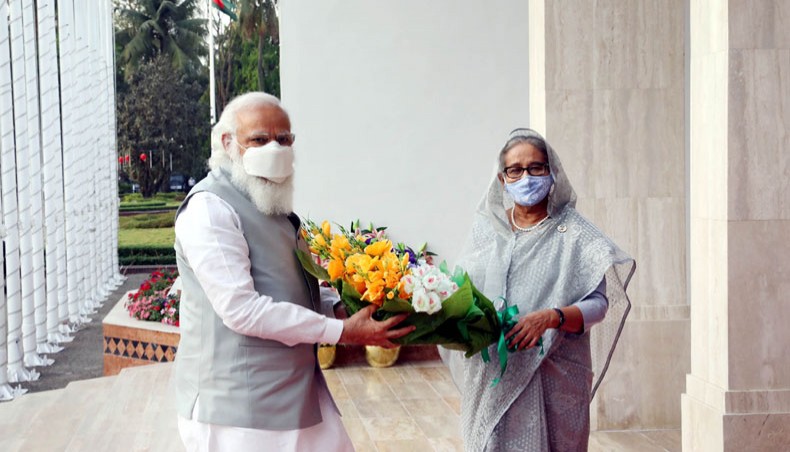 Prime minister Sheikh Hasina and her Indian counterpart Narendra Modi on Saturday jointly inaugurated five projects.
They inaugurated the projects virtually after bilateral talks between Bangladesh and India that took place at the Prime Minister's Office.
The projects are Ground-breaking ceremony for Infrastructure Development for Power Evacuation Facilities of Rooppur Nuclear Power Plant, introduction of a new passenger train service, 'Mitali Express', between Dhaka and New Jalpaiguri and extended development work at Rabindra Bhawan Kuthibari in Shilaidaha, Kushtia.
The other projects are laying the foundation stone of a monument at Ashuganj in memory of martyred members of Indian Allied Forces in Ashuganj and three new Border haats along the India-Bangladesh border.
Besides, the two PMs also witnessed a video on the concept of Swadhinata Sarak from Mujibnagar of Meherpur to connect Kolkata via Nadia.
Sheikh Hasina and Narendra Modi also unveiled commemorative stamps of the postal departments of their respective countries on the occasion of 50 years of Bangladesh-India friendship.
Meanwhile, the Indian PM handed over Sheikh Hasina a dummy key of the gift of 109 ambulances with life-support facilities from the government of India to the government of Bangladesh.
He also handed over a box to the PM to symbolise the gifting of 1.2 million doses of Covishield vaccine to Bangladesh from India.
Want stories like this in your inbox?
Sign up to exclusive daily email
More Stories from Foreign affairs