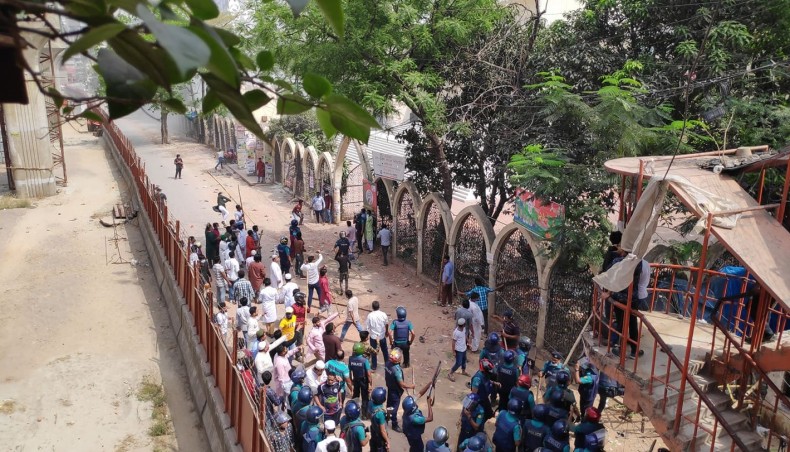 At least 80 people were injured as activists of different Islamist parties who were protesting at Indian prime minister Narendra Modi's visit to Bangladesh locked in a clash with police and ruling Awai League activists in Baitul Mukarrom National Mosque area in Dhaka after Jumma prayer on Friday.
The injured people included two journalists Ishtiaq Imon and Prabir Das.
The clash began about three hours after the Indian prime minister arrived at Hazrat Shahjalal International Airport in the capital at about 10:30am on a two-day visit to join the concluding ceremony of the 10-day special programme marking the country's golden jubilee of independence and birth centenary of the country's founding president Sheikh Mujibur Rahman.
Despite the presence of huge number of police in the mosque area, the protesters, immediately after the jumma prayers at the Baitul Mukarrom National Mosque, tried to bring out a procession at about 1:45pm denouncing Modi's visit to Bangladesh.
The police barred their procession at the mosque gate, the witnesses said.
A clash occurred between the ruling party activists and the protesters there, witnesses said, adding that the protesters from inside the mosque and the ruling party activists from by the side of police outside the mosque began to throw brick bats on each other.
The police, meanwhile, began to fire teargas shells targeting the protesters on the mosque premises to disperse the protesters, they said.
Police stopped vehicular movement on the roads surrounding the mosque.
The clash continued until 3:00pm when injured people were being taken to hospitals and the Islamist party activists became confined in Baitul Mukaram.
Dhaka Metropolitan Police's Matijheel Zone deputy commissioner Syed Nurul Islam said that they lobbed teargas shells to disperse the clashing groups – one had been protesting Indian prime minister and the other had been welcoming him.
Vehicular movement on surrounding roads resumed at about 5:00pm when activists of Islamist parties remained confined inside the mosque with the police keeping the area cordoned.
Dhaka Medical College Hospital police outpost in-charge inspector Bachchu Mia said that 70 people injured in the clash at Bauitul Mukarram received treatment from the hospital's emergency department.
Left political parties, different students' and youths' organisations as well as Islamist parties have been protesting against Modi's visit to Bangladesh for past several days.
Want stories like this in your inbox?
Sign up to exclusive daily email
More Stories from Foreign affairs