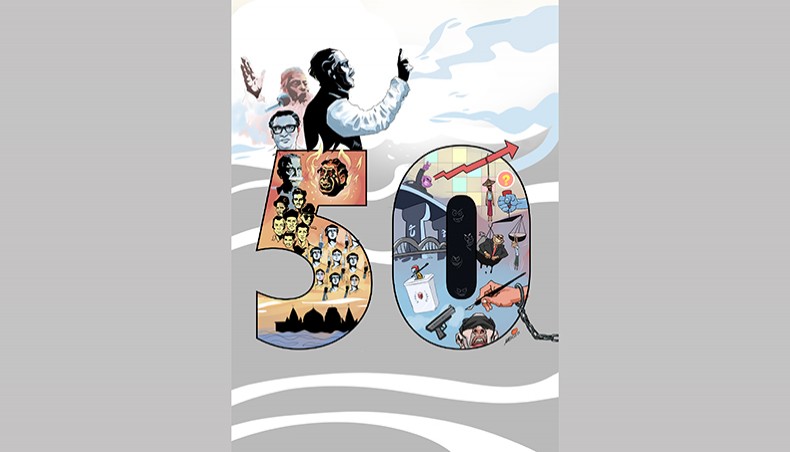 AT BIRTH Bangladesh was described as a 'basket-case' by Henry Kissinger, the most arrogant of all US secretaries of state. Two senior World Bank economists, Just Faaland and Jack Parkinson, termed Bangladesh in 1976 as 'the test case of development' — meaning that if development could happen in Bangladesh, it could happen anywhere. Kevin Rafferty of The Financial Times (June 6, 1975) characterised Bangladesh as 'the end of the great development dream'.
However, Bangladesh defied the pessimists. Observing Bangladesh's progress over 25 years (1975–2000), the Bangladesh Human Development Report 2000 (p 3), concluded, 'It was like a re-birth for Bangladesh, having moved from the status of being at the margin of history in the whirlpool of history, from the status of a mere testing site to that of a learning site…'
One leading economic development textbook observed, 'And without question, from the viewpoint of the broader meaning of development, Bangladesh seemed to be forging ahead in the early years of the twenty-first century. As a result, there are good reasons to expect Bangladesh to soon move into the lead in income as well' (Todaro and Smith, Economic Development, 2006, p 89).
Bangladesh will soon graduate from its least developed country status and is now a lower-middle income country in the World Bank's classification as predicted by Todaro and Smith. Thus, there is much to celebrate, especially when development is defined in terms of per capita income, which rose from $94.4 in 1972 to $1,855.74 in 2019, and some key social indicators, such as life expectancy at birth which rose from 49.40 years in 1975 to 72.32 years in 2018, and adult (aged 15+) literacy rate, which increased from 29.2 per cent in 1981 to 74.7 per cent in 2019.
However, development is a much broader concept. The world leaders, by committing to the United Nations Agenda 2030 for sustainable development, effectively accepted its overarching principle, 'leaving no one behind'. Thus, development has to be 'shared prosperity'.
Amartya Sen defined development as 'freedom' — freedom from discrimination, from fear, from want, from injustice and violations of the rule of law; freedom of speech, freedom to develop and realise human potential, and freedom for decent work without exploitation. Thus, freedoms constitute not only the means but the ends in development.
Development as shared prosperity
SOCIALISM is one of the State pillars of Bangladesh as the dream of equity and social justice for all citizens was one of the driving forces of our liberation war.
Regrettably, inequality in income distribution has been on the rise since the mid-1980s. The Household Income and Expenditure Survey 2016 of the Bangladesh Bureau of Statistics reveals that the Gini coefficient — a common measure of inequality — income inequality increased from 0.259 in 1984 to 0.483 in 2016. According to estimates by the Centre for Policy Dialogue, wealth inequality in terms of Gini coefficient stands at a staggering 0.74.
Thus, a small section of society enjoys most of the country's income and wealth depriving the larger sections. According to the Household Income and Expenditure Survey 2016, income share held by the highest 10 per cent of the household increased from 21 per cent in 1984 to 38.16 per cent in 2016. Income share held by the lowest 10 per cent of the household declined from 4.13 per cent to 1.01 per cent during the same period.
This means that the rich are growing richer in income and wealth day by day. Oxfam's inequality report (2018) ranks Bangladesh in the 148th position among 157 countries, painting a gloomy picture of Bangladesh's progress.
Alas there is not much to celebrate about the socialism pillar, or shared prosperity of the country
Development as freedom
DEMOCRACY is another State pillar of Bangladesh; but stands on an unsettled footing.
Freedom House describes Bangladesh as 'partly free' and gives a score of 39 out of 100, marginally passing. It gets 15 out of 40 in political rights and 24 out of 60 in civil liberties.
According to the Reporters without Borders, Bangladesh's press freedom continues to worsen. Its press freedom rank declined from 144 in 2013 to 151 in 2019 out of 180 countries. Bangladesh's press freedom score is the lowest among all South Asian countries.
Bangladesh also performs poorly in the Human Freedom Index of CATO Institute and Fraser Institute. In 2018, Bangladesh's rank was 141 in terms of personal freedom, 133 in terms of economic freedom, and 139 in terms of human freedom out of 162 countries. Bangladesh is placed below Nepal (92), Sri Lanka (94), Bhutan (108) and India (111). Its human freedom index score of 5.67 on a scale of 0 (no freedom) to 10 (more freedom) was below the world average of 6.93.
Global Human Development Report 2000 links development to 'Human rights and human development: Any society committed to improving the lives of its people must also be committed to full and equal rights for all'.
Unfortunately, here too Bangladesh has gone backward. Bangladesh's average score on Human rights and the rule of law index, 0 (high) – 10 (low), during the period 2007–2020 was 7.47.
High and rising inequality combined with declines in human rights and freedom is a recipe for state fragility. The State Fragility Index 2020 Report of the Fund for Peace ranks Bangladesh 39th among 178 countries with an overall score of 85.7 out of 120. It places Bangladesh in the 'High Warning' category.
Democracy and development: Is there a choice?
SUPERIOR economic records despite democratic regress raise a fundamental question, 'Is democracy good for development?' Singapore's legendary founding leader Lee Kuan Yew once promoted the concept of a choice between two D's: Democracy vs Discipline. Lee claimed that countries needed discipline (a code word for repression) more than democracy for accelerating development.
In our historical experience, we have seen Field Marshal Ayub Khan's 'basic' democracy — a form of restrictive democracy touted to be good for development. So, it seems the ghost of Ayub Khan speaking when a senior minister said, 'We believe in democracy, but not too much democracy,' and argued that this is good for development and progress, citing the examples of Singapore and Malaysia.
Ayub Khan celebrated the decade (1958–1968) of development in 1968 under his repressive regime of basic democracy, with its GDP growing at 7.3 per cent per annum, exceeding the 5 per cent target of the United Nations First Decade of Development. Thus, Pakistan was seen as a model of economic development around the world. Many countries, including South Korea, Philippines and Indonesia sought to emulate Pakistan's economic development strategy.
Ironically Pakistan exploded before the year of celebration ended; the mass uprising against economic injustice and political repression toppled the Ayub regime the flowing year. In 1970, Pakistan achieved its highest growth rate of 11.4 per cent; yet the country imploded in 1971 with the birth of Bangladesh aspiring for an exploitation free democratic socialist country.
There are many such historical evidence of rapid growth under a 'semi-democracy' of various shades, followed by a collapse. One such case near Bangladesh is Indonesia. Three decades (1968–1996) of rapid growth (approximately 7 per cent per annum) under Soeharto could not put out the burning desire of the people for democracy. It suffered the worst of the 1997–1998 Asian Financial Crisis with GDP growth declining by more than 13 per cent in 1998 — about 21 percentage points collapse from 7.8 per cent in 1996. The regime fell with the implosion of the country that saw the birth of Timor-Leste.
Becoming fit through democracy
THOSE who cite the examples of East and Southeast Asia in advocating illiberal democracy for the sake of development should know that the constraining of citizen's participation in ensuring transparency, or the freedom of expression against the concentration of power led to the rise of 'crony capitalism', characterised by corruption of elites connected to power. Many observers believe that the root cause of the Asian Financial Crisis was crony capitalism.
Countries that escaped the worst of the Asian Financial Crisis or are doing well now are the ones which either had better democratic institutions or undertook radical reform towards democratisation (eg, Indonesia). South Korea and Taiwan went through this process of democratisation in the late 1980s and early 1990s; thus, they were affected the least by the Asian Financial Crisis and recovered quickly. On the other hand, Malaysia, which failed to undertake democratisation reform is mired in political crises one after the other and is caught in what some say is a 'middle-income trap'.
We find many more examples of Soeharto or Marcos or Ayub Khan who usurped power and introduced various forms of limited democracy in the name of development. Their limited democracies did produce some periods of rapid economic growth; but they collapsed. On the other hand, the probability of finding a Lee Kuan Yew is very small, perhaps one in a thousand.
The beauty of liberal democracy is that we do not have to search to get a Lee Kuan Yew by a rare chance, and get stuck with a bad government in the process; we can replace a bad government with the one that respects human rights, has checks and balance of power and ensures free and fair elections.
Liberal democracy may not produce stellar economic growth rates, but is superior to illiberal democracy in safeguarding stable economic growth by encouraging free thought, experimentation, and innovation without fear or prejudice. It also ensures social justice or equity and environmental sustainability by allowing people's participation in the decision-making process and allowing them to voice their concerns.
Thus, for Amartya Sen, it is a wrong question to ask whether a country is fit for democracy. Instead, a country has to become fit through democracy.
Democracy's appeal does not rest on its instrumental values or its ability to produce high economic growth. Rather, the appeal of democracy is derived from its intrinsic values for human life and well-being, which is facilitated by citizen's ability to exercise civil and political rights or political and social participation as social beings that in turn ensures Sen's development as freedom.
Anis Chowdhury is an adjunct professor at Western Sydney University and the University of New South Wales (Australia), held senior United Nations positions in New York and Bangkok. He is also a co-editor, Journal of the Asia Pacific Economy.
Want stories like this in your inbox?
Sign up to exclusive daily email
More Stories from Independence Day Special 2021