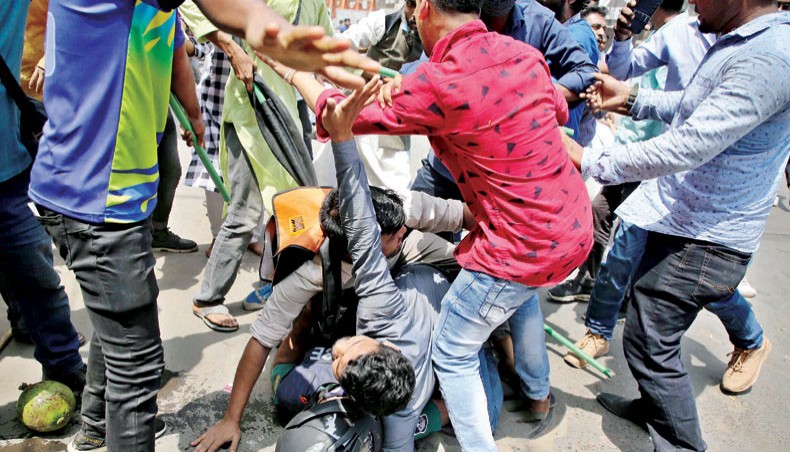 About 60 people, including police and photojournalists, were injured in three separate incidents in the capital's Motijheel and Dhaka University areas on Thursday as the police and ruling Awami League activists attacked protests against Indian prime minister Narendra Modi's visit to Bangladesh.
Of them, 40 people, including a photojournalist, were injured in a clash at Motijheel in the morning after several hundred police personnel attacked a procession brought out by Bangladesh Chhatra and Juba Adhikar Parishad.
Following the attack, the organisation of students and youths a press conference at Dhanmondi announced that they would hold another protest rally at Shahbagh at 3:00pm denouncing the visit of Modi.
Parishad convener Faruk Hasan called upon people from all walks of life to join the rally.
The government has invited Modi, among others, to the 10-day celebrations of golden jubilee of the country's independence and birth centenary of its founding president Sheikh Mujibur Rahman. Modi is due in Dhaka today for the two-day visit.
Modi is criticised for his alleged role in fuelling Gujarat genocide in 2002, and continued killing of Bangladeshis along the international country, among others.
Faruk Hasan called the government to to cancel the invitation at last stage and demanded release of 38 activists within 24 hours.
At about 7:00pm, Motijheel police deputy commissioner Syed Nurul Islam said that they were prosecuting 32 activists for 'attack on police, vandalism and setting fire on public
property'.
At about 11:30am, a police team led by Paltan police officer-in-charge Abu Bakar Siddique carried attacked the procession when it was crossing Shapla Chattar at Mothijheel.
As Abu Bakar tried to snatch an effigy of Modi from the activists and fell down on the ground as the protesters chased the police. Some agitated people beat Abu Bakar, but a group of protesters rescued him and handed him over to his colleagues.
Police fired teargas shells and bullets to disperse the protesters. Some roadside stalls were set on fire during the clash. A number of protesters, New Age proto-journalist Abdullah Apu and some police personnel were injured and traffic was halted for half an hour during the clash.
The activists said that 42 of their fellows were injured in the police attack.
An Islamic preacher, Rafikul Islam Madani, of Netrakona, was also briefly detained as he joined the protests.
Leaders and activists of ruling AL-backed student body Bangladesh Chhatra League allegedly beat Abid Hasan Rasel, the campus reporter for Bangla Tribune, with bamboo stick at about 5:30pm while he was covering anti-Modi protests at Dhaka University.
They also snatched away his mobile phone and press card. Rasel was taken to Dhaka Medical College Hospital.
About an hour later, the ruling party activists attacked leftist Progressive Students' Alliance when they had brought their scheduled torch-procession at the Dhaka University campus against the Modi's visit, leaving some 20 activists injured.
Gansanhati Andolan in an emergency meeting protested against the repeated attack on the protesters.
Chhatra League general secretary Lekhak Bhattacharjee said that this was an unpredictable incident. 'We are yet to identify the attackers. We will take proper action after identifying them,' he added.
Police beat up the activists of Bangladesh Chhatra O Juba Odhikar Parishad to disperse them at Motijheel in Dhaka on Thursday. — Sourav Lasker
Two people beat up a police officer after he fell flat on a road during a clash between the activists of Bangladesh Chhatra O Juba Odhikar Parishad and the police at Motijheel in Dhaka on Thursday. — Sourav Lasker
Want stories like this in your inbox?
Sign up to exclusive daily email
More Stories from Politics