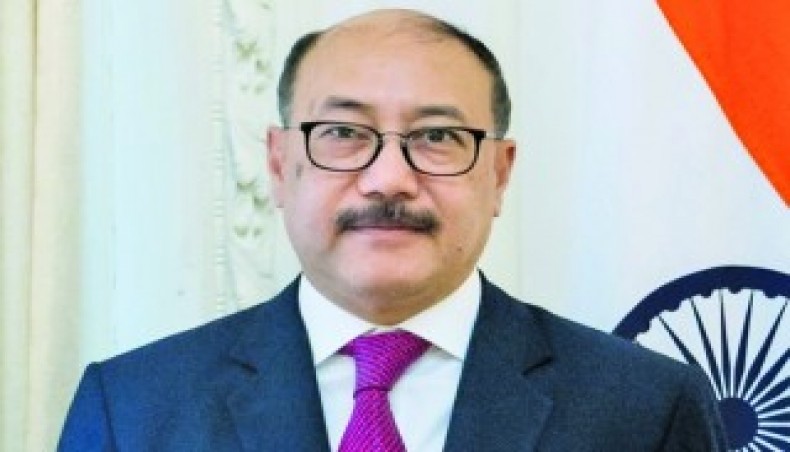 Bangladesh and India will sign a number of agreements in disaster management, trade and oceanography sectors during the upcoming two-day official visit of Indian prime minister Narendra Modi to Bangladesh.
'As a reflection of growing cooperation, both the sides will sign a range of agreements in disaster management, trade and oceanography,' Indian foreign secretary Harsh Vardhan Shringla said at a special media briefing on Wednesday.
Shringla revealed that beyond the agreements, India would have a new announcement to make in the areas of culture, preservation of 1971 spirit and cooperation in health and power sectors during the high-level visit.
Prime minister Modi is slated to pay a two-day visit to Bangladesh on March 26-27 at the invitation of prime minister Sheikh Hasina to attend 50 years celebration of independence of Bangladesh and 50 years of establishment of India-Bangladesh diplomatic ties that coincided with the birth centenary celebration of founding president of the country Sheikh Mujibur Rahman.
Shringla said the Indian prime minister would deliver speech at national parade ground as the guest of honour marking Bangladesh's Independence Day.
He will also pay homage to Sheikh Mujibur Rahman by placing wreaths at his mausoleum in Gopalganj.
He will place wreaths at National Mausoleum in Savar to pay homage to the valiant sons of Bangladesh, who laid their lives for liberating the country in 1971.
He will also visit Hindu shrines in Orakandi and Satkhira.
During the visit, prime minister Modi will hold bilateral talks with his Bangladesh counterpart Sheikh Hasina and pay a call on president Abdul Hamid.
Foreign minister of Bangladesh AK Abdul Momen will also call on prime minister Modi.
Describing Modi's upcoming visit to Bangladesh as a 'very significant' one, Shringla said, 'We have a very qualitative visit that is focused on shared history, cultural ties and people to people contacts.'
Responding to a question on much-expected Teesta water sharing agreement, he said India would continue to engage with Bangladesh to conclude the Teesta agreement as soon as possible.
When asked about Rohingya repatriation issue, Shringla said India remained engaged with Bangladesh and Myanmar to facilitate the return of 'displaced person' to their homeland in Myanmar.
'India is the only country, which has a border with Bangladesh and Myanmar. So, we are engaged with both the countries to address the issue,' he added.
Official spokesperson of Indian ministry of external affairs Arindam Bagchi and joint secretary Smita Pant were present at the briefing.
Want stories like this in your inbox?
Sign up to exclusive daily email
More Stories from Foreign affairs